India train crash: 36 killed in Andhra Pradesh derailment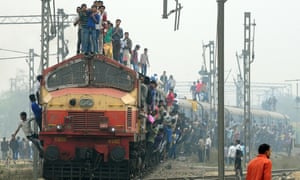 Thirty six people were killed and 50 injured after an express train derailed in south-east India on Saturday night in the latest disaster to hit one of the world's largest rail networks.
Eight coaches and the engine of the Jagdalpur-Bhubaneswar express derailed at 11pm near Kuneru railway station in Vizianagram district of Andhra Pradesh state.
"The death toll has gone up to 36. It is a possibility that it may rise further," said Anil Kumar Saxena, national railway spokesman.
The local police superintendent, LKV Ranga Rao, said: "Nine bogies were derailed, of which three have turned and fallen off the track. Most of the casualties and deaths are from the three sleeper-class compartments."
No evidence of sabotage has been detected, Rao said, adding the cause of the derailment appeared to be a technical fault. Rescue operations were under way and coaches that had not derailed had been towed from the scene.
Saxena said investigators were considering possible sabotage of the tracks by Maoist rebels, who he said were active in the area.
He told the NDTV news network there were some 600 people in the carriages that derailed and most of them had been shifted to "the unaffected portion of the train" in time.
Officials from the railway and the local government were carrying out rescue work and relief trains had been sent to evacuate passengers, he said.
The train was travelling from Jagdalpur city to Bhubaneswar, the capital of Odisha state, when it came off the track nearly 160 kilometres (100 miles) from Visakhapatnam, the nearest city to the accident site.
Thirteen of the train's 22 coaches were unaffected in the incident. Rail traffic on the coast line has been suspended.
India's railway network is still the main form of long-distance travel in the vast country, but it is poorly funded and deadly accidents occur relatively frequently.
On Friday 10 coaches of an express train were derailed in western Rajasthan state leaving many passengers with minor injuries.
The latest deadly incident comes two months after 146 people were killed when a passenger train was derailed in Kanpur, northern India, in one of the country's worst rail disasters.
Last month two people were killed and dozens injured after another train derailed also near Kanpur, Uttar Pradesh state.
In 2014, an express train ploughed into a stationary freight train, also in Uttar Pradesh, killing 26 people.
A 2012 government report said almost 15,000 people were killed every year on India's railways and described the loss of life as an annual "massacre".
The prime minister, Narendra Modi, also tweeted that the tragedy was "saddening". His government has pledged to invest $137bn over five years to modernise the crumbling railways, making them safer, faster and more efficient.
The government has signed numerous deals with private companies to upgrade the ageing network.
Japan has agreed to provide $12bn in soft loans to build India's first bullet train, though plans remain in their infancy.
[Source:-The Guardian]