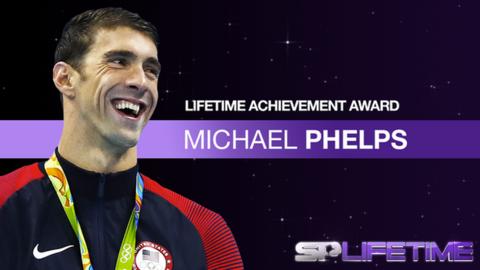 Record-breaking swimmer Michael Phelps will be honoured with the lifetime achievement award at Sunday's BBC Sports Personality show.
The American, 31, won his 23rd Olympic gold in his final Games in Rio.
The most decorated Olympian of all time, he claimed five golds and a silver this year.
He joins a star-studded list of previous lifetime award winners also including former footballer Pele and ex-golfer Seve Ballesteros.
"I'm thrilled to receive the prestigious Sports Personality lifetime achievement award and follow in the footsteps of so many sporting greats," said Phelps.
"It is a fitting way to end what has been an unbelievable year for me and I'm looking forward to what will be a great night."
Phelps came out of retirement to compete in Rio, his fifth Olympics, and won golds in the 200m butterfly, 200m medley, 4x100m freestyle, 4x200m freestyle and 4x100m medley.
He has amassed 28 medals since making his Games debut in 2000.
That is 10 more than the next best – gymnast Larisa Latynina, who competed for the Soviet Union between 1956 and 1964, winning 18 medals, nine of them gold.
The lifetime award is one of several prizes to be awarded during the Sports Personality programme, which will be broadcast live from the Genting Arena in Birmingham.
A public vote on the night decides the winner of the main award, with 16 contenders on the shortlist.1. Height is 6ft 4in but his disproportionate body has a torso as long as that of a 6ft 8in man and lower body of someone under 6ft – so he sits high in water and avoids drag2. Wingspan is usually same as height, but his wingspan is 6ft 7in – a huge three inches more than average3. Hyperextension of joints, including elbows, knees and chest, so he kicks from his chest down not ribs down like most others4. Phelps has been scientifically proven to produce less than half the lactic acid of his rivals – so he can recover quicker and win back-to-back golds on one evening5. He has double-jointed ankles that allow 15 degrees more flexibility than most swimmers – meaning his size 14 feet act like flippers
[Source:-BBC]