Behind the label: Clothing project inspires North Eugene students to be conscientious shoppers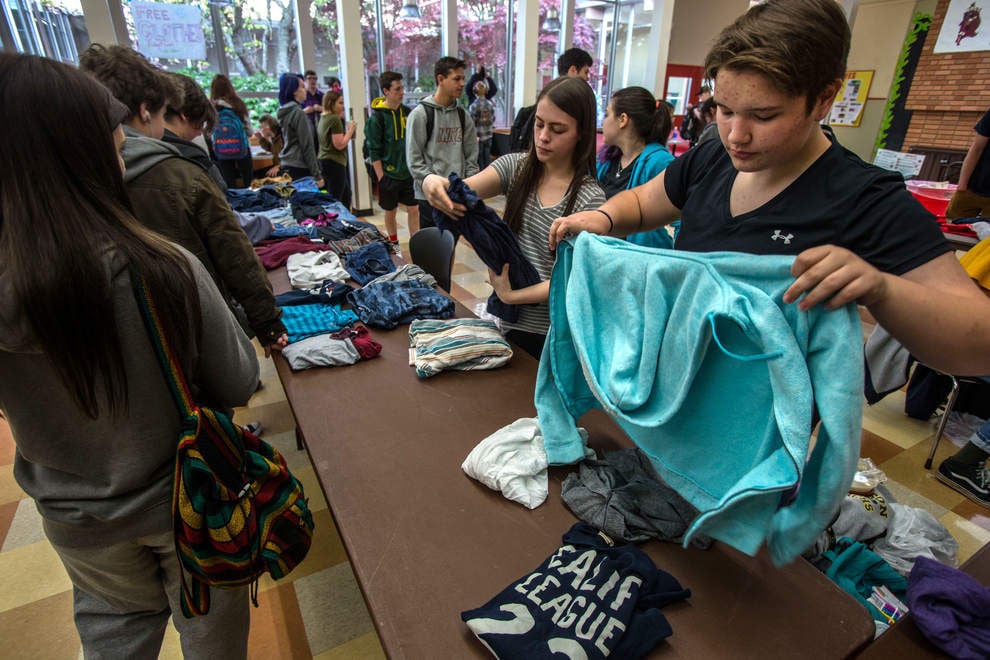 Ninth-grade students at North Eugene High School have a new appreciation for their clothes after studying globalization through the lens of fast fashion.
Fast fashion refers to mass produced, quickly made clothing inspired by current fads. Clothes often are made with cheap materials and sold at low cost, attracting consumers to buy more of the products.
The 14- and 15-year-old students in Clair Wiles' ninth-grade social studies class recently were asked to evaluate at least one item of their clothing.
Students examined labor conditions, wages and dangers in clothing manufacturing plants. They read the stated labor policies of clothing brands and the company codes of ethics and environmental policies. Students learned how making clothes affects people and the environment.
Several students said they were surprised by what they learned about some of their favorite brands.
"A lot of jeans companies use sandblasting, which is just awful for the health of their workers," 15-year-old Jozie Garner said.
Others said the three-week project inspired them to be more conscientious shoppers.
"Buying clothes from companies that have poor labor practices isn't worth the few dollars you save," 15-year-old Rainey Jenkins said. "It's better to spend a little more on clothing that will last longer and supports healthy workplaces."
To make the assignment produce more than just an essay, Wiles had her students look inside their closets to determine which clothes they wear and how many items from their wardrobe were mostly untouched.
"They were asked to donate clothes that still had tags on them, or that they weren't using," Wiles said.