Coalition 'appalled' at NXT decision to block $2.8bn in higher education cuts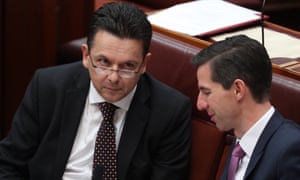 The education minister, Simon Birmingham, has said he is "appalled" the Nick Xenophon Team has decided to oppose $2.8bn in cuts and fee increases in the universities sector.
Universities Australia has welcomed the decision as a "a victory for common sense and Australia's best interests" but the minister has not yet ruled out other cuts as a result.
The government's higher education bill would impose a two-year 2.5% efficiency dividend on universities, lower the Help debt repayment threshold to $42,000 and increase fees by a cumulative total of 7.5% by 2021.
In a statement on Thursday the NXT education spokeswoman, Rebekha Sharkie, called for a review of tertiary education, universities and vocational education.
She said until the review was conducted it would "be wrong to support many of the cuts proposed by the government", including the three central measures.
NXT also opposed replacing subsidies with loans for most permanent residents and New Zealand citizens, a scholarship system for postgraduate coursework places and performance contingent funding for universities.
The NXT supported uncontentious elements of the bill including increased funding for work experience courses, reform of the main university entrance equity program, the higher education participation and partnerships program, and $15m for eight regional study hubs across mainland Australia.
The bill is sitting on the Senate notice paper and was due to be debated this week but the government never brought it on for a vote as it was opposed by Labor and the Greens, and the NXT had earlier signalled opposition to cuts.
Birmingham argued that taxpayer funding to universities since 2009 had grown at twice the rate of the general economy, meaning it was "fair and reasonable to continue to expect a modest contribution to budget repair" from the sector.
"We will consider the options of this decision for higher education policy and, as always, will also ensure any budget implications are addressed," he said.
The chief executive of Universities Australia, Belinda Robinson, thanked the NXT, saying the minor party had "put in the hard yards to understand the issues and the contribution that our world-class university system makes to the wellbeing of all Australians".
"They have sent a very strong message that pulling public investment out of our university system is not the way to build a stronger, more internationally competitive tertiary education system," she said.
Robinson said the government had to take a new approach because it was clear "inflicting major cuts on Australia's higher education system is the wrong call".
"This is an opportunity for government to hit the reset button and stop, once and for all, treating our university sector as a target for budget savings – when in fact it is an investment in Australia's future."