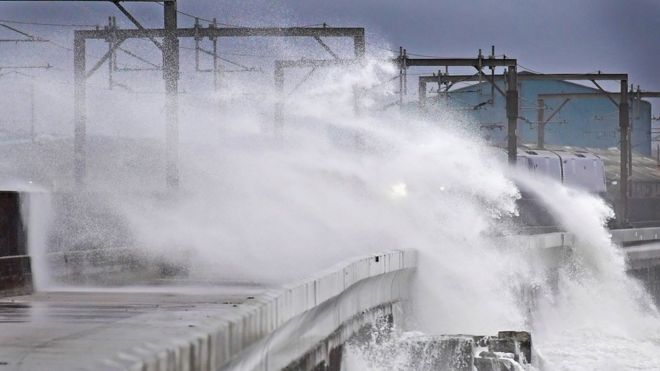 Storm Barbara has started crossing Scotland, causing power cuts, school closures and difficult travelling conditions.
The highest wind speeds are forecast for the Western Isles, Skye, the north west coast and Northern Isles, with gusts expected of 80-90 mph.
Wintry showers and ice have also been forecast for large parts of Scotland.
An amber alert has now been issued for the Northern Isles and part of north Caithness on Boxing Day.
The Met Office has named it Storm Conor and is forecasting winds gusting to 70-80mph – possibly reaching 90mph in some areas.
It also has an amber "be prepared" warning for Storm Barbara and yellow "be aware" warnings in place for high winds at the weekend and Monday and wintery showers and ice for large parts of Scotland on Friday into Saturday.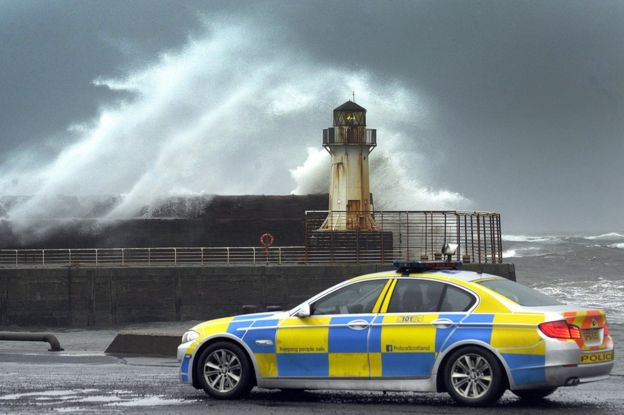 Wind speeds on Friday have been recorded gusting to 74mph on South Uist, 67mph in Stornoway on Lewis and 66mph on Fair Isle in Shetland, the Met Office said.
Transport Minister Humza Yousaf has urged people to check weather forecasts and travel information before setting out on journeys over the next few days.
He added: "We shall be continuing to monitor the situation over the festive period including Christmas Eve, Christmas Day and Boxing Day to make sure that the most reliable and relevant information is being communicated to people as early as possible."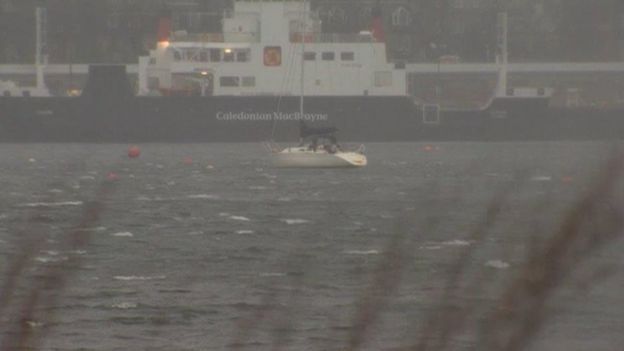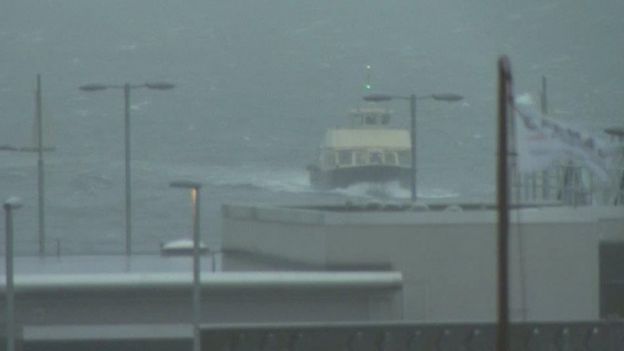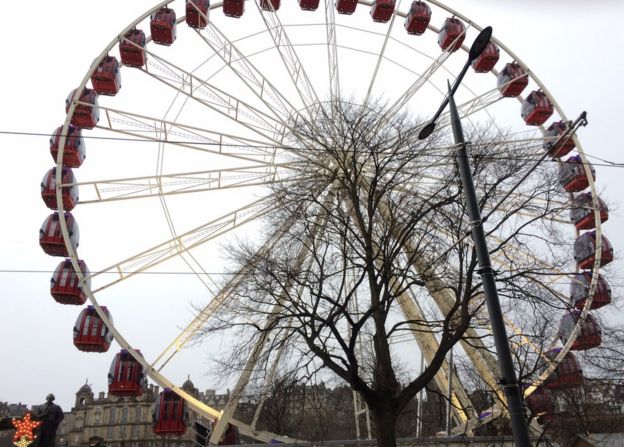 Weather has been causing some disruption across Scotland.
Almost 120 school sites involving a total of more than 8,500 pupils, are shut in the Highlands on Friday and ferries to the Northern and Western Isles have been cancelled.
Some train services have also been affected, and all bus services on the Western Isles have been cancelled.
Power cuts have been affecting properties in parts of Lewis and South Uist in the Western Isles, around Knockando in Moray and Assynt and near Loch Broom in the Highlands.
Electricity company SSE said it was working to restore power.
---
Met Office warnings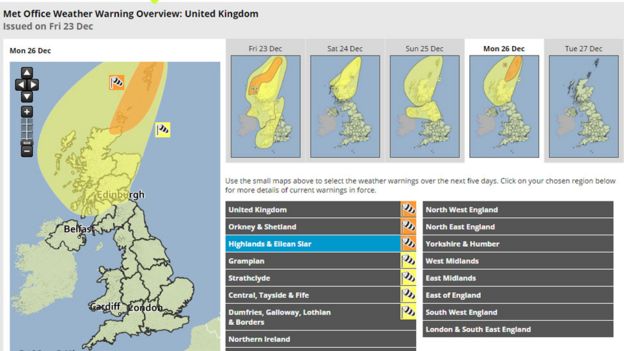 Friday: Amber "be prepared" warning of winds gusting to 80 to 90mph issued for Scotland's north and north west mainland, Western Isles and Northern Isles. Also two yellow "be aware" warnings for the rest of Scotland, one for winds gusting to up to 70mph and the other for wintry showers and ice.
Saturday: Two yellow warnings. One has been issued for a forecast of wintry showers and ice until about midday and the other for strong winds until about 09:00. Shetland could see gusts of up to 80mph.
Sunday: A yellow warning of wind associated to Storm Conor has been issued for Scotland. The Met Office says winds could gust to 50-60mph widely, and potentially to 70mph. The Northern Isles could see winds gusting to 80mph or higher.
Monday: Amber warning about winds gusting to 80mph, and possibly 90mph, has been issued for north Caithness coast and Northern Isles. A yellow warning of high winds has been issued for the rest of Scotland.
The Met Office has been regularly updating the warnings. For updates go to the Met Office website.
---
The firm is also on "yellow alert", meaning it is increasing the levels of its frontline and support staff that are on stand-by and moving engineers, plant and welfare facilities to the areas it expects to be affected by the storm.
In Edinburgh, high winds have led to the closure of St Andrew Square, along with city centre entertainment such as the Starflyer, Big Wheel, climbing wall and Scottish market.
Friday was due to be the last day of term for pupils in the Highlands. The council posted details of the closures on its website.
CalMac said all sailings to the Outer Hebrides and between the islands have been cancelled for the rest of the day. The ferry operator has warned of the possibility of further disruption.
Operations director Drew Collier said: "There is little sign of let-up over the next few days, however, so the disruption is highly likely to continue right across the weekend and Boxing Day – although each and every sailing will be kept under constant review and we will assess weather windows as and when they present themselves.
"I cannot stress strongly enough the need for customers to continue to pay close attention to weather forecasts over the festive weekend and to keep a frequent eye on our service updates – these are constantly updated and reflect the most accurate picture of services."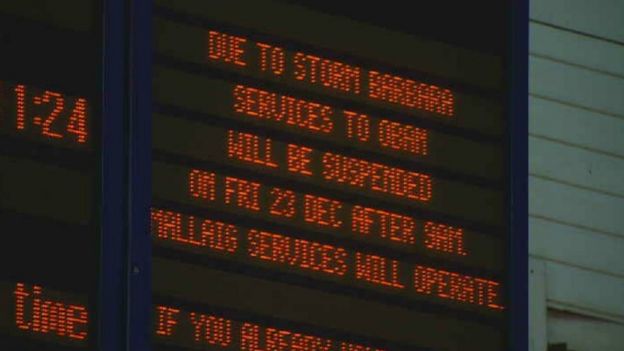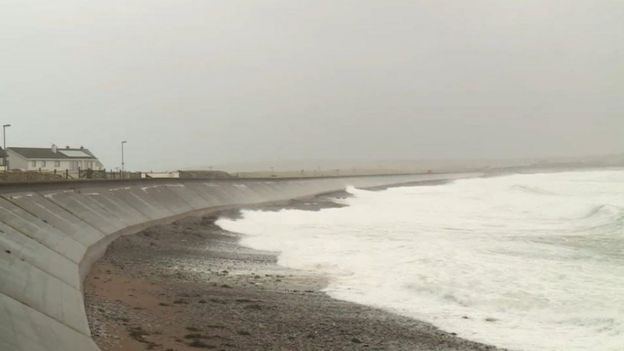 For Storm Barbara, the Met Office has issued an amber warning for the Northern Isles, the Western Isles and Northwest Scotland.
It suggests gusts of 80-90 mph are likely in the afternoon and evening.
The Scottish Environment Protection Agency (Sepa) has flood alerts in place in many parts of Scotland.
Network Rail warned that some train services will be affected. They included a reduced service between Glasgow and Oban.
A similar reduction in services will apply between Inverness and Kyle of Lochalsh, as well as Inverness to Wick.
ScotRail has listed the services it expects to be disrupted.
Meanwhile, in Orkney, a bakery on Westray has offered to make its industrial ovens available for cooking turkeys for anyone on the island who finds themselves without electricity while trying to make Christmas dinner.
Brown's Bakers has its own generators – which can be used to power the ovens.
Louise Drever, who runs the business with her husband Duncan, said they could potentially cook up to about 60 turkeys at one time.
Ferry operator CalMac said it was able to make a delivery of Christmas turkeys to the Isle of Barra before its services were disrupted.
[sOURCE:-BBC]