US President-elect Donald Trump has hit back over Meryl Streep's criticism of him as she received a lifetime achievement award at the Golden Globes.
He tweeted: "Meryl Streep, one of the most overrated actresses in Hollywood, doesn't know me but attacked last night at the Golden Globes.
"She is a Hillary flunky who lost big," Mr Trump added of the three-time Oscar-winning actress.
Streep referred to Mr Trump in her Globes acceptance speech.
La La Land sweeps Golden Globes
British stars dominate TV awards
All the winners and nominees
Golden Globes 2017: In pictures
The ceremony as it happened
"It kind of broke my heart," she told the Golden Globes audience in Beverly Hills on Sunday as she picked up the Cecil B DeMille award.
"This instinct to humiliate, when it's modelled by someone in the public platform, by someone powerful, it filters down into everybody's life.
"Because it kind of gives permission for other people to do the same thing."
Without naming Mr Trump, Streep said she had been stunned when he allegedly mocked a disabled reporter during a campaign appearance.
Mr Trump tweeted: "For the 100th time, I never 'mocked' a disabled reporter (would never do that) but simply showed him 'groveling' when he totally changed a 16 year old story that he had written in order to make me look bad. Just more very dishonest media!"
Mr Trump, who is due to be inaugurated in less than two weeks, jerked his arms in front of his body as he made fun of Serge Kovaleski, who has a congenital joint condition, at a rally in South Carolina during the presidential campaign trail in November 2015.
Off to Washington for the inauguration?
Obama's presidency: Grades A to F
Streep also referred to immigration. Mr Trump is considered by many to have a hardline stance on immigration policy.
The actress told the audience: "Hollywood is crawling with outsiders and foreigners and if you kick them all out, you'll have nothing to watch but football and mixed martial arts, which are not the arts."
British success
Hollywood musical La La Land broke the record for the most Golden Globe Awards. It won seven in total – succeeding in every category for which it was nominated.
Its stars Emma Stone and Ryan Gosling won in the acting categories, while Damien Chazelle was named best director. It also won the best musical or comedy film award, best screenplay, best score and best song.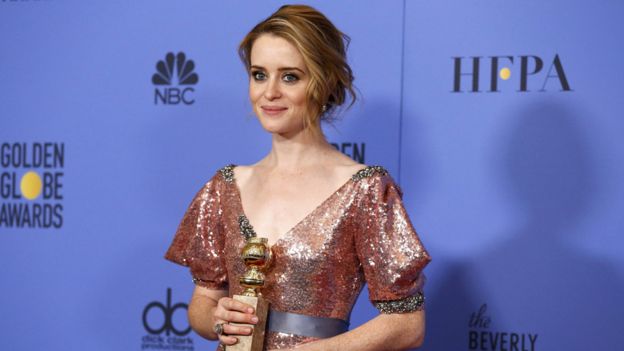 Coming-of-age drama Moonlight was named best film in the drama category, while best supporting actor and actress went to Casey Affleck and Isabelle Huppert.
British stars dominated in the television categories, with prizes for The Night Manager and The Crown.
Three stars of BBC spy drama The Night Manager – Tom Hiddleston, Olivia Colman and Hugh Laurie – won acting prizes.
Claire Foy, who plays the Queen in Netflix's royal epic The Crown, was named best TV drama actress and the show won best TV drama.
[Source:-BBC]