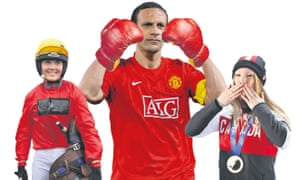 When former footballer Paolo Maldini bowed out of his nascent tennis career after a solitary chastening afternoon on clay, he summed up the difficulties with the elegance of a man more used to taking effortless command of the defences of Italy and AC Milan.
"It was like writing a poem after studying years of maths," Maldini said after suffering a 6-1, 6-1 doubles defeat at the Aspria Tennis Cup in June.
Rio Ferdinand, backed by Betfair's "Defender to Contender" campaign, is now attempting a similar feat by jumping from the football pitch to the boxing ring. He joins a formidable list of sporting converts.
Ferdinand's promoters have previous: Olympic cycling champion Victoria Pendleton was, like the ex-England and Manchester United defender, little more than two years out of her old vocation when she was encouraged by Betfair to swap one saddle for another, training for the Cheltenham Gold Cup and finishing fifth in the 2016 Foxhunter Chase.
Pendleton said that was probably a greater achievement than two Olympic gold medals, but she did, at least, have skills that clearly transferred between the disciplines. It was harder to say the same for Ian Botham, the most high profile among a stream of multi-taskers between football and cricket, although 11 Football League appearances for Scunthorpe United while on Somerset's books came via the kind of juggling act few have dared to attempt since.
Michael Jordan's baseball cameo with the Birmingham Barons in 1994, during his first retirement from NBA, proved it was possible to flit between sports with a clear head, and nobody would mock the two All-Ireland titles Kevin Moran won in Gaelic football directly before joining Manchester United. Heather Moyse, the Canada rugby international and inductee to the World Rugby Hall of Fame, arguably trumps the lot: she also won two Winter Olympic golds in the two-woman bobsleigh and has competed as a track cyclist.
But if Ferdinand seeks analogues, he could look to the pastime that has newly fostered him. There may be lessons to take from Andrew Flintoff, whose one bout brought a mucky victory over Richard Dawson that was branded a "circus". More optimistically, there is Curtis Woodhouse, a decent enough footballer who became British light-welterweight champion in 2014 and fought 30 times overall.
Will Ferdinand evince that kind of staying power? "People like Maldini are my inspiration," the cultured centre-back once said; it might serve him well, this time, not to follow his idol's example too closely.