Grandmas at school: Village initiative offers education to elderly ladies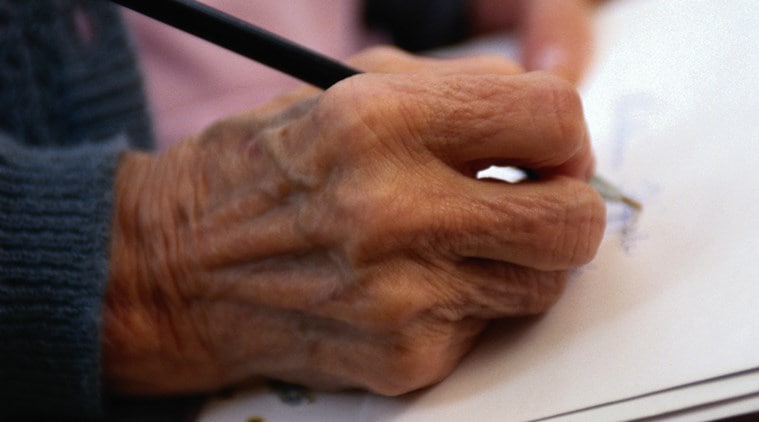 Clad in her pink uniform with a backpack on her shoulders, 60-year-old Kanta More walks down to her school every morning reciting the nursery rhyme she was taught the previous day. Along with 29 of her classmates, she begins her day at school with a prayer and goes on to recite the alphabets in Marathi swaying back and forth, as she etches them out on her black slate with a piece of chalk.
It could be an everyday scene in any elementary school, but with one difference: The students are all aged between 60 and 90 years of age. Kanta and her friends study at the Ajibainchi Shala, a grandmothers' school in Fangane village in Thane, where they receive elementary education including fundamental mathematics, alphabets and their correct pronunciations as well as nursery rhymes.
An initiative to turn the hour glass by 45-year-old Yogendra Bangar, the school aims to educate the elderly women in the village, where farming is the dominant profession. Bangar, a teacher at the Fangane Zila Parishad Primary school collaborated with the Motiram Charitable Trust, which has provided a blackboard for the classroom, besides helping the women with all the necessary logistics including a pink sari uniform, a school bag, a slate and chalk pencils.
Initially hesitant about attending school, Kanta, who can now read and write in Marathi, says being educated makes her feel independent.
"Initially I was shy and hesitant, but when I came to know that women of my age and above were joining the Shala, I went ahead with the decision. Now I can read and write in my language. I have understood the importance of education. It gives you self-esteem. Earlier, I had to put my thumb impression on bank documents, but now I can sign them myself. I don't need anyone else's help," she says.
Interestingly, Kanta is taught by her own daughter-in-law Sheetal who is a teacher at the school. Besides teaching them alphabets, Sheetal also makes them learn the verses and hymns written by great Marathi saints. The overwhelming enthusiasm of the women is also conspicuous in 87-year-old Ramabai's determination that remains undeterred despite suffering from a hearing impairment.
"We did not know the importance of going to school as children. But, now I can write and also do a bit of reading," says Ramabai, peeping through her thick glasses. To make the school compound greener, each student has planted a sapling named after them, which they water everyday.
The idea for opening the Shala struck Bangar last year when he found that nearly all elderly women in the village were illiterate and were unable to recite the mythological epics on Shivaji Jayanti.
"I felt it was my duty to educate them. After receiving the initial funds from the trust a family offered to lend a small portion of their land to set up the school and we began our journey on International Women's Day last year with 28 grandmothers," he says. Bangar, who travels 75 km everyday from the city to the school and back, says while any form of help from the government, particularly fellowships for their students would encourage encourage them and help take the initiative to other parts of the state.
"It would be really welcoming and encouraging if the government offers fellowship to our students. It would be a revolution if the efforts are replicated in other parts of the state," says Bangar, who claims that the initiative has helped the village achieve 100 per cent literacy. Education among the women has also created an increased awareness about sanitation and hygiene, making the village free of open defecation.
"Each family in the village has managed to set up toilets in their homes," he says.
[Source:-The Indian Express]