Hacking the free throw: the science behind the most practiced shot in sports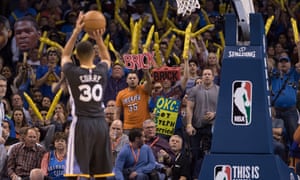 Despite the name, free throws only seem free. Though they are one of the few, or perhaps only, opportunities in sport during which the defense steps aside, many NBA players struggle with consistently making the uncontested 15ft shot. But that's nothing new, despite advancements in nearly every other physical skill, NBA free throw shooting percentage has bounced around 75% since the early 1970's.
In today's NBA, it's much more exciting to shoot three-pointers. NBA players are human beings too, generally young people that were brought up on SportsCenter and YouTube. And let's face it, shooting free throws is kind of boring, even for the NBA players that struggle to make free throws. That's reflected in the continued rise of three-point attempts – currently at an all-time high of nearly 40 per game – and the fall of free throw attempts to nearly the lowest in 60 years. For all the talk about the analytical advantages of three-point shooting, it doesn't get better than a shot taken without a defender and a stopped clock.
But while free throw shooting isn't exhilarating, free throw shooting becomes much more important at the end of games, especially in the playoffs. NBA.com highlights a 'Clutch' statistic in which they define clutch as the last five minutes of a game in which the differential is five points or less. Likely on the strength of Steph Curry's late game free-throw shooting aptitude, the Warriors were one of the NBA's best in clutch playoff free throw shooting, hitting 90% from the free throw line, a big part of their post-season success.
According to research from the Sloan Sports Science Conference, despite the noise and waving towels directed at visiting teams, the pressure in those clutch free throw situations lies more on the home team. Based on the analysis of 440 NBA players and over 340,000 free throws, the researchers found that home free throw shooters did significantly worse in clutch situations, while road players showed no change under pressure, indicating that home team antics played a limited role for the road team.
So, without a defender, why do so many players struggle from the free throw line? Willie Green, a 12-year NBA veteran and assistant coach for the Golden State Warriors, explains that a lack of defense is part of what makes free throw shooting challenging. "We are used to a defender and without one, it can feel different," says Green.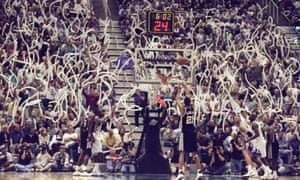 Too big to fail might not be accurate in the NBA. Big men seem to struggle more from the line than shorter players and size is often implicated as a factor in poor free throw shooting. The data seems to validate this theory, as one analysis found that as height increases, free throw percentage decreases. But an evolving game might be shifting that trend says Green, "I think big men have historically struggled shooting free throws, but that's changing as they have started to shoot more threes and jump shots, becoming better overall shooters."
The free throw line can be a lonely place and the casual fan underestimates just how nerve-wracking free throws can be for NBA players. "Imagine standing in front of 20,000 people that either really want you to be successful, or really want you to fail," says Dave Love, shooting coach for the Orlando Magic, "It is really the only time in the game the players become aware that everyone is watching them, and them alone."
Three-point and jump shooting, though usually defended, comes within the flow of the game. "Regular shots are in a rhythm, catch and shoot, off the dribble, with a lot of action," says Mark Price, a career 90% free throw shooter and four-time NBA All-Star, "But everything stops when you're shooting free throws and everyone is focused on you."
To help block out distraction, players are taught to have a free throw routine, one that they replicate before every free throw. "A lot of players when they are at the line have too much time to think and their minds start to wander and this gets them in trouble," says Dave Hopla, shooting coach for the Detroit Pistons, "The ones that think too much are usually the ones that haven't practiced enough."
But it's more than that maintains Hopla, recognized as one of the best shooters and shooting coaches in all of basketball. Poor mechanics, fundamentals, and technique plus a lack of concentration can all get in the way of consistent shooting. In fact, according to research published in the Journal of Quantitative Analysis in Sports, every player's free throw misses, and makes, are unique as snowflakes.
The research analyzed five factors – backspin, launch height, velocity, angle, and left-right deviation – and used them to explain why NBA players missed free throws. The researchers couldn't identify one reason why shots clanked off iron, instead finding that each player missed in their own way, usually with one or two consistent, individual factors behind the missed shots.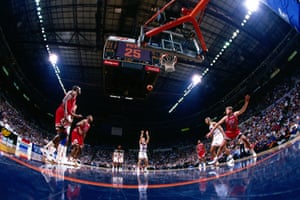 For Hopla, the problem starts well before players ever get to the NBA, developing in an AAU system that generally emphasizes playing games over fundamentals. "The kids are playing on 10ft rims at 10 years old, and shooting from the high school three-point and 15ft foul line," says Hopla, "Shooting at 10ft hoops at early age causes players to develop bad habits and bad shooting form.
"Baseball at the grass roots level has it right; they start out with T-ball, then parent pitch, then with a pitcher's mound and bases that are closer. They don't go right to Yankee Stadium and start pitching from major league mound."
Of course, mastering the physical portion of free throw shooting might be easier than the mental approach. The emotional skills acquired in the early developmental stages of basketball can also play a factor in confidence later in a career, Love argues. "If you grew up thinking you were a good shooter then you probably look forward to going to the free throw line for what you consider to be "easy" shots. But if you had a couple bad experiences when you were young you might dread having to go to the line with everyone watching."
Price's thinking has less to with bad coaching and more to do with hard work. "There are a lot of opinions on AAU basketball and how that influences development, but to me it comes down to a personal responsibility to improve," emphasizes Price, current coach of UNC-Charlotte and one of the few players in NBA history with a career free throw percentage over 90%, "I took 250 to 300 shots a day and improved my free throw shooting at each level. I didn't just show up, I took it upon myself to get better and it took a lot of effort."
The lesson? The foundation of a successful free throw shooter isn't built on gimmicks – blindfolded shooting, extra large basketballs, meditation or the like – just lots of practice. It isn't glitzy, but it works.