Sports Direct boss Mike Ashley once promised to finish off JD Sports, but now finds himself being trounced by his rival.
JD Sports, the self-styled King of Trainers, is not only valued at a cool £1.1bn more than the Newcastle United owner's chain, but last week revealed its sales and profits growth were a well-shod leap ahead of the rest of the UK fashion market.
While other clothing retailers have spent the last two years moaning about unsuitable weather and claiming that shoppers are more interested in holidays and gadgets than the latest fashion, JD has powered on. Sales at stores open more than a year rose 10% in the six months to the end of July.
Even executive chairman Peter Cowgill sounded surprised by the group's 66% rise in underlying profits, revealed on Tuesday, saying they "exceeded reasonable expectations."
But the performance should not be a shock. The sportswear market is generally less weather-dependent than the rest of the clothing market and JD is at the centre of the catwalk-led "athleisure" trend for sportswear as fashion.
Major brands such as Nike and Adidas have been expanding their ranges to include the kind of sportswear meant to be worn outside the gym. Celebrities such as Beyoncé – whose athleisure line, Ivy Park, is sold in JD – have given a boost to the trend, which is drawing more women into sport stores.
Sales in JD's womenswear are soaring, having traditionally made up less than 30% of the chain's sales compared with 60% for the whole UK clothing market.
Of course trends come and go, so there is some debate whether JD's mini-boom will drop off once young people move on to something new. Cowgill argues: "We can never predict the future but I don't think it's a trend. I think it's a culture, a lifestyle situation. Not long ago you couldn't go into a bar with trainers on: now it is more acceptable."
And it's not only bars. Sales of trainers are rising around the world as casualwear becomes the norm in offices as well as at social events.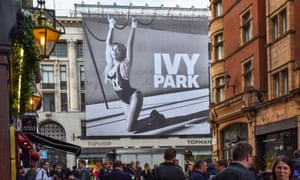 Richard Hyman, the veteran independent retail analyst, says: "Trainers have become shoes and the key beneficiary has not been traditional footwear retailers or apparel retailers with footwear departments. This market is highly branded, whereas mainstream fashion is very own-label. People want the credibility of a brand and JD has built a business on that."
Of course, Sports Direct has also benefited from that trend, but to a lesser extent, as JD has a much stronger relationships with the key brands. This gives it access to more exclusive products, and launches of sought-after new designs.
Cowgill says fostering those relationships through investment in the look and ambience of stores has been key to keeping such brands on board.
Kate Calvert, an analyst at JD's house broker Investec, says: "Sports Direct has had quite a turbulent time with the two major suppliers, Nike and Adidas – they're always falling in and out of love with each other." In that environment, JD has been able to get access to premium products at premium prices, insulating it from some of the wider market deflation.
Sports Direct has cottoned on to this and is trying to woo the brands back with investment in stores, alongside efforts to tackle the employment and governance practices that have drawn so much bad publicity. Fiona Paton, an analyst at Verdict Retail, says: "[JD] has benefited from Sports Direct's mass of bad publicity and the distractions that has caused its senior management.
"However, this will not go on indefinitely, and Sports Direct has announced plans to target more premium brands with investment in its Flannels fascia, so JD Sports is likely to face tougher competition in the near future."
Cowgill counters: "All our competitors worry us. We've got to keep an eye on various parts of the market." He adds with a smile about Sports Direct: "It remains to be seen if they get their act together. We try to avoid being in direct competition. We see the market as huge enough for the two of us."
That market increasingly includes Europe, where JD is expanding its main chain in France, Spain, the Netherlands, Germany, Italy, Belgium, Sweden, Denmark and, most recently, Portugal. It also owns Sprinter in Spain, Chausport in France and has taken its trendy Size? footwear chain into five countries over the channel. Further afield, it has bought outlets in Malaysia and Australia. Revenues are up 38% in Europe and 14% elsewhere, although the profitability of these operations is not yet clear.
Last week, Cowgill was in a bullish mood. "We never rest on our laurels and we are gutted if there's even a day when our numbers are negative. We drive as hard as we possibly can." It could be a speech from a professional sportsman.
[Source:-The Guardian]