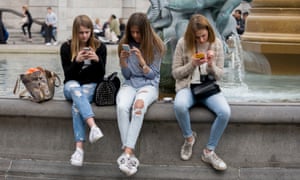 Social media is a double-edged sword that could make Britain's loneliness epidemic worse, the sister of the murdered MP Jo Cox has said in response to research which found that 9 million people in the UK feel permanently isolated.
Speaking at the launch of a report commissioned by the Labour MP before her death, Kim Leadbeater said technology was a force for good, but that it had reduced people's time for "proper human connections".
"Our lives nowadays are so busy. We're constantly dashing around, we spend the vast majority of our time on our phones, on our laptops. We need to press pause on that and actually sit down and speak to human beings," she said at the event in Cox's former constituency of Batley and Spen, near Leeds.
It said loneliness was as harmful to health as smoking 15 cigarettes a day.
The report calls on the government to launch an annual loneliness survey of the whole population to measure the problem – which charities have described as an epidemic – more accurately.
It also calls for the government's family test, which assesses the effect of policies on stable families, to become a family and relationships test.
Cox established the commission, which is chaired by the Labour MP Rachel Reeves and the Tory MP Seema Kennedy, before a far-right fanatic murdered her outside her constituency office in June 2016.
Unveiling the report at Jo Cox House on Friday, Leadbeater said both she and her late sister suffered loneliness when Cox left home to go to Cambridge University, and that it was encouraging that people were opening up about it.
"It's refreshing that more people are prepared to acknowledge [loneliness]. I don't think it's that surprising … What we're lacking is proper human connections, where we actually sit down with somebody, we have eye contact, we might even touch them," she said.
"I'm guilty as anybody. I spend loads of time on my phone, far more than I ever did before, and I used to go mad with Jo because Jo would be constantly on her phone, but that is the nature of our lives nowadays.
"It's a double-edged sword. I think technology is brilliant in that it can help to connect people, but it is not a substitute for human contact. It's fantastic in many ways but it doesn't replace sitting down with a human being."
Leadbeater said everyone in society had a role to play in combating loneliness, and urged people to devote just an hour of their time a week to sit down with a neighbour. She also said, however, that the government needed to change policy and provide money to tackle the issue. "I would encourage them to do so and we need to hold them to account if they don't do that," she said.
The report stresses that loneliness affects people of all ages, not just older generations. It found that 43% of 17- to 25-year-olds using the charity Action for Children, which helps vulnerable and neglected young people, reported feeling isolated.
Research by the same charity found that that more than 50% of parents had faced problems with loneliness, and one in five had felt lonely in the past week.
The commission praised volunteer projects, such as Writing Back, in which students from Leeds University become penpals with older Yorkshire residents.
Heather Wilson, a semi-retired former social worker, said she decided to become penpals with three students after she began to feel lonely at home.
"I've always been socially minded, but I've felt incredibly lonely at different times in life," she said at the launch event. "I felt I just didn't want to sit in my house by myself, and it just keeps your mind alive. The young people you meet are really wonderful people and sometimes they get a bad press."
In her latest letter, Wilson, 65, explained British Christmas traditions to her Chinese student penpal Kun Li, who said he had signed up to the project because he had no friends in Leeds, having arrived in the city two months earlier to study for a PhD. "I'm a stranger to the UK and I know nothing about the UK. I sat at home, I had nothing to do, I had no friends," he said.
"For our international students, we want to know more about England's culture and local culture but we don't know where we can get this information so I write to older people who know a lot about the culture of England."