Marks & Spencer Group Plc reported its best clothing sales in more than five years, delivering a confidence boost to the embattled British retailer after a tumultuous year marred by management overhauls, store closures and plunging shares.
Same-store sales in its clothing and home division rose 2.3 percent in the third quarter ended Dec. 31, the London-based retailer said Thursday, beating the median analyst estimate for unchanged sales. The timing of Christmas boosted sales in that business unit by 1.5 percentage points, M&S said. The shares rose as much as 5.7 percent in early London trading.
"Although like-for-likes were flattered by a shift in reporting periods, clothing and home still would have delivered positive growth," Richard Lim, chief executive officer at Retail Economics, said in a note.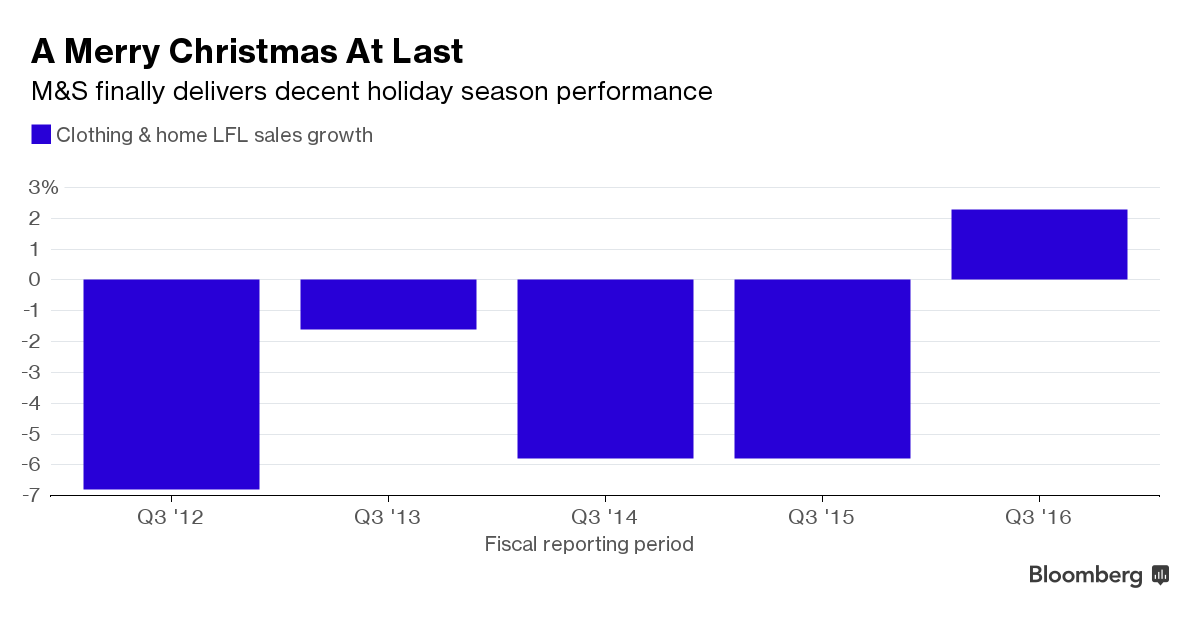 The better-than-expected clothing sales indicate that Marks & Spencer CEO Steve Rowe's price cuts and efforts to improve availability of popular lines are winning shoppers back. Some of those customers are likely to be coming from rival Next Plc, which reported disappointing Christmas sales, and department-store chain BHS Ltd., which collapsed in June. Rowe expects clothing sales to return to growth in the long term, he said on a conference call, without providing specifics.
Reduced Discounting
The retailer said a reduction in discounting over the holiday period fueled the better-than-expected sales growth, along with improved availability and a more attractive range of styles. Fourth-quarter results will be hurt by the timing of sales and a later Easter holiday, it said.
"In clothing, we are removing a number of promotional events, which will have an impact in the short term but we are focusing on making sure our full-price business is strong," Rowe said on the call. "In the longer term we will get back to growth."
Same-store sales in its food division advanced 0.6 percent, beating the estimate for a 0.5 percent decline. Still, Phil Dorrell, a partner at consultants Retail Remedy, said the growth was "soft" in comparison to the "excellent progress" shown by discounters, Wm Morrison Supermarkets and Tesco Plc, which on Thursday posted its strongest quarterly sales growth in more than five years.
Marks & Spencer climbed 3.2 percent to 351.30 pence at 8:25 a.m. in London.
[Source:-Bloomberg]