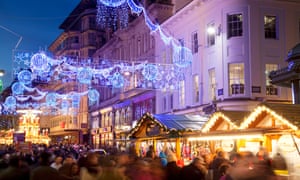 Still with the economy, and eurozone industrial production rose more sharply than expected in November.
Output climbed by 1.5% month on month compared to forecasts of a 0.5% increase. Year on year it rose 3.2%, much better than the 1.6% expected.
The October figures were revised upwards, with a 0.1% rise month on month compared to an earlier reported fall of 0.1%. Dennis de Jong, managing director at UFX.com, said:
After stuttering throughout the summer, industrial production in the eurozone bounced back with a vengeance in November, which will give the ECB serious grounds for confidence at this early stage in 2017.

The outlook remains weighed down by continued political uncertainty, but the recovery in the region is gathering some real momentum. Unemployment is falling, business confidence is up and the weak euro is a real boost for exporters.

Although Mario Draghi and his ECB colleagues are still faced with some very real political threats, the economy is standing up well in the face of adversity.
The ECB is due to announce its latest monetary policy deliberations next Thursday.
Back with the industrial production figures and Howard Archer, economist at IHS Markit, was also positive but warned of an uncertain outlook:
Even allowing for the fact that industrial production has been highly erratic, November's jump reinforces our belief that Eurozone GDP growth could well have reached 0.5% quarter-on-quarter in the fourth quarter of 2016. This would be up from 0.3% in both the third and second quarters.

It appears that the Eurozone manufacturing sector carried decent momentum into 2017, and they will be helped by the very competitive euro…

Looking ahead, a concern for Eurozone manufacturers will be that mounting uncertainty over the coming months (particularly political) could cause business and consumers to be cautious in their major spending decisions, thereby constraining demand for capital goods and big-ticket consumer durable goods

It is also very possible that purchasing power for Eurozone consumers' will become less favourable as inflation picks up, thereby weighing down on demand for big-ticket consumer durables.

In particular, an uncertain political environment could be increasingly problematic for Eurozone growth prospects over the coming months, especially given that the UK's Brexit vote last June and November's election of Donald Trump as US President fuels concern over potential political shocks. General elections are due 2017 in the Netherlands (in March), France (in April/May) and Germany (in September), while a 2017 election is very possible in Italy following Prime Minister Renzi's early-December defeat in the referendum on constitutional reform which has led to his resignation.
German economy grows at fastest rate in five years
48m ago10:21
Pharma shares hit by Trump comments
Updated at 10.37am GMT