Meet the next Windows 10: The Fall Creators Update connects across devices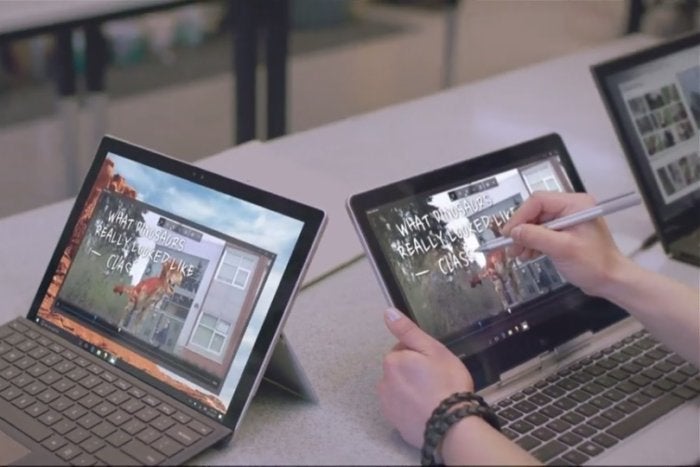 The Windows 10 Fall Creators Update is coming soon to right some wrongs. Revealed Thursday at the company's Build conference in Seattle, the next major version of the operating system fills in some of the missing pieces we lamented in March's Creators Update, and it makes it easier to work across multiple Windows devices.
As the name suggests, Microsoft will ship the OS upgrade "late this year." Company executives declined to commit to a specific date, though Microsoft said recently that it will ship Windows upgrades in March and September. As a footnote, Microsoft also revealed that 300 million people use Windows 10 daily, a different usage metric to consider next to the 500 million Windows 10 devices the company revealed previously.
Microsoft will build the Windows 10 Fall Creators Update around four key features, executives said:
Timeline, which allows you to capture everything you were doing at a given moment in time on a PC
"Pick up where you left off," which allows you to take your work on Windows 10 to the related app on iOS and Android
Clipboard, which allows you to take clips from a variety of devices and access them on your PC
OneDrive Files on Demand, which apparently (and finally) bridges the gap between storing large files on OneDrive, yet being able to access them when you want.
Microsoft will also announce Story Remix, an app designed to automatically combine photos and videos together with a soundtrack, theme, and cinematic transitions, the company said. Finally, Microsoft will add SuSE Linux and Fedora Linux as part of the Windows Linux subsystem, available via the Windows Store. All the new features will be presented with a subtle interface change known as the Fluent Design System, previously called Project Neon.
What this means to you: If there's a theme to the Windows 10 Fall Creators Update, it's connection rather than creation. Microsoft executives say this update is about making other devices great, even if those devices are not Windows. A user's Windows experience will move from device to device, using Microsoft's mobile apps for Android and iOS. This apparently even includes Windows 10 Mobile (which appeared in part of the keynote presentation), though Microsoft has no further plans to discuss the platform at Build. (Ditto for the magical, mobile Capture 3D app.)
[Source"timesofindia"]