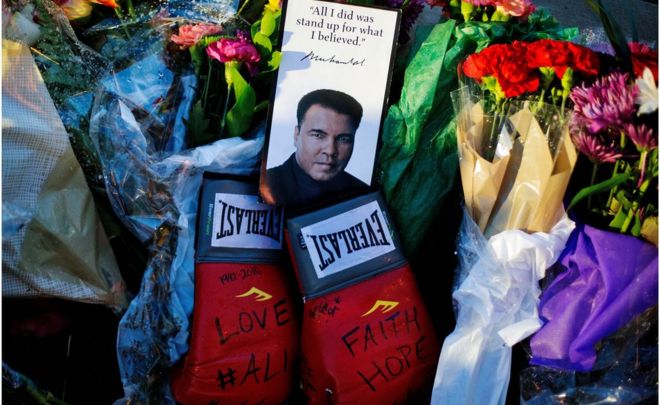 A huge procession and funeral will be held for Muhammad Ali on Friday to "allow anyone that is there from the world to say goodbye", his family says.
The funeral will be in Ali's home city of Louisville, Kentucky. Ex-President Bill Clinton will deliver a eulogy.
Comedian Billy Crystal and sports journalist Bryant Gumbel are also expected to speak.
The boxing legend, 74, died on Friday of "septic shock due to unspecified natural causes".
A private family service will be held on Thursday.
---
Muhammad Ali: 1942-2016

'No sportsman has touched more lives'
Obituary: Muhammad Ali
Muhammad Ali in his own words
Hometown mourns the 'Louisville Lip'
What made him so great?
How world remembers Ali
---
The three-time world heavyweight champion, and one of the world's greatest sporting figures, died in Phoenix, Arizona, and his body will be flown to Kentucky in the next two days.
He will be buried at Cave Hill Cemetery in Louisville, the city of his birth in 1942.
The fighter had been suffering from a respiratory illness, a condition that was complicated by Parkinson's disease.
'People's champion'
"He was a citizen of the world and would want people from all walks of life to be able to attend his funeral," said the family spokesman, Bob Gunnell.
After the family service on Thursday, Friday's events will begin with another private prayer service for family members at a Louisville funeral home.
Ali's body will then be taken in procession through the main streets of Louisville, including an avenue that bears his name and Broadway, where a procession was held in 1960 to celebrate his Olympic gold medal.
The main service will be at 14:00 local time (18:00 GMT) at the KFC Yum Center, which seats more than 20,000 people.
It will be interfaith but in the Muslim tradition, led by an imam, the family said, in keeping with Ali's beliefs.
"Muhammad Ali was clearly the people's champion," Mr Gunnell said, "and the celebration will reflect his devotion to people of all races, religions and backgrounds."
The event will be live-streamed on the centre's website.
Mr Gunnell said the fighter died in Arizona at 21:10 on Friday, and was able to say goodbye to his wife and children, who were present for his final moments.
Tributes have poured in from across the world but also dominated his home city, where flags were at half-mast at city hall and thousands of people visited the Muhammad Ali Center or paid homage at his modest childhood home on Grand Avenue.
Bill Clinton paid tribute to Ali on Saturday, saying he lived a life "full of religious and political convictions that led him to make tough choices and live with the consequences".
"Muhammad Ali shook up the world. And the world is better for it," said US President Barack Obama.
Muhammad Ali
Born Cassius Marcellus Clay, 17 January 1942
61 fights
over a professional career lasting 21 years
56 wins
including 37 knockouts
3

times crowned World Heavyweight Champion

1

Light-heavyweight Olympic gold medal

31

straight wins before being beaten by Joe Frazier
Ali was as much a campaigner for black equality as he was a champion in the ring.
Asked how he would like to be remembered, he once said: "As a man who never sold out his people. But if that's too much, then just a good boxer.
"I won't even mind if you don't mention how pretty I was."
But he was once a polarising figure in the US. At a time of racial segregation in the 1960s he joined the separatist black sect, the Nation of Islam, which rejected the inclusive approach of civil rights leaders such as Martin Luther King.
George Foreman, who lost his world title to Ali in the famous "Rumble in the Jungle" fight in Kinshasa in 1974, called him one of the greatest human beings he had ever met.
"To put him as a boxer is an injustice," said Foreman.
American civil rights campaigner Jesse Jackson said Ali had been willing to sacrifice the crown and money for his principles when in 1967 he refused to serve in the Vietnam war.
That decision was widely criticised by the boxer's fellow Americans. He was stripped of his title and had to put his fighting career on hold for three years.
Born Cassius Marcellus Clay, Ali shot to fame by winning light-heavyweight gold at the 1960 Rome Olympics.
---
Septic shock
Life-threatening condition when blood pressure drops to dangerously low level after infection
People with weakened immune system are more prone to developing septic shock
Symptoms include slurred speech, confusion, diarrhoea, vomiting, shivering, muscle pain
Quick response is key to successful treatment
---
Known as "The Greatest" – a nickname characteristically coined by the boxer himself – he beat Sonny Liston in 1964 to win his first world title and became the first boxer to capture a world heavyweight title on three separate occasions.
At the time of his first fight with Liston, Clay was already involved with the Nation of Islam, a religious movement whose stated goals were to improve the spiritual, mental, social, and economic condition of African-Americans in the US.
But in contrast to the inclusive approach favoured by civil rights leaders like Dr Martin Luther King, the Nation of Islam called for separate black development and was treated by suspicion by the American public.
Ali eventually converted to Islam, ditching what he called his "slave name" and becoming Cassius X and then Muhammad Ali.
Noted for his fast talk and bold fight predictions as much as his skills inside the ring, he retired in 1981 having won 56 of his 61 fights – 37 by knockout – and was later crowned "Sports Personality of the Century" by the BBC.
[Source  BBC]