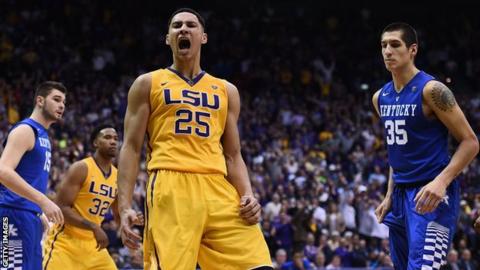 The Philadelphia 76ers took Australian Ben Simmons as the first pick in the NBA draft on Thursday.
The 19-year-old forward joins last season's bottom-placed team from Louisiana State University.
He said: "I've been looking forward to this day for a while, so I'm glad I've made history, not only for myself but my family and Australian basketball."
Simmons was one of 14 international picks, breaking the record of 12 in 2013.
He was expected to be the first pick after an impressive college season, during which he averaged 19.2 points, 11.8 rebounds and 4.8 assists per game.
The Los Angeles Lakers took shooting guard Brandon Ingram with the second pick, while two seven-footers, Croatian Dragan Bender and Sudanese-born Australian Thon Maker, went to Phoenix and Milwaukee respectively.
The second round of the draft takes place on Friday.
[Source  BBC]