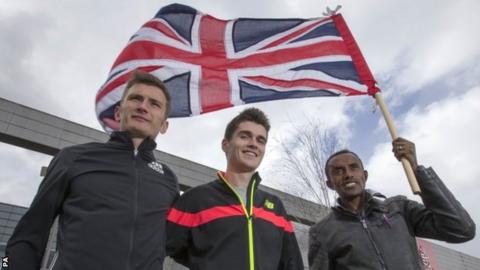 Liz McColgan believes there could be at least twice as many Scottish track and field athletes in Team GB for Rio as at any of the previous four Olympics.
"I think we have a great opportunity to have maybe 12 Scots in the team," the former Olympic silver medallist and world champion told BBC Scotland.
"That's from 400m hurdles, 800m, 1500m, 5,000m, 10,000m and marathon."
There were five Scots in the London 2012 team, four in Beijing, five in Athens and three in Sydney.
Beth Potter has already qualified for the 10,000m in Rio, while Callum Hawkins, Tsegai Tewelde and Derek Hawkins have been selected in the men's marathon.
"To have all three places in the men's marathon is amazing and we've got an opportunity to get all three places in the 5k for the girls, which would be amazing," said McColgan.
"I think, across the board, especially in distance running, we are just so well represented at the moment."
McColgan, who won her Olympic silver in the 10,000m in Seoul in 1988, says the current success has been a long time in the making.
"For me, it's exciting because, when I was chair of Scottish Athletics in 2002, we had a Liz McColgan endurance squad that was working out of Stirling and all these kids were part of it," she said.
"So for me to see them running now in 2016 and fulfilling the ability that they had back then is just amazing and I think there's more to come.
"We are on the march, we're moving forward and there's good depth in what we're doing now in athletics in Scotland and it's great to see."
Eilidh Doyle ran the fastest time in the world when she won the 400m hurdles at the opening Diamond League meeting in Doha earlier this month.
She was third in Rome on Thursday and was edged into second by American Cassandra Tate in a photo finish in Birmingham on Sunday, but the 29-year-old Scot is still not assured of her place in the British team.
"For Eilidh, she's got to finish in the top two in the trials, which will be a hard task because there are five girls who are all running well," added McColgan.
"So it won't be easy, but she's on her way, she's worked really hard and hopefully she'll finish it off with one or two in the trials."
[Source  BBC]