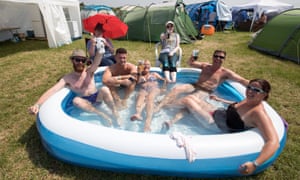 Demand for fresh fruit and veg and a dash for paddling pools, summer clothes and fans helped Sainsbury's deliver its strongest sales growth in more than four years.
Sales at stores open more than a year, excluding fuel, rose by 2.3% in the 16 weeks to 1 July, up from 0.3% in the previous three months partly thanks to the warm start to the summer. It was the strongest pace of growth since March 2013.
Mike Coupe, the Sainsbury's group chief executive, said: "We have delivered a strong performance, driven by our differentiated strategy, offering customers quality, value and choice across food, general merchandise, clothing and financial services."
The group, which also owns Argos, was partly helped by the timing of Easter and Mother's Day, which it said had contributed about 0.3 percentage points of the growth. Excluding that factor, the pace was still slightly ahead of City expectations of 1.9% growth.
Coupe said shoppers were snapping up Sainsbury's own-label products after it had implemented hundreds of quality improvements and held prices on basics including milk, chicken breast and eggs.
He said inflation, which is now running at more than 2.5% according to the CPI index, had started to hit towards the end of the period but Sainsbury's had "managed to keep a control over prices and the impact on customers".
Fresh produce performed particularly well, outperforming the market with volume growth of 1% as Sainsbury's cut the price of summer favourites including Jersey Royal potatoes and British strawberries. That helped boost total grocery sales by 3% compared to 0.3% growth in the previous three months.
Coupe played down the impact of the weather. He said that the number of warm days over the whole period was "not far off the same" as last year. He pointed to Sainsbury's improvement in price position relative to its competitors for the group's step up in performance. Coupe also said there were signs that shoppers were choosing to eat at home rather than go out for meals as disposable income came under pressure from rising inflation.
But he said: "We are not seeing a massive change in consumer behaviour."
Online grocery sales rose by 8%, Sainsbury's convenience store sales were up by 10% and clothing sales rose by 7.2%.
All the supermarkets have been lifted by a combination of a warm start to the summer and rising inflation.
Sainsbury's said the number of transactions carried out in its stores rose by 2%.
Coupe said that Sainsbury's general merchandise and clothing ranges, including Argos, outperformed the market, as its fast track delivery and collect-from-store services recorded a "stellar performance" during the quarter, particularly during the warm weather when customers wanted items such as paddling pools and electric fans on the day.
Total sales rose 1% despite the closure of dozens of Argos and Habitat outlets in Homebase stores after the takeover of the DIY chain buy Australian firm Bunnings.
Sainsbury's said it had opened 10 convenience stores in the period but made no mention of Nisa, the wholesale buying group with which it is understood to be in exclusive talks.
Coupe said: "Lots of conversations are had and there is lots of speculation but lots of things don't come off."
The supermarket is thought to be considering a £130m takeover of Nisa, which supplies and provides marketing support to thousands of small independent stores.
Nisa's 1,400 members, which include the McColl's convenience store chain, operate 2,500 shops. They would have to approve any takeover and many are fiercely protective of their independence.
Laith Khalaf, a senior analyst at Hargreaves Lansdown, said the bigger picture remained challenging for UK supermarkets: "Weaker sterling is pushing up food prices and putting a dent in consumers' purses, while the trading environment remains as competitive as ever.
"Indeed the turf war the big supermarkets have been fighting against the discounters may start to look like a schoolyard skirmish if Amazon decides it wants a piece of the UK grocery market."
David Alexander, the lead analyst at GlobalData, said: "With Sainsbury's receiving a significant helping hand from the upturn in fortunes for the wider grocery sector, it is too soon to judge whether this quarter represents a more positive new chapter for the grocer. That said, the change in tone is promising."
[Source"timesofindia"]