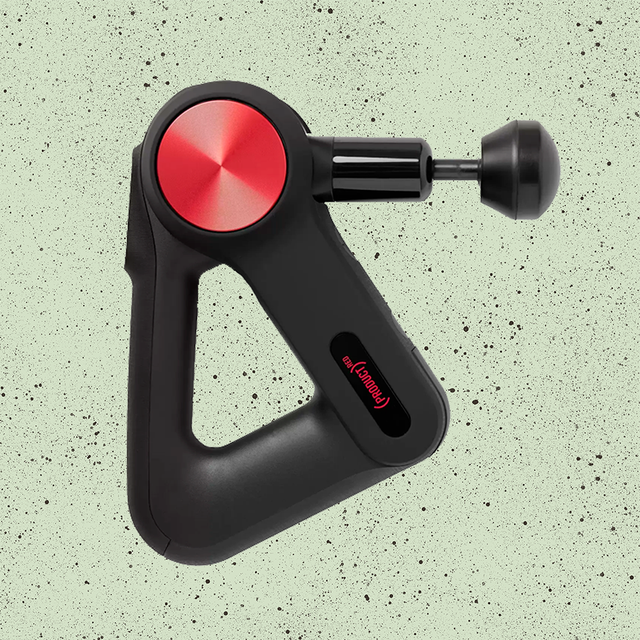 To paraphrase Ferris Bueller, tech moves pretty fast – and if you don't stop and look around once in a while, you could miss the chance to own a drone with a 12 megapixel camera which starts hovering when it recognises your face. So keep up with our weekly pick of the best gadgets and tech out right now, whether you're after something simple to make your every day more frictionless or something a bit special. To be specific, the 'something a bit special' is a tennis kitbag that also fires tennis balls at you.
1
Bose Quietcomfort Earbuds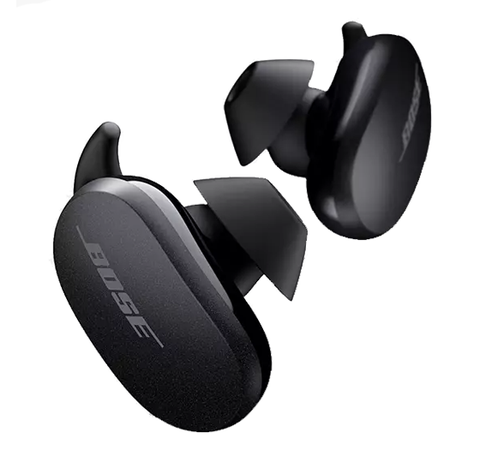 Did people used to talk this loud, pre-lockdown? You're back in the office, and the cacophony of laptop taps, desk-side Zoom meetings and small talk is driving you over the edge. Wait, did someone just turn on the radio? Time to plug in a pair of QuietComfort earbuds, which are designed with top-of-the-range noise cancelling tech that helps you turn the volume down on the outside world. The sound quality is great, too, and they're some of the snuggest earphones we've ever used.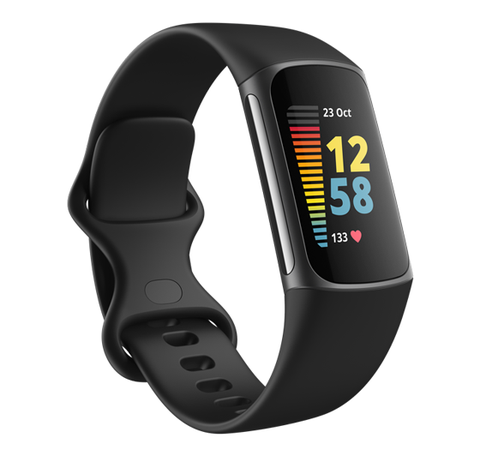 The fifth iteration of the Fitbit Charge is less angular than its predecessor, and has introduced a stainless-steel case to proceedings, but the real visible change is in the screen quality: an always-on colour AMOLED touch display, which only the brand's pricier models have boasted before this point. Beyond that, it's added plenty of cool health apps like the electrodermal activity (EDA) sensor, which reports levels of stress, as well as the electrocardiogram (ECG) app, which checks for irregular heart rhythm. As a fitness tracker, it's up there with the very best.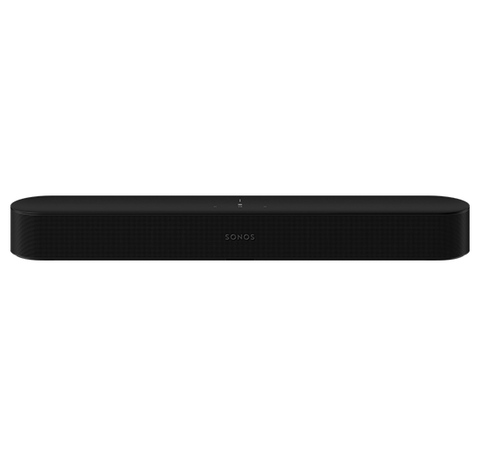 The way we watch movies has changed. Hollywood studios were forced into rethinking their release schedules due to the pandemic, and nowadays a big budget movie is just as likely to debut on a streaming service as on a cinema screen. That means you need to improve your home entertainment set-up and enjoy films just as the director intended you to (while scrolling on your phone, pausing every 15 minutes to find out where you know that actor from). To that end, the next generation model of Sonos's Beam home cinema speaker will give you panoramic sound (with Dolby Atmos 3D effect) in a sleek and understated package. It's all been fine-tuned by Oscar-winning sound engineers, and the dedicated app will help you personalise the machine to your tastes (as well as hook up to other Sonos devices and play music).
4
Therabody + (RED) Theragun PRO Massager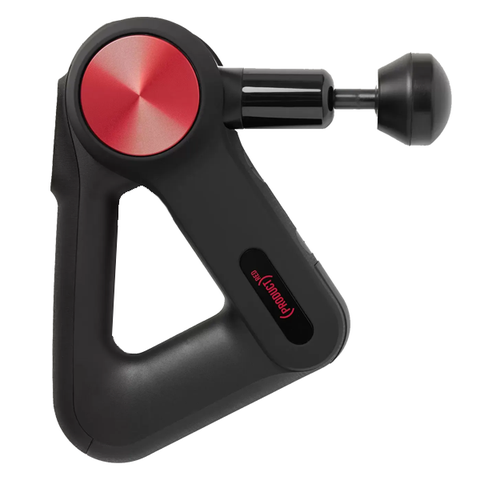 A muscle gun that soothes aches and saves lives at the same time? Until now a mere fantasy, made true by Therabody and (RED), the non-profit charity dedicated to ending COVID-19 and HIV/AIDS. The Theragun PRO is the most powerful and advanced model on the market, with speed options that range from 1750 and 2400 percussions per minute. It also features an OLED screen, six different attachments for different areas of the body, and an app that allows you to fine-tune your recovery.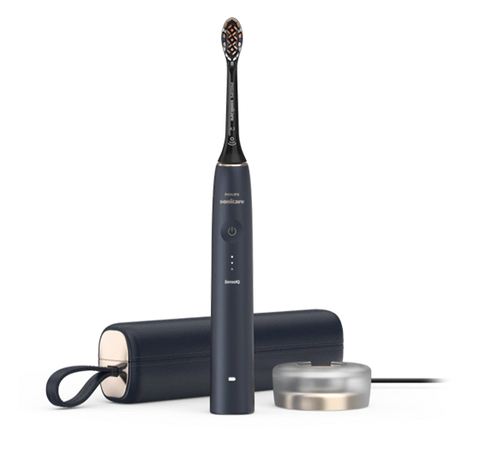 The kind of sound (but not inconsiderable) investment that reassures you as soon as you use it, everyone needs a top-of-the-range electric toothbrush. The Sonicare 9900 is the smartest of the bunch, adapting to your brushing style in real time (adjusting intensity when you go too hard) and comes with five settings and a leather (chargeable) carry case. There's also a cool app that effectively acts as a game – your teeth are displayed on the screen and they visibly whiten as you clean, as the app guides you to dedicate the same amount of time and attention to each row and section.
6
Bang & Olufsen H95 Headphones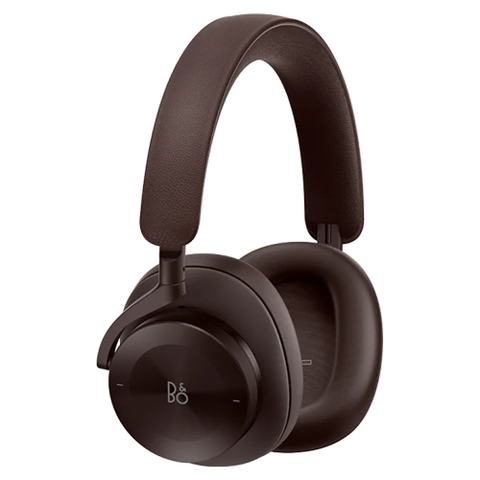 Two lovely new Autumn-ready colourways – chestnut and navy – for Bang & Olufsen's noise-cancelling behemoths. The Danish audio brand's H95 headphones (a reference to their 95th anniversary last year) sound as impressive as they look, and are refreshingly easy to control: a wheel on the right controls the volume, while the one on the left drowns out the world with state-of-the-art ANC tech. They even last up to 38 hours with the function turned on, and 50 without it. The H95 is a truly premium offering; luxurious, super comfortable (the earcups are covered in soft top grain lambskin) and, above all, they deliver crisp, top tier sound.
7
Logitech Ergo K860 Keyboard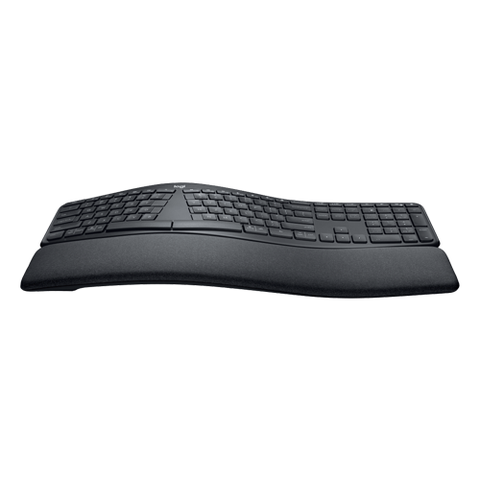 It looks like home offices are going to play a key part in the future of work, and that means investing in the kind of tech that just makes things easier. Logitech's ergonomic K860 keyboard is a must-have for people who want to improve their posture and stave away the kind of muscle strain that a bog-standard set-up can cause, thanks to the device's curved, split keyframe, sloping form and pillowed wrist rest (the latter is covered in durable knitted fabric, supported by layers of high-density and memory foam.) It's also made from 71% recycled plastic.
8
Marshall Motif A.N.C. True Wireless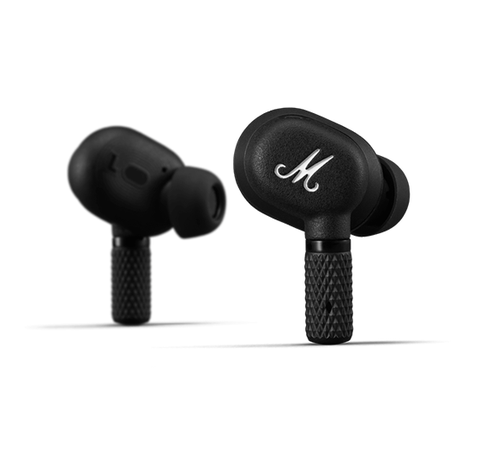 British rock maestros Marshall know how to make a good-looking pair of headphones, and the diminutive Motif A.N.C.s continue to draw on the brand's heritage. The thing that stands them apart, however, is the device's premium noise cancellation capabilities, which you can adjust to your liking. They're also touch sensitive, meaning you can seamlessly switch between music and calls (it has in-built dual microphones too). A top pair of True Wireless earbuds at a very reasonable price – which is probably why they're so hard to get your hands on.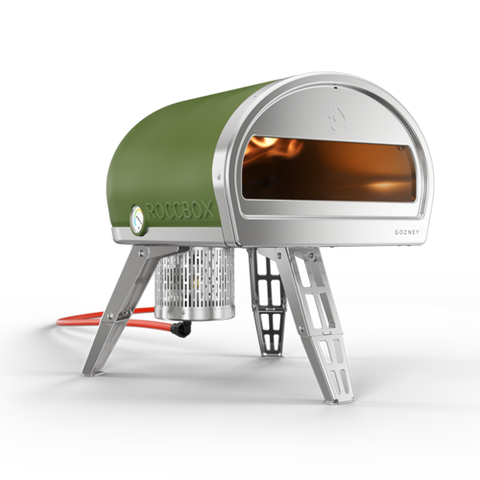 You might have noticed that you've been feel a bit different since May. You've not been able to put your finger on why, but it feels like something shifted this summer, something fundamental. Yes, that's it: the barbecue has finally been nudged off its perch as the king of outdoor cooking. For proof, look at this beauty. Gozney's Roccbox is compact but big enough for its high dome to give your pizza an even, consistent firing, and its 19mm-thick stone floor whips moisture away to leave you with a crisp, light base. Plus! There's a built-in thermometer. Plus!! The insulating silicon jacket makes it a lot less terrifying to be around. Choose from gas power or dual fuel if you'd rather try wood-firing your pizz.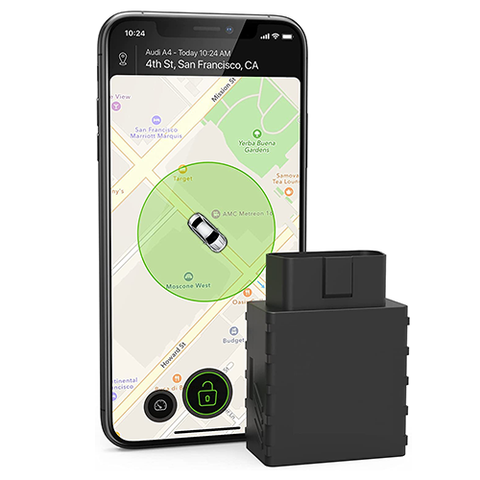 Keep an eye on your car at any time of the day, from any location, all through your smartphone. The CarLock app (available on both Android and iOS) allows you to monitor when your vehicle is moved, when the engine is started and if there's any unusual vibrations, and can even provide insights on your car's battery. Then there's the detailed GPS function, which helps you to track where the vehicle is going (in the event that it's been stolen) or has been previously. The whole subscription package is affordable too, at £6.95 a month.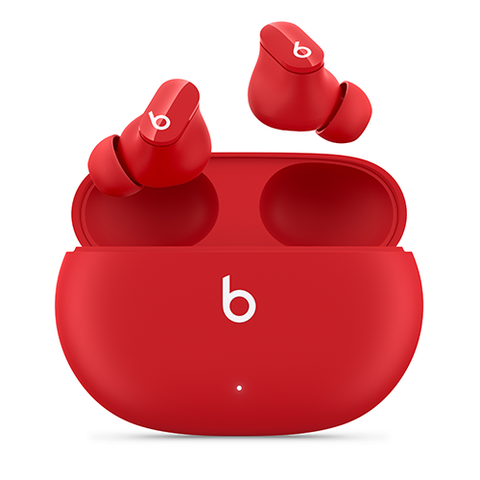 We've managed to get our hands on a pair of Beats' new true-wireless Studio Buds, set for release this summer, and we're thoroughly impressed by the full package. First of all, they're super comfortable – small but secure and well designed, suitable for exercise/manic sprints to catch the train (even without over-ear hooks). The audio quality is great, ditto the active noise cancelling capability and, perhaps most importantly, the price – they're far more affordable than many rivals with similar specs. Sleek charging case, too.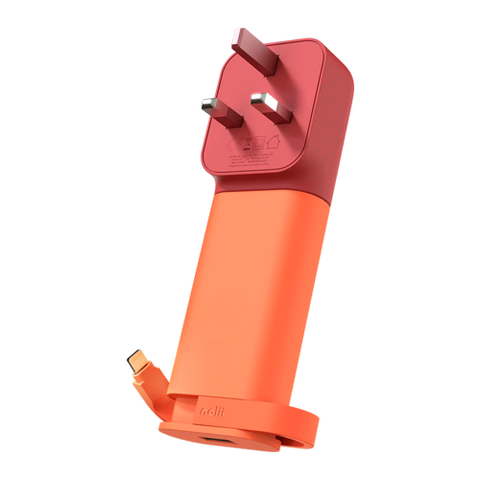 According to London-based brand Nolii, this is the world's first modular plug and power bank system – which is to say, it strips back the need for separate charging wires altogether. The silicone plug attaches magnetically to the power bank, which itself has a built-in lightning cable (as well as a USB-A port for non-iPhone related emergencies.) It's a smart idea! How often have you you picked up a power bank in a mad dash out of the door, only to find that it has run out of juice? Doesn't hurt that Nolii create some of the most tastefully designed phone accessories in the game, too.
13
Philips NeoPix Prime 2 Home Projector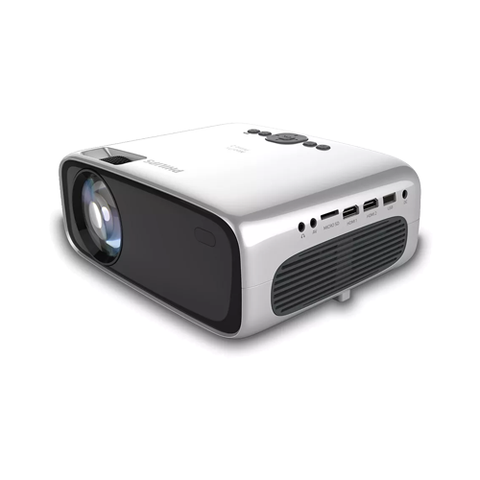 Up there with the very best affordable projectors on the market, Philips' Prime 2 produces vivid colours that scale up to 200 cm from less than 2 metres from the wall. The surprisingly low power consumption is eco-friendly, too, which means the machine can last up to twenty years. There's also Wi-Fi screen sharing and an OS system loaded with streaming apps.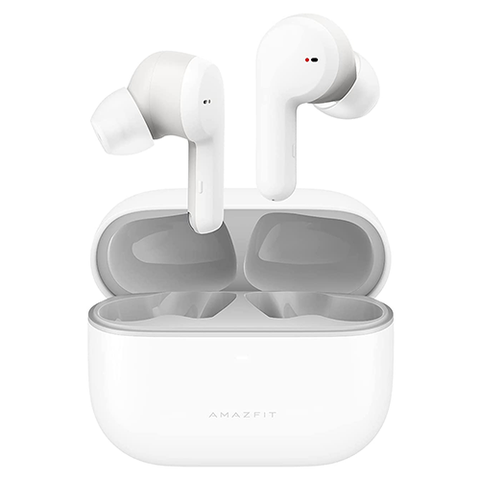 We're big fans of Amazfit's range of affordable gadgets. The brand's Powerbuds Pro earphones provide four different noise cancelling modes, a music equaliser that allows you to switch between ten music styles, as well as heart rate monitoring, sports data tracking and real-time voice notifications through a dedicated smartphone app – meaning they're perfect for gym-goers who don't want to sacrifice on sound quality. They're also IP55 dust- and water-resistant, run for up to 30 hours, and provide reminders to correct your posture if you haven't moved your spine in over 40 minutes.
15
Audio Pro P5 Wireless Speaker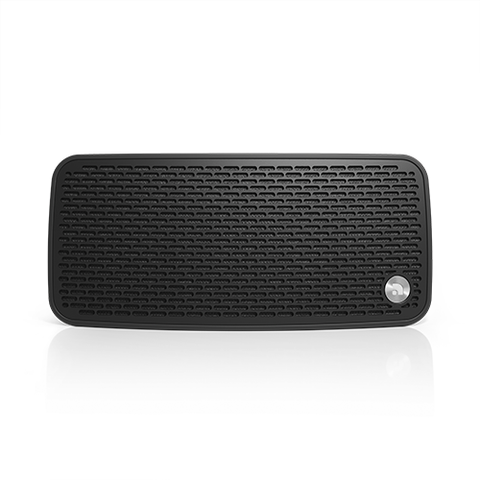 Measuring just 22 x 10cm and weighing in at half a kilo, Swedish brand Audio Pro's new P5 wireless speaker is as compact and portable as it is powerful, with great sound and broad file support (including FLAC). It's IPX4 wind and rain resistant, lasts up to 18 hours, and can also be paired with another P5. In other words, it's the perfect option for all those park and BBQ-based catch-ups you have planned.
16
Marshall Major IV Headphones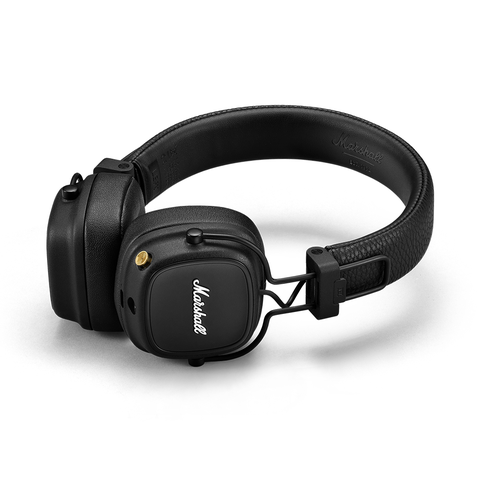 British amplifier dons Marshall have been at the top of the audio game for over fifty-five years, but it was only a decade ago that they decided to venture into headphones. The retro-inspired Major series is now on its fifth iteration, and they're one of the best affordable over-ear options on the market: 80+ hours of wireless playtime, wireless charging and a much-improved foldable design. That's not to mention the quality sound. As unfussy as they are impressive.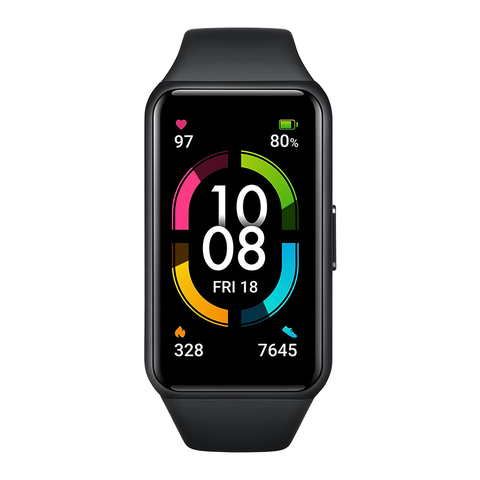 Smartwatches are getting more and more sophisticated with each passing year, and the prices often reflect that. But what if you just want the most essential fitness features? What then? Well, there are plenty of budget models that offer just that, and we're big fans of the Honor Band 6. The design is unobtrusive, understated and super comfortable, with a 1.47″ AMOLED touchscreen and a tasteful selection of strap colour options. Feature-wise, it automatically picks up the type of work-out you're on and offers a selection of plans, while blood oxygen, sleep and heart rate monitors ensures you're always on top of your health. The battery life lasts for fourteen days (or ten days on heavy usage), which is pretty impressive too.
18
The Tech Bar Momax IoT Wireless Lamp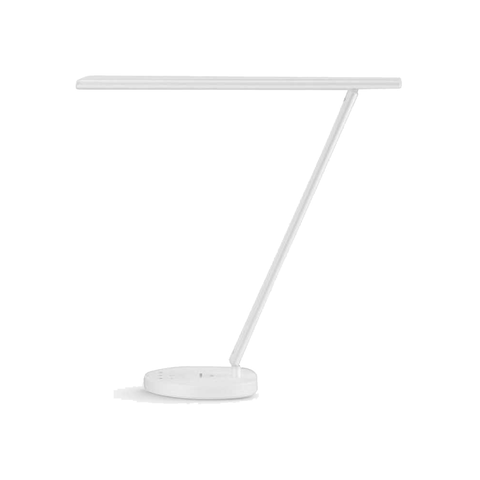 It looks like the home office is here to stay. A study from Pew Research in December found that nearly 90% of people want to work from their own desks at least a few days a week going forward, and that means decking it out with the right gadgets. This minimalist, adjustable wireless lamp from The Tech Bar is not only crisply designed, but it can also charge your phone on the base (that is, if your phone supports wireless charging too). You can even control it with an app and set it to a schedule.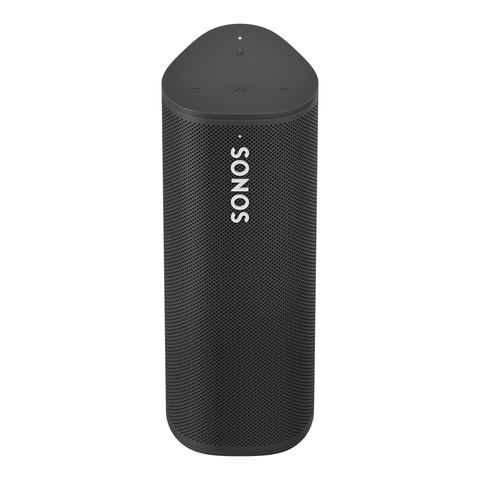 Sonos' newest device is as sleek and powerful as you'd expect, with incredible sound and the kind of tough-wearing design you need from a portable speaker. Drop-resistant and waterproof up to three feet (for thirty minutes), it also boasts an impressive battery life of 10 hours. But the most impressive feature? Trueplay tuning, which adapts the Roam's sound to your surroundings and whatever it is you're listening to.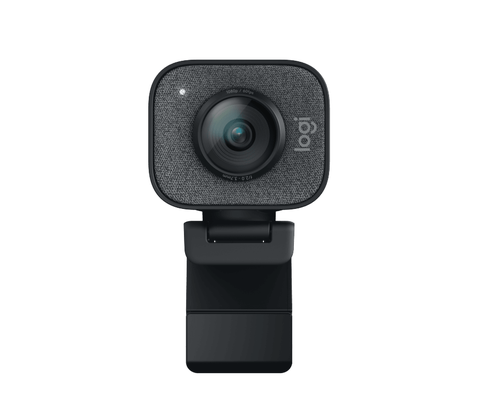 Ever dreamed of packing in your job to become a Twitch streamer, playing FIFA all day to your adoring fans? Well they deserve the very best, so if you want to do it right, then you better invest in a top quality camera. The Logitech StreamCam records HD 1080p footage at 60 frames per second, and automatically tracks your face to ensure it's always in focus. It also boasts an auto-exposure feature that fends against unexpected light changes, and you can adjust the video dimensions for different social media sites.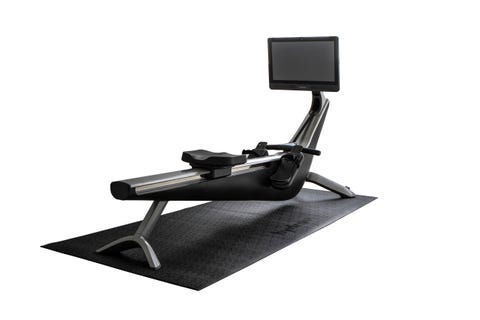 What Peloton did for home cycling, Hydrow is attempting to achieve with the humble rowing machine. Engineered to mimic the feeling of being out on the water, a 22" touch screen (with front-facing speakers) displays workout routines and all the stats you need to track your process, while also allowing you to train with fellow rowers and friends. It's quiet and comfortable too, with an ergonomically cushioned 10-roller system seat. It's said that rowing engages 86% of your muscles, and this is the most convenient and high-tech way to put that theory to the test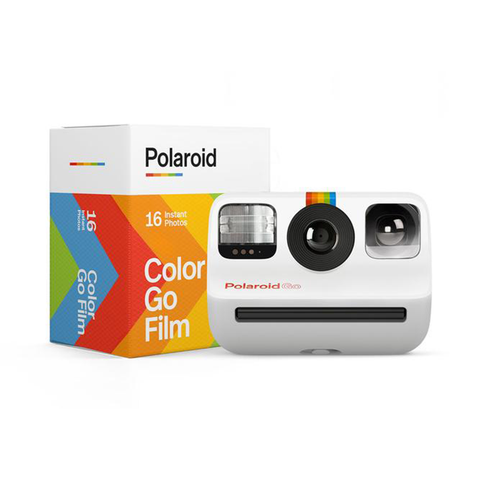 A truly tiny device that packs a few surprising extras, Polaroid's new analog instant is a top tier party camera. Small enough to fit in your pocket, it produces the brand's signature square prints, and offers double exposure, a self-timer and a selfie mirror too. It's also rechargeable, making it a far more cost-effective option than rivals like the Instax Mini. It's something of a novelty, but one that we fully approve of.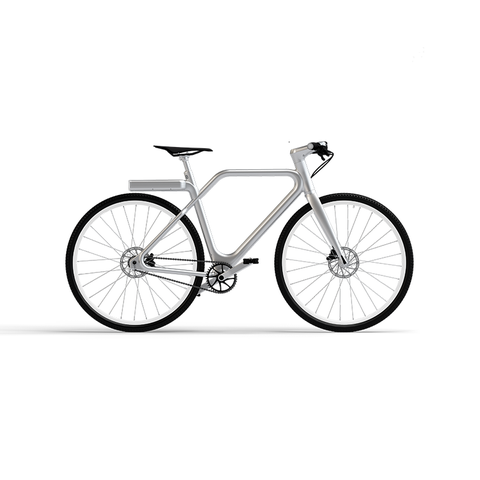 Deceptively light and packed with useful tech (an LCD screen that displays calories burned, GPS instructions that feed through to vibrations in the handlebars, a weather and pollution index, an anti-theft alarm, and unique speed settings of up to 15 mph), the Angell is up there with the very best e-bikes available. Its classic clean lines were concocted by French designer Ora-ïto, and developer Marc Simoncini hopes to make it the "iPhone" of the electric bike market.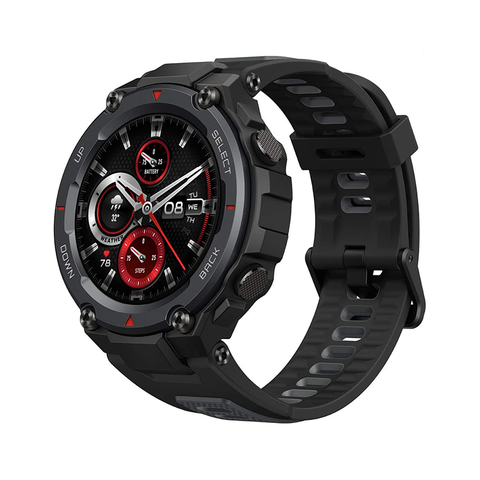 Not everyone needs a supercomputer on their wrist. Sometimes you just need something that does the simple stuff very well and stands up to the elements. The super tough Amazfit T-Rex Pro is a true adventure watch – not only does it guide you around, track your workouts and measure your blood-oxygen, but it also boasts a vast array of outdoorsy features, including a weather tracker, a sunrise and sunset monitor, a moon phase display, a compass and barometric altimeter (for altitude). What's more, it has a frankly ludicrous 18-day battery life.
25
NACON PS4 Stereo Gaming Headset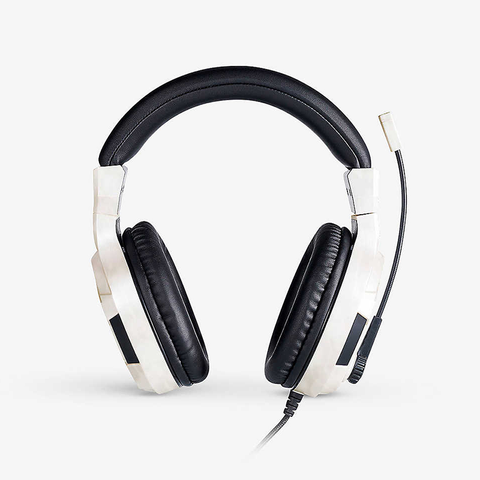 Lockdown is lifting, the sun is on its way, and you know what that means: time to staple the curtains shut and set up a proper gaming rig. When it comes to headsets, you don't need to splash out on military-grade tech – these NACONs, designed for the PS4 but compatible with PCs and Macs, are more than up to the job, and look cleaner than your average pair of tins. Comfortable, adjustable, and truly affordable.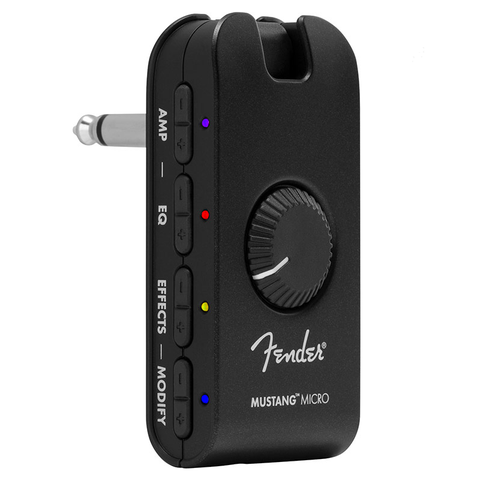 The one downside of playing electric guitar is that it's not particularly neighbour- or flatmate-friendly. Fender's new pocket-sized amp is an extremely elegant solution though: you plug it straight into your guitar, plug your headphones and play through one of 12 different Mustang amp sounds and with 12 in-built effects. It's super-light, and it's got a USB interface for recording straight into your laptop too. Extremely handy.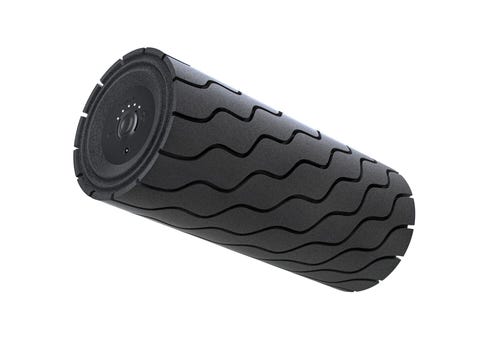 Designed to improve flexibility, supercharge recovery and create an all-round soothing experience for your muscles. Therabody, the market leaders for massage guns, have released a Bluetooth-enabled foam roller for targeted relief before and after workouts. It boasts top-of-the-range vibration technology, as well as five intensity settings and an app that allows you to tailor your approach. It's pretty quiet, too, and features a 3-hour battery life. Top stuff.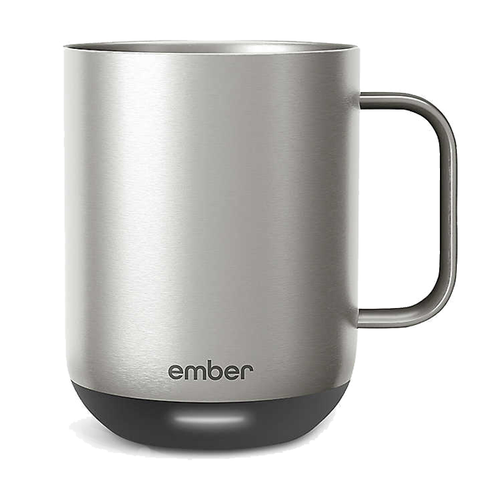 You brew a cup of tea but decide to let it cool down. You have quite literally been burnt too many times before. But then you become distracted by a non-tea related matter, and eventually return to the kitchen to find a lukewarm mug of regret. What's the solution? Pay more attention? Take more responsibility? Stop being so wasteful? Not on your life, my friend. The true answer is the stainless steel Ember Smart Mug², which keeps your drink temperature controlled for up to three hours (or all-day if its placed on the charging coaster). You can even control it from your phone! The future is terrifying and boring.
29
Oral-B iO Series 9 Toothbrush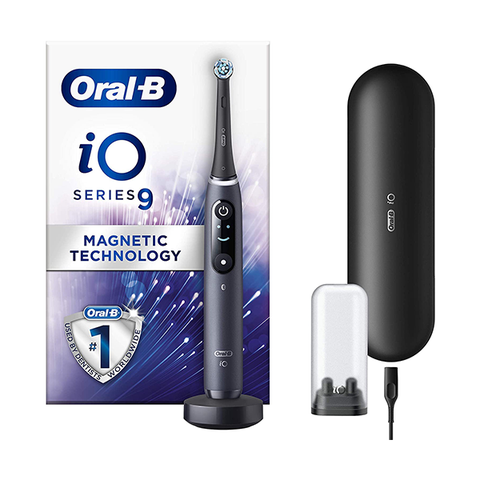 Smart toothbrushes are a tougher sell than they should be. Why do we cheap out when it comes to taking care of our teeth, in the full knowledge that bad dental care can provide a pretty grizzly outcome? The truth is, a manual toothbrush just can't provide the same kind of service and protection as a high-tech model, and it's worth investing in something that can provide a tailored experience. This one is at the top of the list, thanks to its 3D tooth tracking function that gamifies the process and ensures you get a thorough clean every time, alongside the seven different smart modes that adapt the toothbrush to your needs.
30
RHA TrueControl ANC Earphones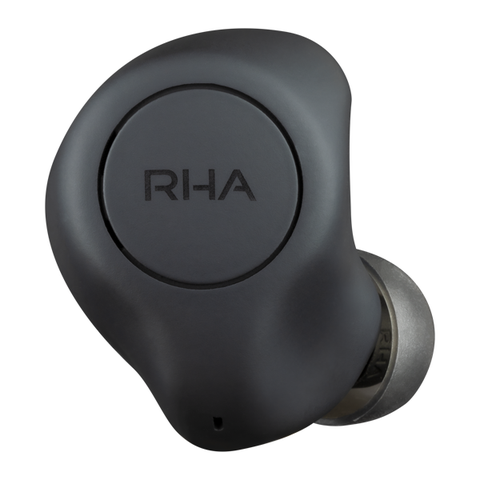 Engineered in Glasgow, RHA's noise-cancelling TrueControl ANC earphones deliver crisp, detailed sound while two microphones record the outside world and produce anti-noise to drown it out. There's a useful app, too, on which you can customise the EQ, your ambient sound and track down exactly where that other earbud went to. A word of warning: if you've got tiny little ears, these can get a little sore if you're wearing them for ages; they're very carefully designed to wedge neatly into your ear, but they're not small. If you don't know if you've got tiny little ears, you'll soon find out.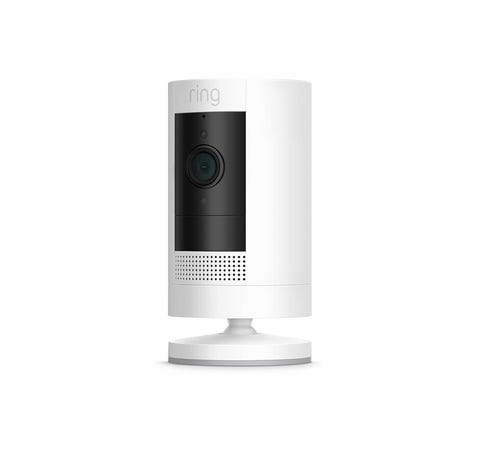 Doorbell cameras have exploded in popularity over the past few years, but affordable home security doesn't have to stop there. Bolster your set-up with a few of these Ring Stick Up Cameras, which you can sync with the rest of your devices to create across-the-board protection. They're easily mountable to any wall, inside or out, and provide 1080p HD video two-way talk and motion-activated notifications. The battery pack is easily removed, too, so you don't have to take it down each time.
32
Klipsch T5 II True Wireless Earphones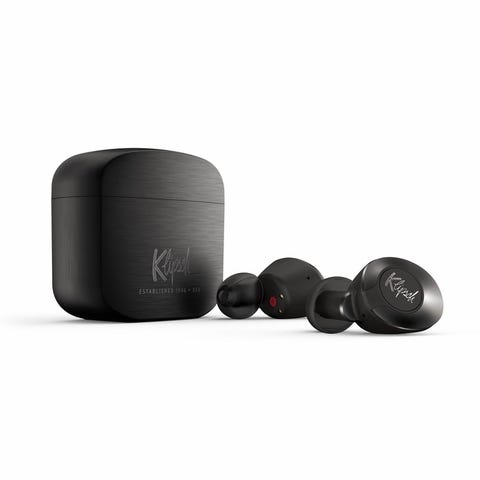 American brand Klipsch have been at the top of the audio game for 75 years, so it's surprising that they only decided to move into the headphone and earphone space in 2007. Suffice to say they've made up for lost time with a string of acclaimed models, and their most recent release is very impressive indeed. The T5 II True Wireless earphones feature the same advanced acoustic engineering as the brand's celebrated home speaker range, as well eight hours of battery, six pairs of patented contour ear tips and a useful transparency mode that allows you to listen in on your surroundings without fiddling about. Top stuff.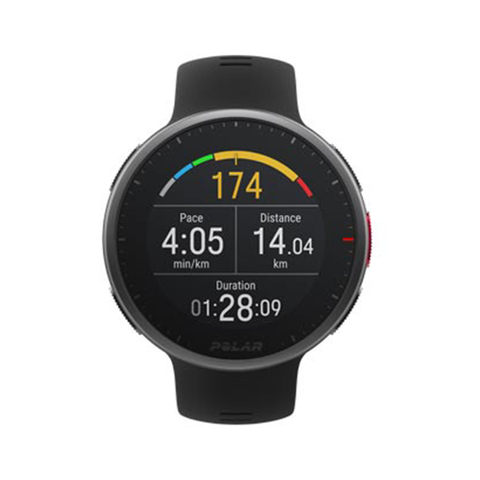 The Vantage V2, from Finnish sport tech brand Polar, is a satisfyingly lightweight and minimalist fitness tracker that takes a 360 approach to health. As well as drilling down into your running, swimming and cycling sessions, it also comes with tools that help you to identify if you're straining yourself too hard – helping you to avoid injuries and dispiriting setbacks. You'll also get full access to the brand's data-driven program, Polar Flow, which keeps track of all of your training stats. That's not to mention the 40 hours of battery life, advanced wrist-based heart monitor, mindfulness tools and more.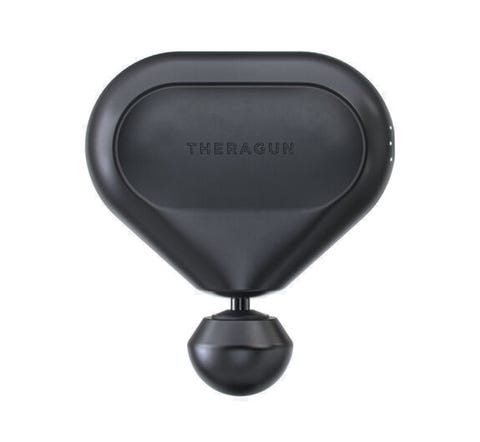 A lot of sports professionals sing the praises of the Theragun – the rapid-movement deep muscle massager designed to aid recovery and relieve tension ­­– but the price and size of the device can prove prohibitive to casual gym-goers. But now we have the Mini – the little but no less beastly brother of the Theragun, featuring three power settings ranging up to a 2,400 percussions per minute. It's highly transportable and boasts new quieting tech, and while you can't sync it up to the app, that's a small concession to make for a big price drop.
35
Steamery Cirrus No. 2 Travel Steamer
Ironing boards are for schmucks. Well, maybe that's unfair – but they're definitely for people who Can Be Bothered. If you are not one of those people, but also need to keep up appearances on Zoom, then we suggest you invest in a lightweight portable steamer. It'll easily remove creases from clothes and help to get rid of odours, too. One of the most important considerations when buying one is the water tank capacity (you don't want to pop to the sink for a refill every 30 seconds), and this Cirrus No. 2 model from Steamery runs for six minutes at a time. Not only that, but it comes with a detachable brush for more delicate fabrics like silk and wool, and a stainless-steel plate.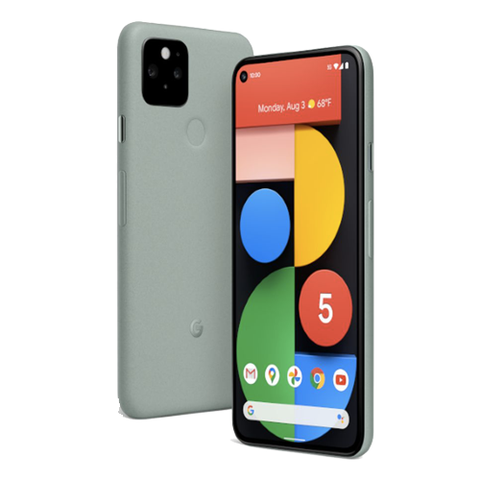 So you want to jump aboard the good ship 5G, but don't know which phone you should opt for? Google's Pixel range is one of our favourites, and the newest model is impressively affordable. That doesn't mean it's skimped on power or features, however: the camera software is better than ever, and the Snapdragon 765G chipset combines with 8GB of RAM for a seamless experience. As ever, the design of the model and the operating system are extremely clean and smooth, and it can easily be used in one hand (more than you can say for most flagship phones.) Another win.
37
Bose Smart Sound Bar 300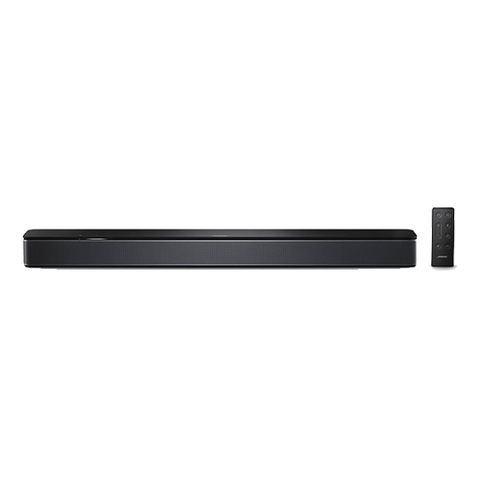 Listen, you deserve a top tier sound bar. You just do! It makes the TV experience so much more immersive, even if you exclusively watch Come Dine With Me re-runs (scratch that; especially if you exclusively watch Come Dine With Me re-runs.) The sleek Bose Smart Sound Bar 300 is one of our favourites: it boasts four full-range drivers, a central dome tweeter and two ports, and is built-in with Google Assistant, and Alexa with Voice4Video tech (the last one allows you to control your TV by voice, too). Top stuff.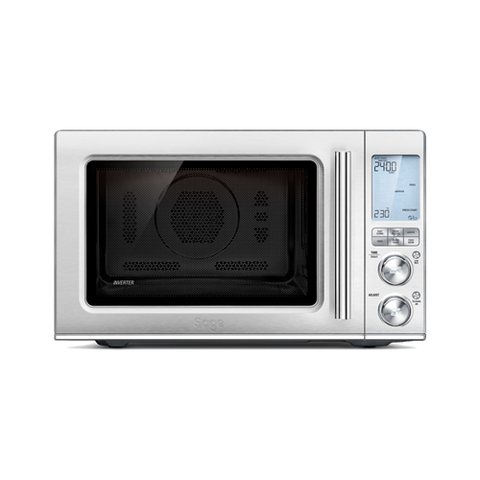 Are microwaves boring? Generally speaking, yes. But what happens when you trick one out with an air fryer, a convection oven and an inverter circuit that helps to cook food more evenly? What happens when that very same microwave allows you to cook a whole chicken to juicy, crispy-skinned perfection? What then? Well, it becomes a lot more exciting. The Sage 3-in-1 is the perfect multi-function machine for those of us who struggle to cook the sprawling meals we want with only one oven, but it's also a great choice for people who want to approach fried food in a healthier way. (It's good for a simple steaming bowl of porridge, too).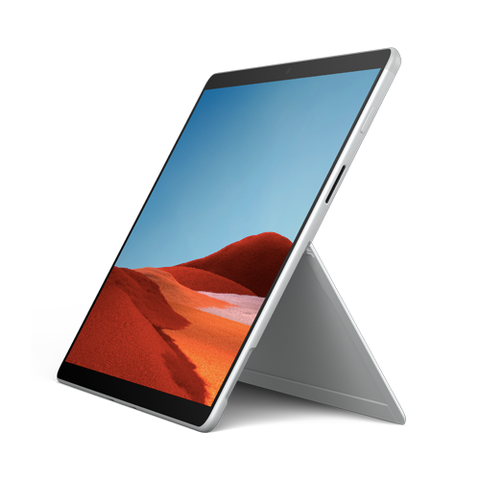 Tablets have come a long way, and it doesn't get much sleeker or more powerful than the Surface Pro X. Whatever line of work you're in, Microsoft's machine can make things easier for you – and it goes without saying that it makes keeping in touch over Zoom a lot more satisfying (it's essentially all-screen).
40
Bose QuietComfort Earbuds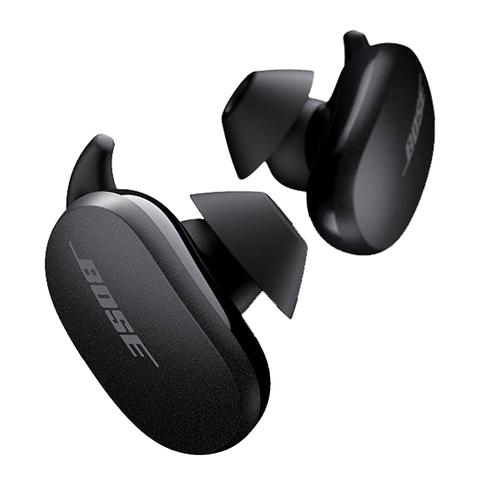 The most impressive True Wireless device we've tried in a long time. Sitting comfortably and securely in the ear through exercise sessions, these sweat-and-water-resistant earbuds boast brilliant noise-cancelling technology which you can toggle with using the Bose app. The sound quality is top tier, too, and the battery life is solid: six hours from a single charge, and the wireless charging case provides two extra charges, amounting to 18 hours in total. Not exactly cheap, but they're one of the best options on the market.
41
Chipolo One Bluetooth Key Finder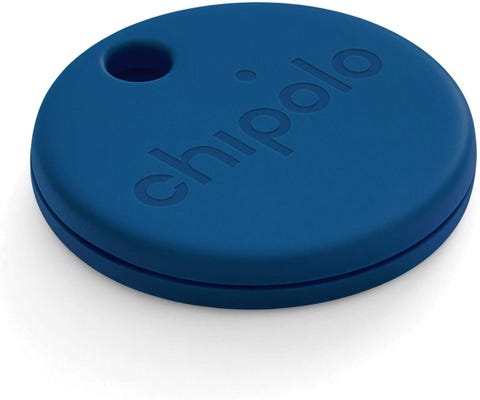 In the immortal words of Mr. Zip: Have you ever been in this situation where you lost your keys and your mobile phone? Where me keys? Where me phone? Where me keys? Where me phone?
Of course you have! Too many times. But worry not, because we have just the thing to help you. The Chipolo, made from recycled fishing nets, emits a 120db loud sound that help you find your keys, phones and other valuables. What's more, the battery life lasts up to two years and is easily replaceable. An affordably priced device that could come in very, very handy.
42
Nintendo Game & Watch: Super Mario Bros.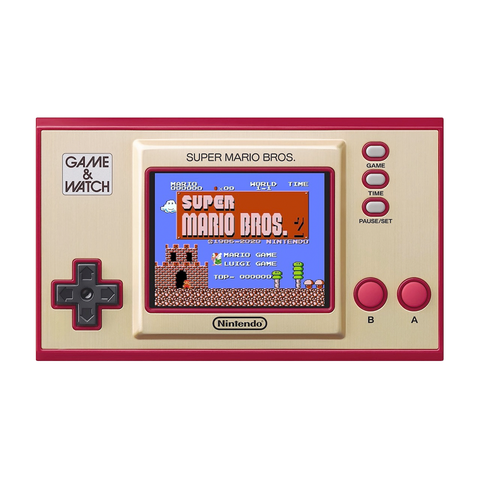 To celebrate the 35th anniversary of Mario, Nintendo is releasing a retro Game & Watch console (the company's first handheld from 1980) featuring Super Mario Bros, Super Mario Bros: The Lost Levels (still way too hard, even as an adult) and Ball (Mario version). Extremely light and pocket-friendly, the novelty value is undeniable – but it's also perfect back-up for your Nintendo Switch, should it run out of juice mid train journey/flight/Zoom meeting.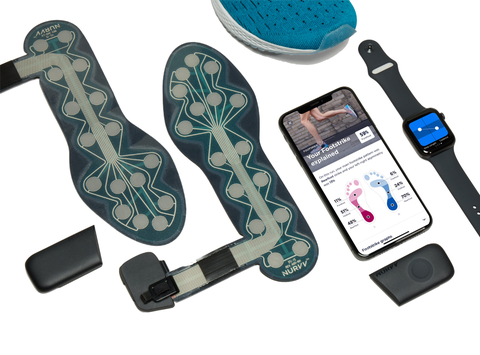 If you've ever wanted to improve your running form, or even just get a deeper overview of your work-outs than smartwatches can provide, then the Nurvv Run is here to help. Slip a pair of smart sensor insoles into your running shoes, connect them to GPS and your mobile phone, and be on your way. By the end of your run you'll be treated to a deep breakdown of your cadence, foot strike, balance, pronation, step length and more. Then, with the help of biomechanics and coaching, you can work towards fixing any faults, fine-tuning your approach and, perhaps most importantly, avoiding injury.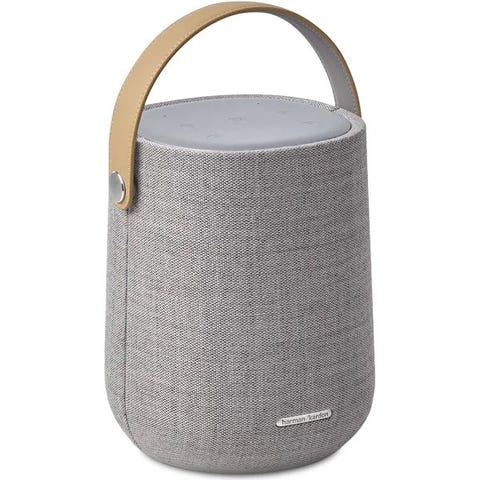 A new portable speaker coming for Sonos's crown, the Citation 200 has a lot going for it. First of all, Harman's model is £100 cheaper than the Move while still maintaining premium sound quality and a good selection of features (Google Assistant, Apple AirPlay and Chromecast). Unlike the modern, all-black, minimalist Move, the Citation 200's wool fabric overlay (available in black or grey, by Kvadrat) blends perfectly with softer, more neutral furniture, a good thing for music fans with mid-century or Scandi-inspired rooms. The rechargeable battery life is also impressive: a full 8 hours, making it perfect for outdoor use (as does its IPX4 splash-proof construction).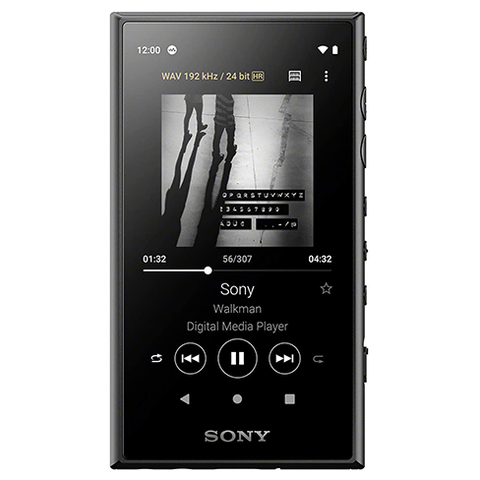 It's a tough sell, in many ways. A walkman in the age of smartphones. Nobody can say that Sony's upgraded NW-A105 is born out of necessity, but we'd argue that it certainly has its benefits for any music fan who wants to take a much-needed detox from their apps, texts and emails. Running on Android 9, the 16GB device plays almost any audio format – including high-standard FLAC files – which makes this sleek machine a perfect option for enthusiasts who want to listen to their music in the highest quality possible, without any distractions. The battery life isn't quite as good as it could be, and there's no 2.5mm port for serious audiophiles, but all in all it's a great way to enjoy your music without being drawn into the endless scroll of your Twitter feed.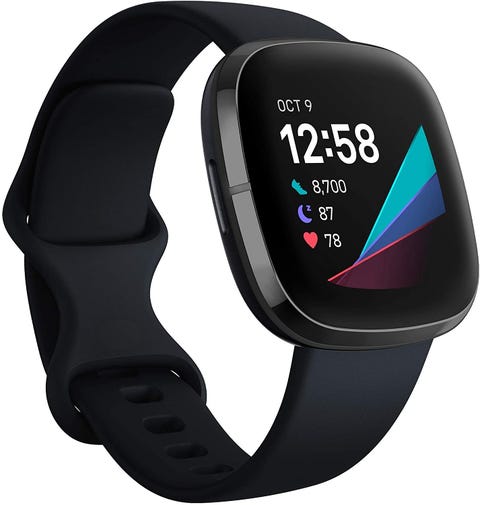 In the minds of millennials, fitness and wellness are the yin and yang of a balanced lifestyle. Sitting down to practise your breathing can, in theory, be just as beneficial as puffing your way through a 10k. To that end, the Fitbit Sense, with its temperature, stress, blood oxygen, sleep and fitness trackers, aims to cover all the bases. The new heart rhythm sensor – an ECG app that helps to assess your ticker for atrial fibrillation – is particularly impressive, ditto the stress sensor (in which you place your palm over the face of the watch and track changes over time) and guided meditation features. It also takes blood oxygen levels while you sleep, and the fitness apps are as good as ever. A great all-rounder for anyone who wants to take care of their physical and mental health.
47
Mario Kart Live: Home Circuit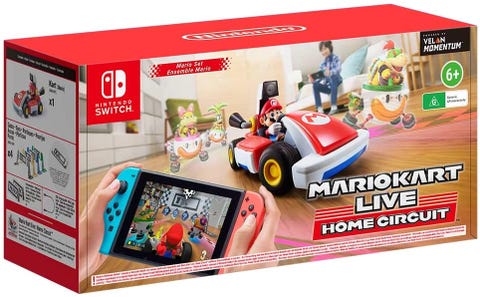 Japanese gaming giants Nintendo have been dabbling with augmented reality for decades, and it hasn't always worked out for the best. Rest assured, though, that Mario Kart Live: Home Circuit is just as fun and subtly ground-breaking as it looks. The pack provides a kart and character (we got Mario, the standard, although other models are available), as well as cardboard props that enable you to create a track around your living space. The kart itself hosts a camera, which you can view through your Nintendo Switch screen as you race around rooms (using the Switch's controls). Different tracks within the game itself introduce AR enemies, power-ups, themes and obstacles, and while we haven't tried racing against other players yet, we assume it will equal measures fun and violent. A game that has the power to transport anyone right back to their childhood, by way of the laundry room.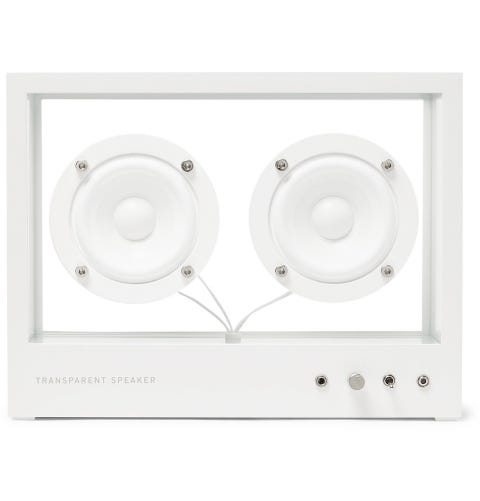 This slightly scaled down version of the big Transparent Speaker is only 15 inches tall but packs a punch as well as adding a bit of style to your stack. A bit American Psycho, though you're obviously under no obligation to blast Phil Collins' 'Sussudio' while chopping up City boys.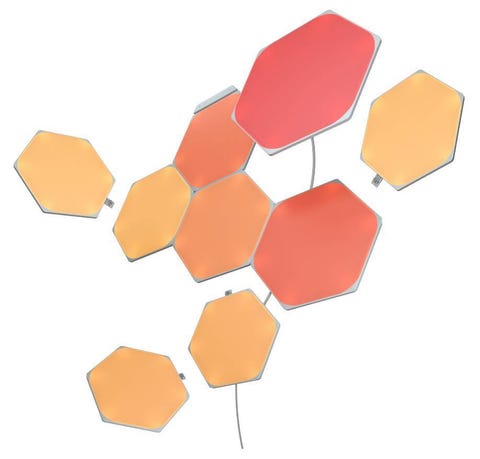 Give your living room a 2001: A Space Odyssey reinvention with ultra-thin modular smart lights which you can turn into all sorts, including touch-sensitive or music-responsive lighting and mirror screening. You don't need to drill either – there's wall-saving mounting tape included. The shapes are endlessly remixable, so you can keep playing around and finding new ways to light things up.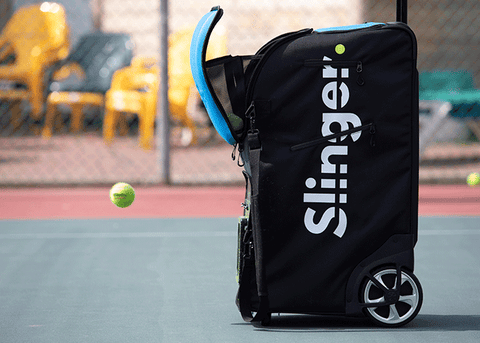 Full of the joys of summer, you decide to finally organise that tennis match with your friends. But you haven't practised in years, and so every ball ends up in the net or a distant car park. After an hour of sweat-soaked frustration, you throw a McEnroe and retire to the pub. Same time next year?
But before then, you should probably get some practise in. Introducing the Slinger Bag: a tennis ball launcher and your best friend on the court. A transportable suitcase that carries 72 balls and all kinds of tech (including a remote), you can control the speed, frequency and angle of the shots to ensure that you're ready for any situation. There's also room for all your gear, and it has a camera holder that will enable you to analyse your form (with a phone charger attached, to make sure it can go a full session). The telescopic ball tube will make easy work of pick-up, too.
51
Senstroke virtual drum kit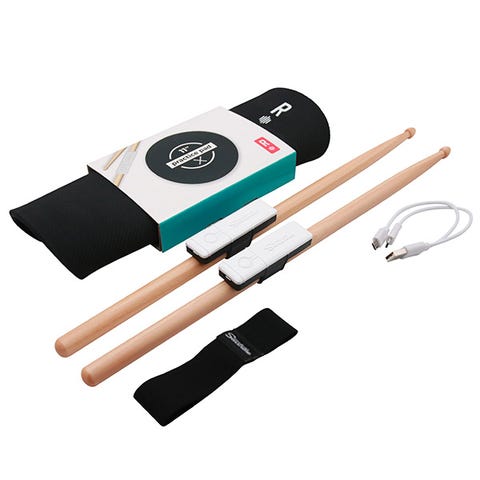 In the grand ranking of the least neighbourly pastimes you could take up during lockdown, learning to play the drums is right up there with indoor trampolining and smelting. Senstroke, though, uses sensors hooked up to its app to give you a near-silent way to clonk through 'Use Somebody' repeatedly for four hours. The app comes with lessons for absolute beginners upward.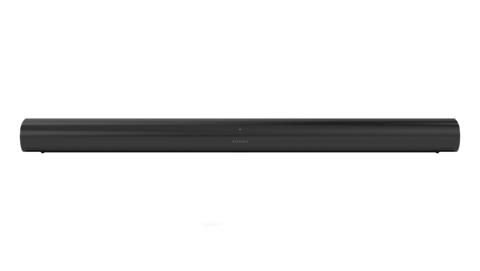 A sleek new line-up of Sonos speakers are now available, and the Arc smart soundbar looks the most exciting. It promises cinema-quality sound, with eight woofers and Dolby Atos – a new technology standard that really amps up the capabilities of surround sound. It's as stylish and understated as you'd expect a Sonos soundbar to be, too. Elsewhere, the company is introducing the Sonos Sub Gen 3 (a new look with deep bass capabilities) and the Five (ditto, coming in the cheapest at £499). All three devices are available globally from 10 June, and you can pre-order them here.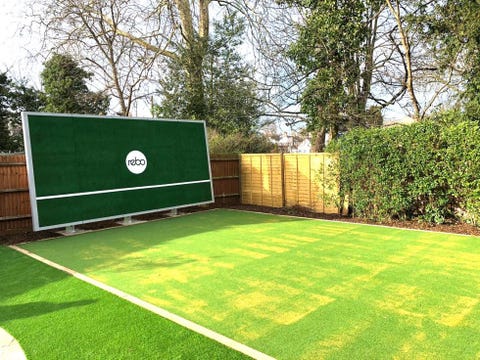 Who needs mates when you've got a wall? In the sport-less age of social distancing, the weather-proof REBO Wall is an ultra-premium way to keep fit and sharpen your tennis, football and cricket skills. With a high-density sound insulation core made from 70% recycled material, you can shift the astroturf wall's angle to prepare yourself for any shot and increase your reaction speed with hundreds of drills. It's also backed by a number of famous tennis trainers who offer private online sessions with the device. Take a look at Andy Murray making use of his own Rebo here.
54
Bosch IXO cordless drill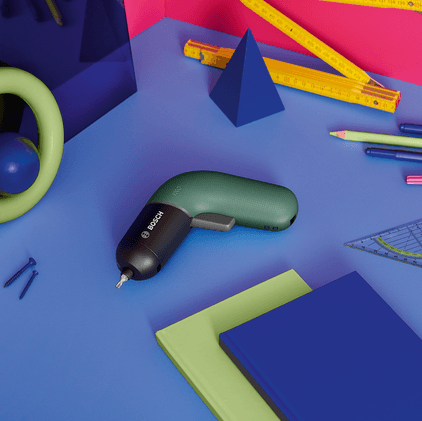 Presumably, you have a drill. You look at it sometimes, wondering when it will next taste sweet wood dust in its teeth again. But nothing needs drilling, not right now. You put it away again. Bosch's IXO has been around a while, but its newest iteration can be put to work as a corkscrew, a barbecue lighter, or a salt and pepper mill.
55
Sage Fast Slow Multi-cooker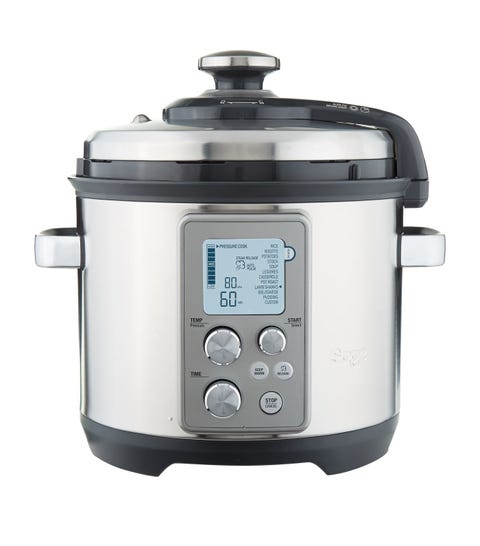 One from the bulging bald brain of Heston Blumenthal, this is part pressure cooker, part slow cooker, part robo-chef. Its sensors at both the top and bottom of the cooking chamber adjust the pressure, steam levels and heat to get the most out of all the individual ingredients you're cooking in there.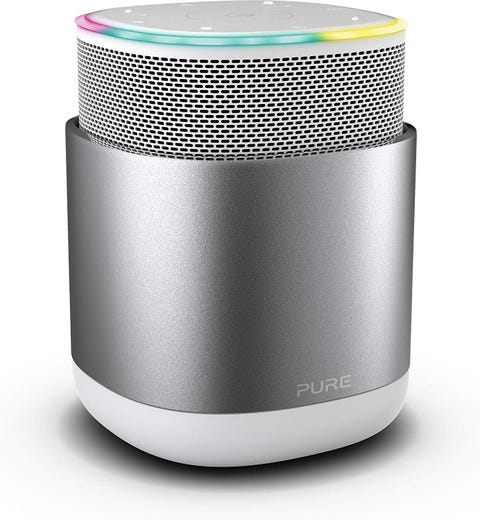 There are absolutely loads of Bluetooth speakers out there, and most of them are hooked up to Alexa, Siri or Google Assistant. This one's concerned with your privacy though – when you turn it off, by pressing the central speaker bit down into the body of the speaker, it physically disconnects the microphone so Jeff Bezos definitely can't hear you. Plus, it's small but mighty, and its kicky 45-watt speaker really fills a room.
57
LARQ purifying water bottle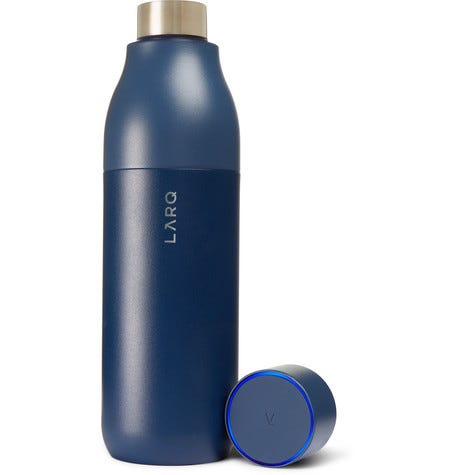 You're an environmentally conscious guy. You hate climate change – bloody hate it. It. Is. Rubbish. And being the great guy you are, you put up with the fact that your reusable water bottle smells a bit weird some of the time. That's the price you pay for singlehandedly saving Earth. Guys! There's no planet B!
But there is now a plan B for your bottle – this one, which self-cleans and uses UV-C light to purify water of 99.99 per cent of its bacteria and viruses. Just charge it up once a month and you're sorted.
["source=esquire"]