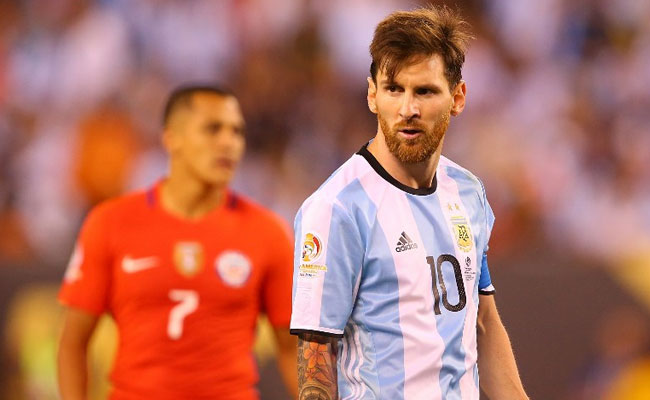 Buenos Aires, Argentina: 
Highlights
Lionel Messi lost penalty shootout in Copa America final with Chile
President called him 'God's gift' after he vowed to quit national team
Country needs sports heroes to redeem its dirty politics: Psychologist
Like neurotic parents, Argentines swung from criticism to unconditional love for their star footballer Lionel Messi this week, providing the soccer-mad nation's many therapists with rich material for psychoanalysis.
Fans' frustration at the superstar's missed penalty in Sunday's defeat to Chile in the Copa America Centenario soon gave way to panic as he vowed to quit the national team ahead of the 2018 World Cup.
As fans online pleaded "Leo, don't go," psychologists, neurologists and philosophers appeared on chat shows and published newspaper columns to analyze the hero's motivations and help the nation cope.
To judge by the past criticism Messi has received, having a player widely rated as the best in the world is not enough for Argentines.
They also want him to win — as Diego Maradona did at the World Cup in 1986.
Now they have started to ask themselves whether they are too demanding.
President Mauricio Macri said Tuesday that Lionel Messi was "God's gift" to the country and it should "take care of him."
One school teacher became a minor celebrity when she sent an open letter to the player which was read out on television.
"Please don't give up," wrote the teacher, Yohana Fucks — a not-uncommon surname in Argentina.
"Don't make people think that all we care about in this country is winning and being first."
Football idolatry
Andres Rascovsky, former president of the Argentine Psychoanalytical Association, links the country's intense sporting passions to its dirty politics.
"Argentines need idols," he said.
That desire stems from "the humiliation and denigration of the masses by the politicians," Rascovsky added.
"That generates a need for them to redeem themselves through sporting heroes like Maradona or Messi."
The provocative extrovert Maradona "is more identified with transgression and omnipotence," Rascovsky said.
That exuberant spirit is epitomized by what Maradona called his "Hand of God" goal against England at the 1986 World Cup.
"The Hand of God was a goal of transgression, a false goal scored with the hand which in a spirit of idolatry was elevated to the status of the divine," Rascovsky said.
The nation's relationship with Messi is different, however.
"A lack of decent values causes a lot of Argentines to identify with the transgressive omnipotence of Maradona," said Rascovsky.
"On the other hand, Messi comes across as a more modest, normal personality."
Maradona himself recently accused Messi of having "no personality." But he too threw his support behind Messi after he vowed to quit, urging him to stay.
"I knew him when he was a kid," said Enrique Dominguez, who coached the young Messi at Newell Old Boys football club.
"He is very sensitive though his face doesn't always show it."
[Source  NDTV]