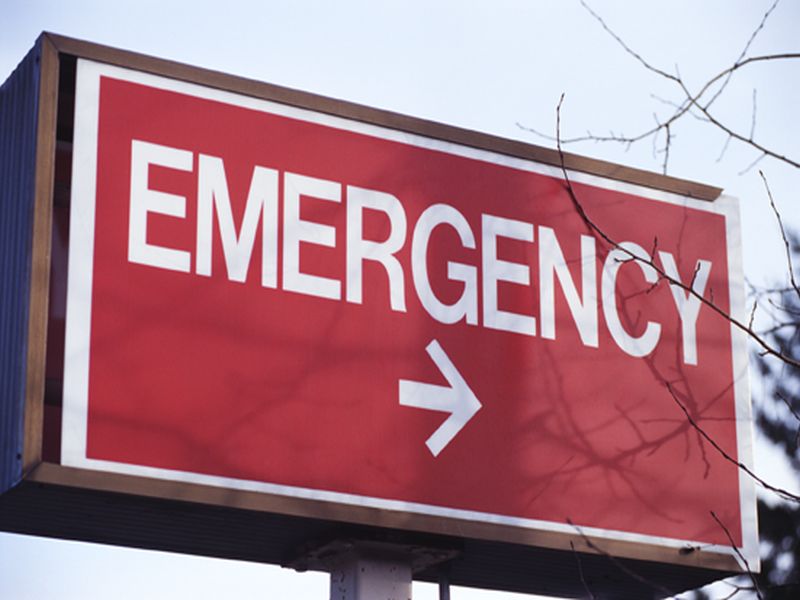 People with mental illness often wait long hours — or even days — in an emergency room before receiving the care they need, according to a new poll conducted by the American College of Emergency Physicians.
One in five ER doctors polled said they've had psychiatric patients who needed hospitalization who had to wait two to five days before being assigned an in-patient bed, the poll found.
Two accompanying studies back up the poll results, revealing that patients with a wide array of mental health problems are more likely to wind up stuck in an emergency department for more than 24 hours.
"Once the decision to admit is made, it can be nearly impossible to find an in-patient bed for these patients," ACEP President Dr. Rebecca Parker said during a news briefing.
Findings from the survey were scheduled to be presented Monday at ACEP's annual meeting in Las Vegas.
Mental health patients are languishing because cutbacks in mental health care have severely limited all options outside the ER, said Dr. Suzanne Catherine Lippert. She's an emergency medicine physician with Stanford University in Palo Alto, Calif.
"We have a potential perfect storm," said Lippert, the lead author of the two supporting studies. "We have decreasing psychiatric inpatient beds, insufficient accessible outpatient psychiatric centers for crisis stabilization, and increased emergency department crowding."
As a result, Parker said, emergency room care is being delayed for all patients, and the ER itself is becoming "a dangerous place to work at times."
Parker added that "most of these patients are very sick. We only admit people that need care for being suicidal or homicidal or delusional. These people need that acute care in-patient bed, and the resources have just disappeared over the last 10 to 15 years."
Lippert said she started studying the problem after treating a suicidally depressed patient in the ER.
"I placed her on an involuntary hold and started the process of getting her admitted," Lippert said. "When I came back to a shift three days later, she was still there in our emergency department, which has no windows, artificial lighting and activity 24 hours a day. When I came back another three days later, she was still there."
Three-quarters of ER doctors said at least once a shift they see a patient who needs hospitalization for mental illness, according to the poll of more than 1,700 emergency physicians.
About half said that at least once a day, their emergency department winds up "boarding" a psychiatric patient who is awaiting admission to the hospital or transfer to another facility.
"The emergency department has become the dumping ground for these vulnerable patients who have been abandoned by every other part of the health care system," Parker said.
Nearly three in five doctors also reported increased wait times and boarding for children with psychiatric illnesses, the poll reported.
"This is truly heartbreaking," Parker said. "A gurney in an emergency department hallway is no place for any child, let alone a child with a psychiatric emergency."
In addition, only about 17 percent of doctors reported having a psychiatrist on call to respond to psychiatric emergencies in the emergency department, the poll results showed. About 12 percent said they have no one at all on call for mental health emergencies — no social workers, psychologists, psychiatrists or other professionals.
Two studies highlighted at ACEP's annual meeting further explained the deteriorating network of support for patients with mental illness.
Patients with bipolar disorder, psychosis, depression, or a combination of two or more diagnosed psychiatric problems are at increased odds of being in the emergency department for more than 24 hours, Lippert and her colleagues found.
A patient with bipolar disorder was nearly four times more likely to stay in the ER more than 24 hours, Lippert said. Psychotic patients were about three times more likely to languish in the ER, and people with substance abuse and an accompanying psychiatric diagnosis were more than twice as likely to be stuck in the ER, the survey found.
"We're seeing almost across the board with more severe psychiatric illness, you're having increased odds of a much longer length of stay" in the ER, Lippert said. "Nowhere else in medicine do we have in the emergency department our most severely ill patients staying longest."
Another study provided more detail regarding the pressure that psychiatric patients are placing on hospitals and emergency departments. Researchers found that:
21 percent of psychiatric patients require admission to the hospital, compared with 13.5 percent of medical patients.
23 percent of psychiatric patients wait in the emergency department more than six hours, versus 10 percent of medical patients.
7 percent of psychiatric patients stay in the emergency department for more than 12 hours, versus just over 2 percent of medical patients.
11 percent of psychiatric patients wind up transferred to another facility, compared with 1.4 percent of medical patients.
Parker and Lippert said comprehensive mental health care reform is needed to ease the pressure on emergency rooms. Efforts to improve health insurance coverage of mental health care also could help.
[Source:-Upi]