Women's sports can't afford to bench men in the gender-equity fight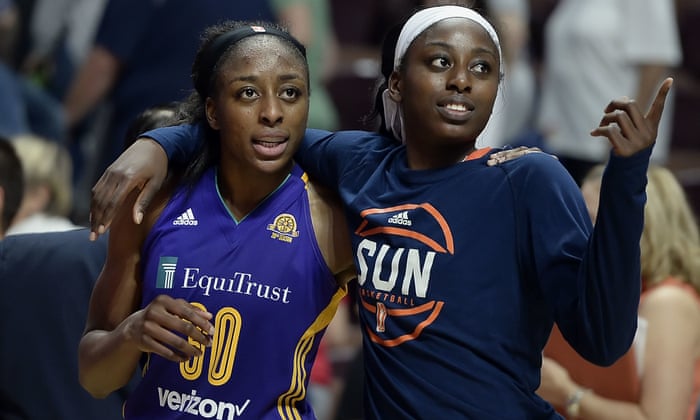 When I saw Tuesday's official launch of the SheIs initiative – a group of eight professional women's sports leagues coming together to increase resources, viewership and attendance – I thought to myself: That's sweet.
But it didn't move me. It's not because I'm in disagreement with the movement. I'm all for women supporting other women. It's needed and in step with the trend. I mean, girl power is everywhere, and we've somehow ended up with the terms "Shero" (get it? It's hero, but with a she!) and She-EO (like CEO, but again with a she!)
Now, in a less punny attempt to help advance gender equity in sports, women's leagues are taking it upon themselves to attempt to bridge the gap. As a sports writer who often focuses on pay disparity, I welcome solutions that will help women find equal footing.
However, I don't believe this initiative will make much a difference. Why? Because women's sports won't grow without the men's leagues supporting them and, secondly, the lack of exposure that women have had to sports is going to be tough to make up for to gain traction with an older female audience.
The eight organizations involved in the SheIs initiative include the WNBA, US Tennis Association, National Pro Fastpitch, Canadian Women's Hockey, the Women's Professional Lacrosse League, Canada Basketball, the National Women's Hockey League and the Ontario Women's Hockey Association.
"This collective sports voice has never been heard," says Canadian Women's Hockey League commissioner Brenda Andress, who first spearheaded the initiative. "I wanted to create some type of program or challenge to bring women together that was born out of positivity. So I thought of SheIs. When I thought of myself, she is a grandmother with young kids. She is a commissioner. She is a hockey player. She is anything she wants to be. That's where SheIs came from."
These are great sentiments. And the goal to attract more women to female sports events is one I broadly support.
But no matter how much kumbaya takes place among these leagues, it simply won't drum up enough interest among women who are working full-time and who already have other hobbies and interests to suddenly start caring about women's sports.
Consider espnW, the worldwide leader's women's sports portal. (Full disclosure: I am a contributing writer there.) Only 28% of espnW's audience is female according to a 2017 comScore report. While it was created with the intention of serving a female readership, it continues to struggles to connect with them. Why? Because they're targeting the wrong audience. Trying to reach women who don't play sports and who weren't given equal opportunity to play sports growing up is a misguided strategy.
Title IX, which was passed in 1972, mandated that girls would be given equal access to sports in federally funded schools in the US. Before Title IX, one in 27 girls played sports. Now, two of five girls play sports. That means close to 20 million girls in the United States under the age of 18 are active athletes. That is your market: not the women who didn't play sports growing up. Get those 20m girls to women's sports events and you'll have an audience who will become lifelong fans, because loyalty to a sports team is about engendering a connection early on.
Secondly, we need men's sports leagues to support women's sports. Can you imagine if the NBA devoted the same amount of money into marketing the WNBAas it does the NBA? When NBA commissioner Adam Silver said part of the WNBA's problem is that not enough young women support the league, Washington Mystics star Elena Delle Donne fired back a perfect response: "We absolutely do not get promoted as our counterparts do. When you put millions of dollars into marketing athletes and allow fans to get to know players on the court they develop a connection … How is anyone going to get to know me or any of my colleagues if we aren't marketed nearly as much?"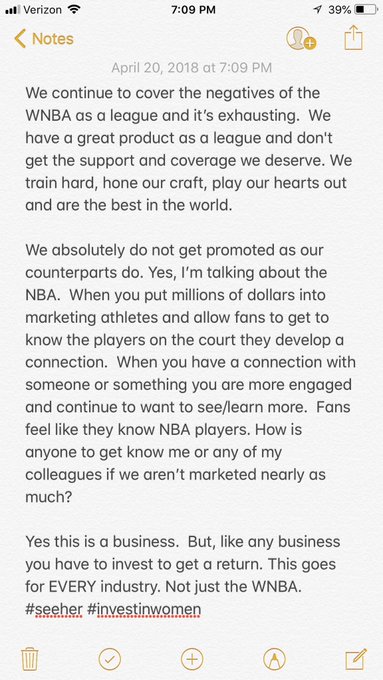 This latter point is salient for this particular reason: I've been attending a lot of women's sports media events recently, many of which focus on how to advance one's career as a woman in sports or how to otherwise change the narrative about female athletes. No men have served on any of these panels or been part of the discussion.
This is problematic.
First, it puts the onus on women completely to change the landscape without holding men accountable or having them be part of the discussion to learn how to be better allies. Secondly, we're co-opting women's empowerment with the implication that women should support women, and that men aren't responsible in doing so also. How can progress be made if we don't include and encourage half of the population to support us? Isn't exclusion the very thing we are trying to dismantle anyway?
The SheIs initiative is no doubt important and needed, but its collective energy would be better focused on the group of girls who are currently playing sports and by also calling on the traditional men's organizations, like the NBA, NFL, MLB, PGA et al, to pledge their support in meaningful ways.
Regardless, I'll show support by doing what the SheIs initiative wants me to do: go to games and support my local teams. It's the sweet thing to do, but it won't be enough.
["Source-theguardian"]