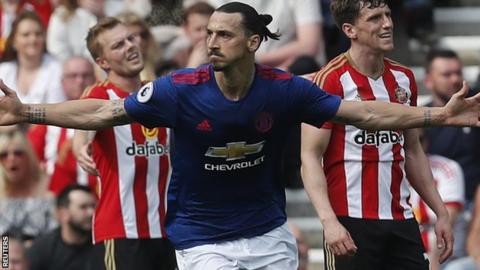 Manchester United's Zlatan Ibrahimovic has entered the list of the richest sportsmen in the UK in second spot, behind 2016 leader Lewis Hamilton.
The Swedish striker is included in the list of top-earning athletes in Britain after joining United last July.
With a fortune of £110m, he overtakes team-mate Wayne Rooney, who is third on the list with £93m, as Britain's richest footballer.
Formula 1 world champion Hamilton has a wealth of £131m.
His fellow driver Jenson Button is fourth on the Sunday Times list, which is published on Sunday.
Five of the top 10 are from football – three players and two managers – with tennis player Sir Andy Murray, golfer Rory McIlroy and basketball player Luol Deng also included.
The Sunday Times sport rich list 2017
1. Lewis Hamilton, motor racing, 2017 wealth £131m, up £25m
2. Zlatan Ibrahimovic, football, 2017 wealth £110m, new entry
3. Wayne Rooney, football, 2017 wealth £93m, up £11m
4. Jenson Button, motor racing, 2017 wealth £86m, up £9m
5. Rory McIlroy, golf, 2017 wealth £82m, up £26m
6. Sir Andy Murray, tennis, 2017 wealth £77m, up £20m
7. Jose Mourinho, football, 2017 wealth £61m, up £11m
8. Gareth Bale, football, 2017 wealth £54m, up £20m
9= Luol Deng, basketball, 2017 wealth £50m, up £7m
9= Pep Guardiola, football, 2017 wealth £50m, new entry
["source-ndtv"]