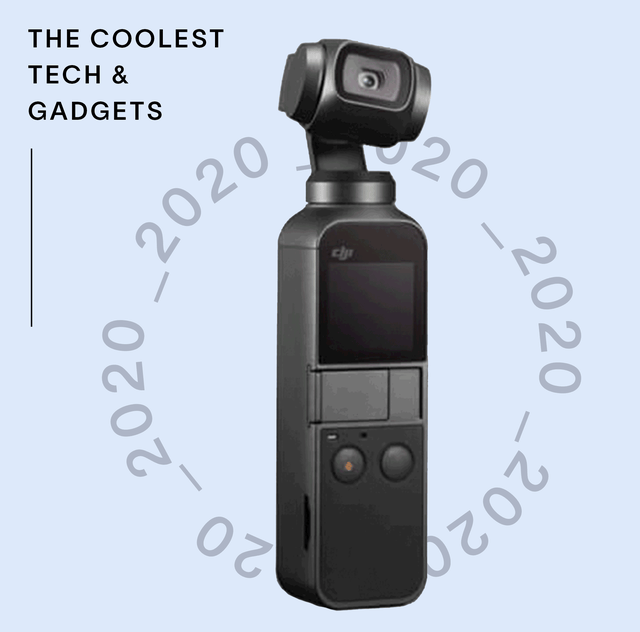 One decade ago, 4G was the hot new thing, TVs were ugly, and everyone's cell phones slid open. Just imagine what the next ten years will bring. If we really live up to our innovation potential, it'll be a slew of technologies that successfully yank humanity away from the precarious edge it is teetering upon. You know, the one where we're about to plunge into irreversible global disaster, AI super-surveillance, and digital inequality. A dark outcome, to be sure! Let's reign in the doom and gloom for a second though—we know; easier said than done—and focus on the now.
Over the past year, startups and massive corporations alike have kept up the tempo of new releases. Despite the pandemic, there are new gadgets to ooh and ahh and damnnn over, from the outlandish to the high-concept to the downright handy. Here are 27 of the most interesting we've seen and used (with some overlap with Esquire's 2020 Gadget Awards). Best case scenario, they are the kinds of gadgets that will make our lives more efficient, safer, and more entertaining in some neat way or another, and look cool in our homes while doing it. Worst case scenario, reading this article will for a few minutes quell the boredom of being perpetually stuck at home with only your Alexa and an outdated gaming console that is decidedly not a PS5 for company, watching everything outside go from bad to worse.
Cool new technology reminds us that even as 2020 closes out, we humans can't help but invent, grow, and change. It's something bright worth keeping in mind.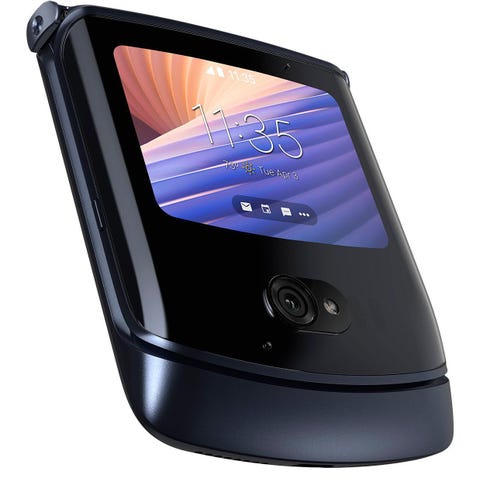 Amidst the raging battle between Apple, Samsung, and Google, one key player, a hero, returned: Motorola, with its signature and classic phone, the Razr. The Razr was the iPhone before the iPhone, so we have to give its modern iteration some love. This new device uses a foldable screen (similar to the Samsung Galaxy Z Fold 2, another cool device) to preserve the flip phone style we all missed while still giving us a large, smart touchscreen. Beyond the inner screen, it also features a small screen on the front, which can be used as a notification center, or even for playing games and watching videos. The Razr's return is not a nostalgia trap but a piece of tech that commands respect—a fantastic smartphone alternative to the big three. —C.S.
Puppy Hachi Infinite M1 Projector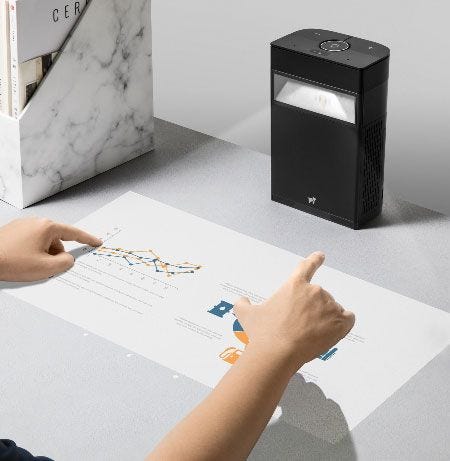 Projector hype was at an all-time high this year, with people tricking out their backyards and living rooms after the mass closing of movie theaters. Projectors can get complicated, though, needing tons of cables and plugs to hook up what you're trying to project. The Hachi Infinite solves that problem with a full Android tablet system built in for app downloads like Netflix and Hulu, saving you the irritation of trying to get a USB-C to HDMI or whatever. What makes the Infinite even more special is its touch sensitivity. When flipped horizontally, the projector functions normally onto a wall or sheet, but when flipped vertically, it creates a touchscreen tablet made of light on any surface. Use it to follow recipes on your counter, or to dive into some truly amazing gaming experiences and learning exercises. Or, create a tablet workspace right on an office desk. The touch functionality is beyond easy to use. —C.S.
Alpha 7C Mirrorless Digital Camera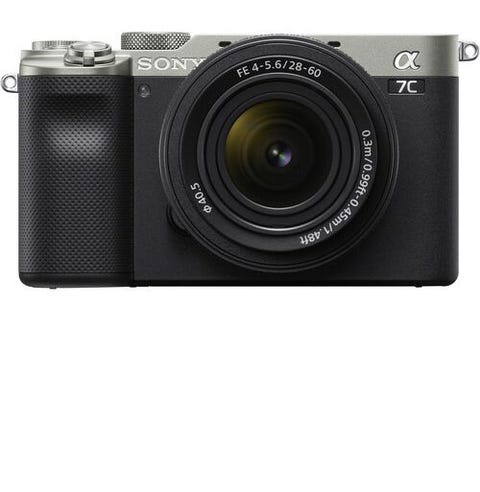 Here's a bullshit saying you've no doubt heard: "The best camera is the one you have with you." No, in actuality the best camera is the one you can use effectively. For most of us, that means the shooter that comes loaded on our smartphones, which to be fair, usually isn't bad. These cameras take passable photos that only need a bit of editing before posting to the 'Gram. But what if you wanted to capture images (and movies!) that are more stunning, dynamic, and beautiful? Friends, you'd want Sony's Alpha 7C digital camera at your side. This 24.2-megapixel, full-frame digital camera can, at least for now, claim the mantle of the world's smallest and lightest. Multiple features abound like shutter units, a five-axis, in-body stabilization, and the smallest and lightest zoom lens on the planet. "But what if I don't know how to shoot something this complex?" That's okay! The automatic functions in the 7C make it fairly idiot proof. You can start point and shooting, and then as you learn more about the camera, steadily and dramatically improve your picture creation game. And that bullshit thing about the best camera always being with you? There will be a twinge of truth to it, because you'll never want to put the 7C down. —D.D.
Konnect-i Slim Backpack with Jacquard by Google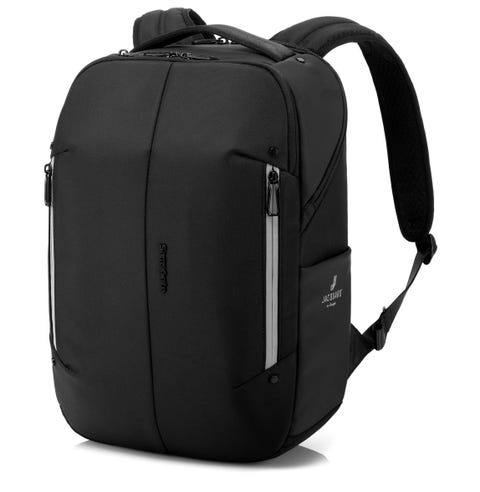 Google first attached its wearable Jacquard tech to a Levi's denim jacket and a high-end Saint Laurent backpack. This year, it expanded Jacquard from shell to shell, to shoe soles and a larger range of backpacks, including this affordable option from Samsonite. The tech is a chip, smaller than a thumb drive, plugged into the backpack to turn thread into touch-sensitive material. You can skip songs, turn volume up, answer calls, and more with taps. Best part is, when you remove that plug-and-play chip, the material can be washed. Plus, you only have to charge the chip. No need to plug in your whole backpack to an outlet. —C.S.
Dragon's Lair Mini Arcade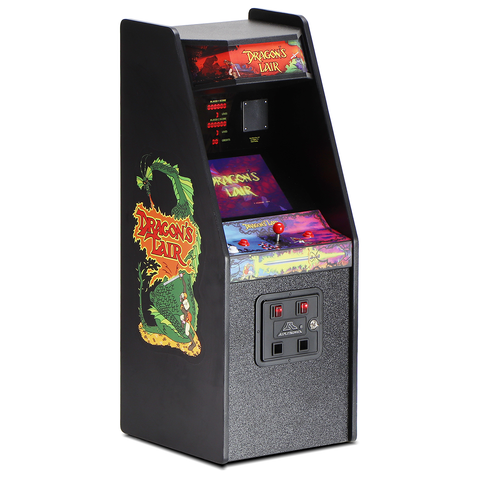 Have you ever played Dragon's Lair? It's hard—as in, I love hard games and can't touch it—but it's also gorgeously animated. RepliCade took the Dragon's Lair arcade cabinet and shrunk it down to a mini size, so you can save your quarters, get an arcade experience, and not cram your space with a massive system. Somehow, this RepliCade formula results in something more than playable and yet smaller than your forearm—the screen is 4.2 inches across. Dragon's Lair is one of the most beloved arcade titles out there, but if that's not your thing, the company has tons of other options, including the likes of Street Fighter, Tempest, and Dig Dug. The age of analog is back. —C.S.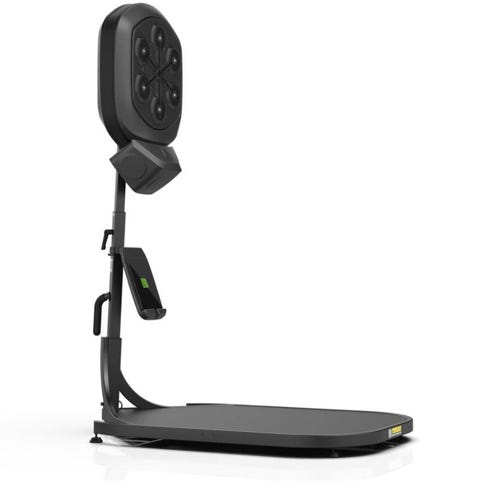 Remember that game at the arcade, where you stomped on the glowing buttons to "crush the spider"? Well, Liteboxer is that, but for exercise, which is good because I need working out to be fun. Buttons light up on the face that it encourages you to beat the shit out of. The workouts guide you through everything from squats to steps, and of course, actual boxing. And it feels great. You're going to break a sweat, but you're also going to want to crush a ton of spiders. —C.S.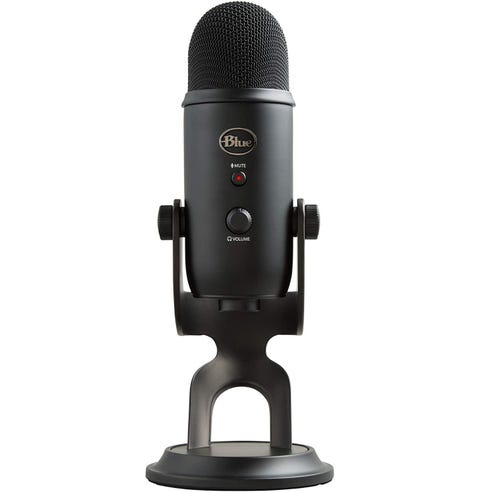 You're still talking through the built-in mic on your wired Apple headphones. It's rough and rowdy. So get a damn mic. You'll sound clearer, you won't break up, and your whole video conference crew will thank you for it. There are a ton of microphones on the market, but the Yeti hits that sweet spot between being affordable and still packing quality. The mic is unobtrusive on a desk, requires little more than plugging it in and switching the input to use, and features several buttons to adjust your volume so you don't blast through everyone else. It'll amp up your digital sound quality tenfold. —C.S.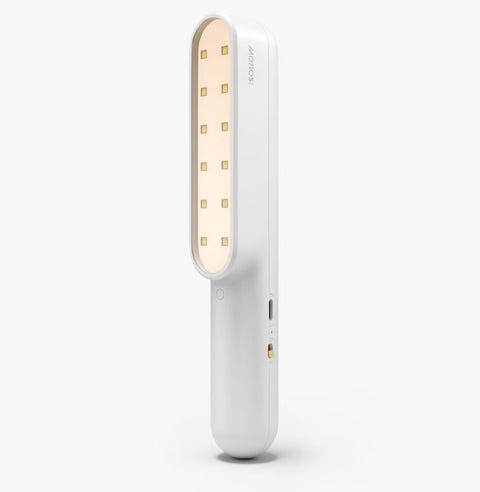 This is a little handheld sterilizer. You can direct its UV light to kill germs on nearly anything. That's it. But from groceries to luggage to whatever the hell else needs some quick sanitizing and may not be soap- or GermX-friendly, this wand is an invaluable tool to have in your hand (and one that's greener than Clorox wipes). —C.S.
FR FRD Ultimate Dura-Ace Di2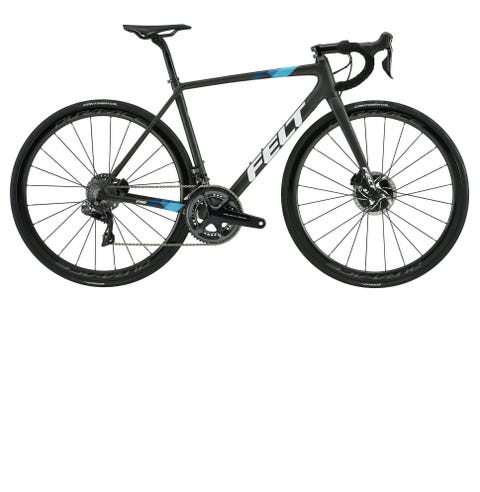 There's really only two ways to improve performance on a bicycle: increase power and cut weight. The power part comes down to what your legs can do through training, diet, and genetics. But for cutting weight? It's hard to find a better bike than the Felt FR. Made from the same carbon fiber used in Formula One cars and high-performance aircraft, the bike is incredibly light (it's just a whiff over 15 pounds) and supremely responsive (the stiff frame has it cornering like a Porsche 911). More importantly, when you swing your leg over the bike you don't feel as though you're taking it for a ride. You feel like man and machine have bonded to become one. —D.D.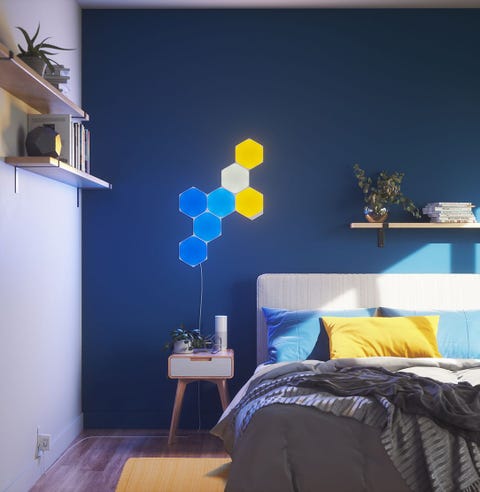 I love interactive lighting. By love, I mean obsess over it. And Nanoleaf has brought interactive lighting to a consumer level. Expanding its collection of wall light panels from triangles and squares, Nanoleaf now has hexagons in its catalog. These lights are not only fully capable of making amazing colors and patterns, but they respond to touch and even work as your smart home controller. You can program gestures into the lights to turn other smart lights on, prompt commands from a smart home assistant of your choice, and more. Nanoleaf recently implemented a reactive feature so that the hexagons change color based on what's happening on your TV. This is truly the lighting of the future, and a helluva conversation piece. —C.S.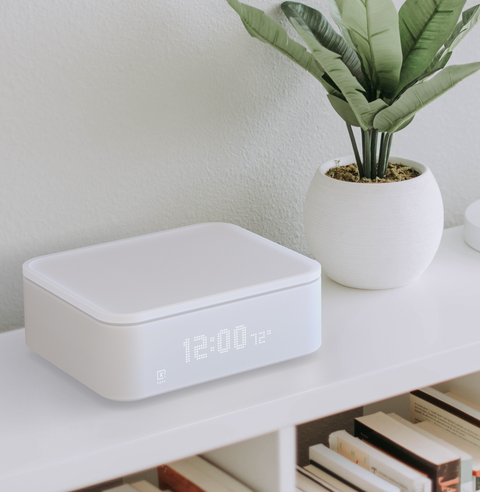 We're leaping from the future back to the present, where cannabis is getting prettied-up to ease its path to legalization and social acceptance. The new KEEP storage container for cannabis is discreet on the outside—its display has a clock and weather info—but it opens to reveal multiple storage spaces for different kinds of cannabis products and a rolling tray. The kicker is its locking system, which works via facial recognition or a data-encrypted app. If someone who isn't you is trying to get into your stash, then you'll get a notification, which is very practical if you have house guests, kids, or greedy roommates. —S.R.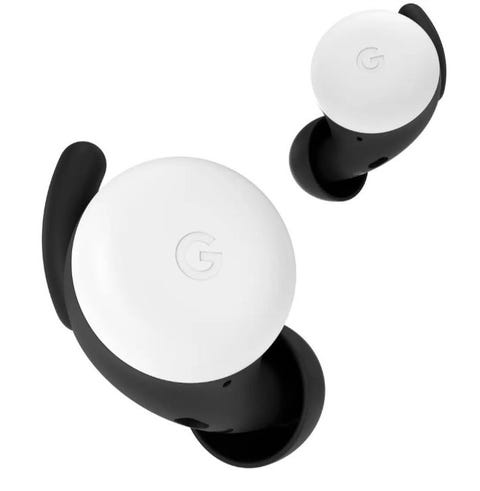 Since the invention of AirPods, everyone's been trying to get into the true wireless game. Well, last year Google had our favorite smart phone, and this year it came out swinging with its own take on wireless buds. The Pixel Buds are easily the most comfortable earbuds I've worn, and they have extensive versatility between phones and operating systems, as Google products normally do. The sound quality and battery life offer everything that you'd expect and more. They'll seamlessly switch from music to video calls, and work pretty well to drown out background noise. The shell also holds a charge that lasts a good, long while. I never have to remember to charge these things, and they always seem to still be kicking. —C.S.
Hypervolt Plus Cordless Vibration Massager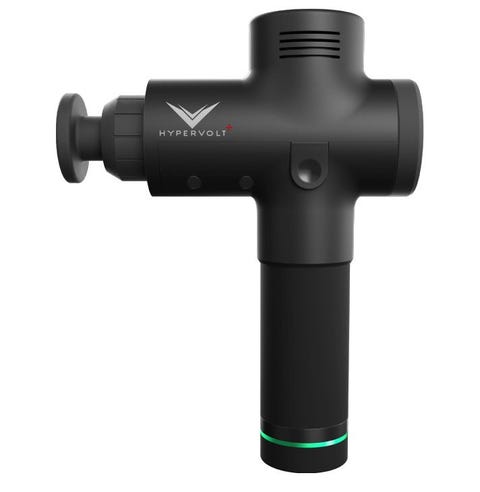 With no end to the lockdown in sight, there's a really good chance we won't be able to safely get a real massage from a real human being until sometime in the year 3000. But that's okay, because we live in a world where there's the Hyperice Hypervolt Percussion Massager. Looking a little like a power tool designed under the supervision of Steve Jobs, the Hypervolt uses a 60-watt motor to propel the massager head at up to three different speeds. Since it comes with five interchangeable heads there's no body part too tender, no muscle group too twisted, for Hypervolt to smooth out. —D.D.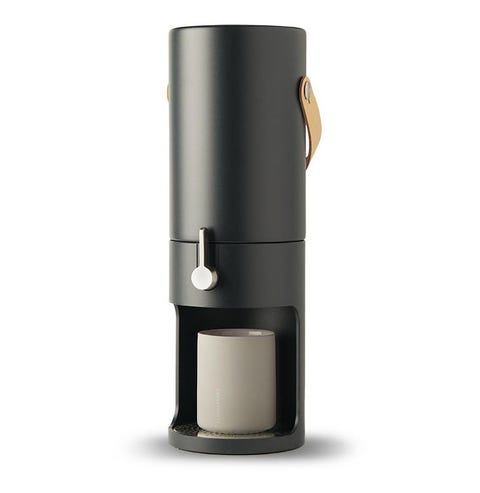 Throughout my adult life, one lesson from my mom has proven to be totally true: Hydration is important. Most of my issues are solved by water. I mean, that's not entirely factual, but if I ever feel like crap, I know it's probably because I'm dehydrated. Fillup is a water tower that keeps a day's worth of water cold and as close as you need it, acting as a constant reminder to drink your damn water. Personally, I have a Fillup on my desk and it has genuinely helped reverse the stunning lack of hydration in my system since I began working from home. —C.S.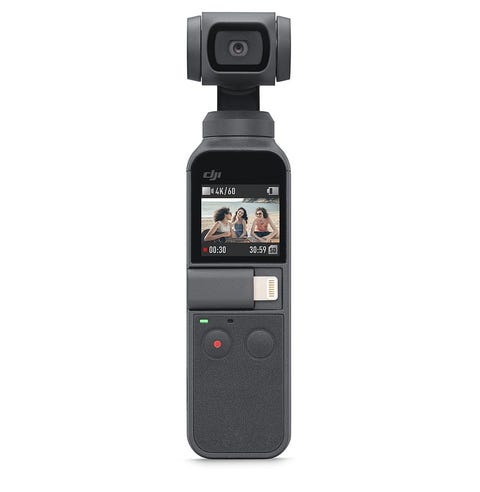 This thing is a fully functional, stabilized 4K camera. You read that right. The Osmo Pocket fits, yes, right into your pocket and packs a wallop more powerful than some film crews. With the 4K-capable capture and its head mounted on a stabilizing gimbal, you get clean, completely un-shaky shots. You can also set objects for the camera to focus on, or attach your phone for a larger preview screen. Watching these thing's head whip around is like watching a droid right out of Star Wars. It's everything you need for killer vlogs or video, especially if you're on the go. —C.S.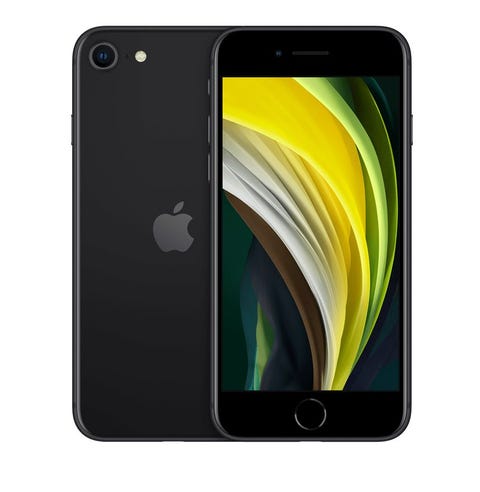 Smart phone companies love to pretend that a $700 is "affordable" for a device upgrade. It really is not. But by bringing back the iPhone SE for a palatable $400, Apple gave us hope that the heavy-hitters in the smart phone arena might be embracing price accessibility. The new iPhone SE is smaller, less stunning, and less powerful than its iPhone 11 and iPhone XR counterparts—obviously. But it's a smart phone, it does smart phone things, and it won't slow you down. Home button, how we missed you. —S.R.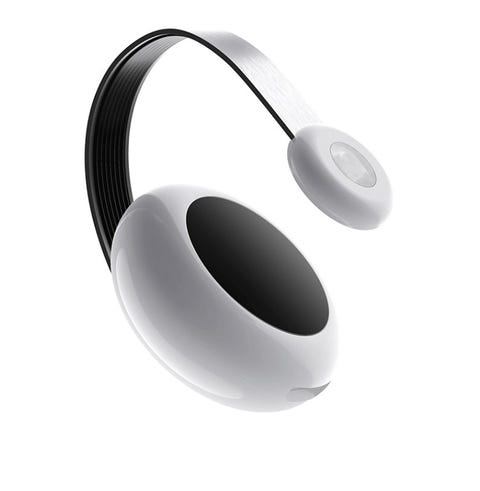 Short of buying a video camera but more more rewarding than relying on a smartphone's guts alone is the Moon UltraLight, an unassuming device that clips onto a phone and emits better light for photography and videography. With touch controls, you can adjust the hue and brightness, and it'll do wonders to your photos and videos. It also clips onto laptops. Hello, better Zoom lighting. —S.R.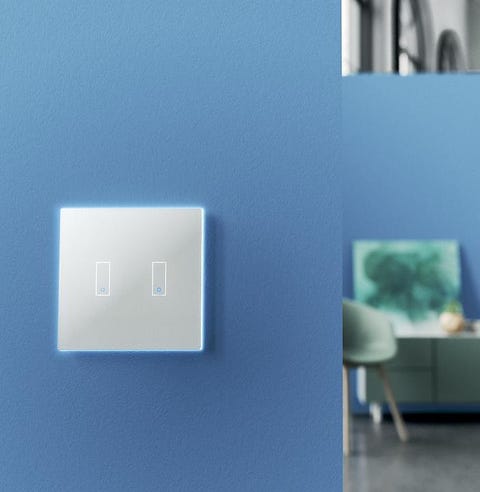 Smart lighting may exist to eliminate the need for light switches, but with a switch this cool, you'll want to go back. Iotty looks like something straight out of MI6's headquarters. With a subtle and gorgeous backlight, dimmer controls, and smart home integration, it is a worthy hub for your smart lighting schemes. —C.S.
Larq Movement Water Bottle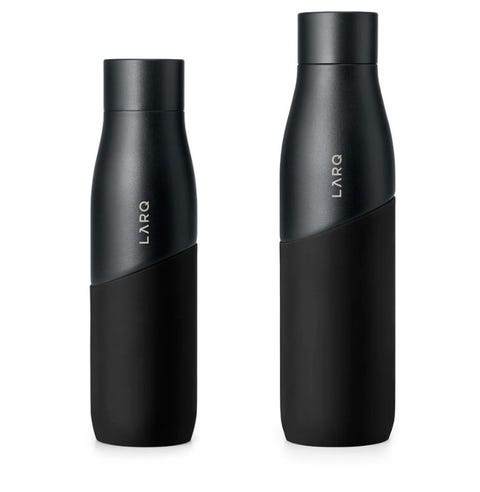 Larq bottles are equipped with internal UV-C lights that regularly sanitize the inside of the bottle and its contents. That's great for peace of mind, great for traveling, and great for avoiding that disgusting metal water bottle stink. But the original Larq bottles have some heft to them. The next step for Larq was releasing lighter water bottles that are much more portable without sacrificing that UV-C tech. Movement bottles are not double-walled, so they won't keep your drinks hot or cold, but that matters a lot less at the gym or on a hike. —S.R.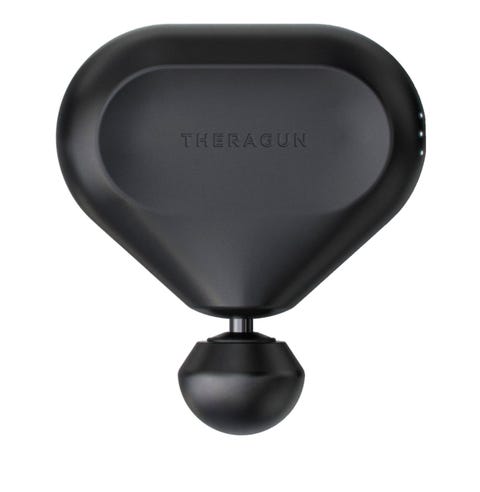 By the sound of my bones, you would not believe that I am a young man. The cracks and snaps my body makes would have you wincing. Now, Theragun percussion massagers aren't cure-alls, but damn do they help. This year, Therabody launched a mini Theragun that is a wonderful backpack or gym bag size, and still will have your muscles feeling refreshed and loose. The Mini serves as your intro to percussive massage guns, and a necessary addition to those of us who have been wrecking our bodies learning home-friendly workouts. —C.S.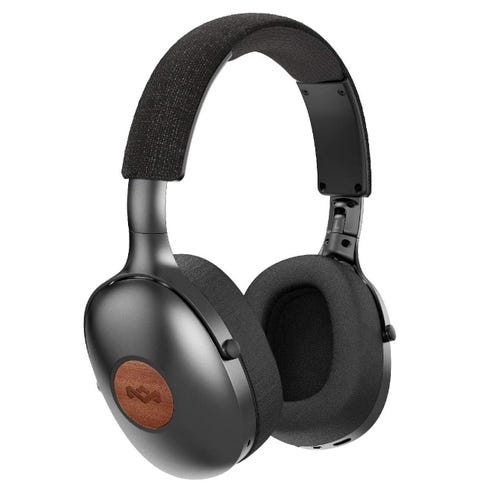 If you want a pair of Bluetooth headphones, the options are extensive. It's like buying a new car. However, take a moment to consider this pair from House of Marley. They're quite gorgeous in design, with padded cushions, hi-def drivers for impressive audio, and a 24-hour battery life. They are also—and this is where they get serious credit—made from responsibly sourced wood and recycled metals. Very positive vibes, indeed. —S.R.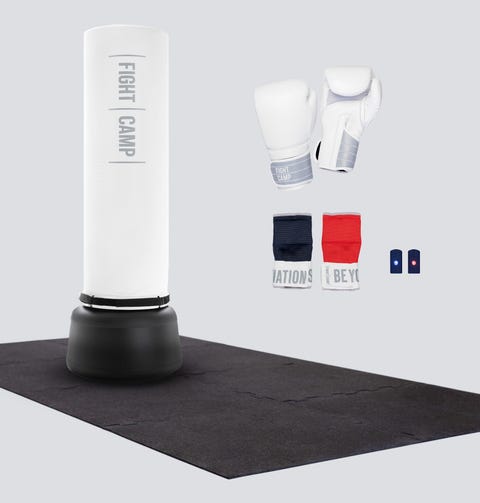 I don't condone violence, but I do condone punching the ever-loving shit out of inanimate objects for the sake of fitness. Fight Camp is a whole boxing system in your home—complete with a punching bag, a set of lessons and workouts, gloves and wraps, and, coolest of all, punch trackers that monitor your speed and punch frequency. The workouts are genuinely fun and have actually helped me get exercise throughout the pandemic. I couldn't say the same for all those other boring, time-consuming regimens. —C.S.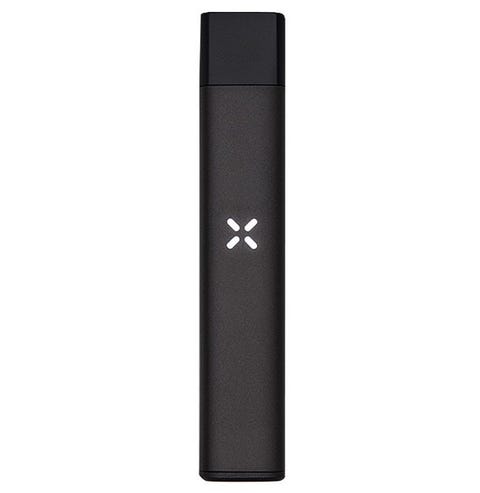 If you can believe it, there was a time before the coronavirus when the general public was focused on other health issues. To name one, the vaping crisis. Pax Labs made the Pax Era Pro—a characteristically sleek Pax weed vape that's smarter than a well-trained German Shepherd—to alleviate some of that anxiety. It takes a reading on the pod you're inhaling to give you a safety rundown of its chemical compounds, from THC to terpenes. It'll also remember your ideal dosage settings, making your cannabis intake much more manageable. Transparency goes a long way in an industry that's traditionally hazy. —S.R.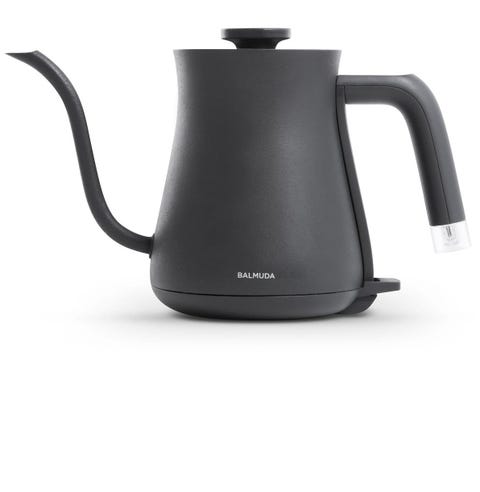 Please, for the love of god, stop microwaving your water. Get an electric kettle. It is faster and better. The Japanese toaster company Balmuda has a kettle that not only works great, but looks amazing on your countertop. It has a set power base and a simple LED indicator, and it is remarkably lightweight. I'll say it again: If you drink tea or use fancy coffee-brewing contraptions, an electric kettle is a must. —C.S.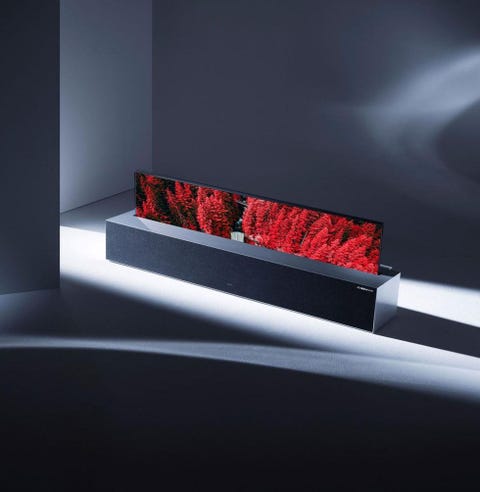 It wouldn't be a list of cool gadgets without a ridiculous television. LG debuted this rolling, disappearing OLED smart television last year, and this year confirmed that the thing will go on sale in the U.S. sometime in 2020 (assuming the pandemic didn't belay those plans). And all you need is a rumored $60,000, according to CNET. Yep, $60,000 for a 65-inch TV that blocks and then unblocks a view, epitomizing the phrase "less screen time" but still leaving you with a base to contend with. That screen is roll-tested to ensure the best quality (i.e. no breakage or dents) for years. Tech companies are getting funky with how we watch television. —S.R.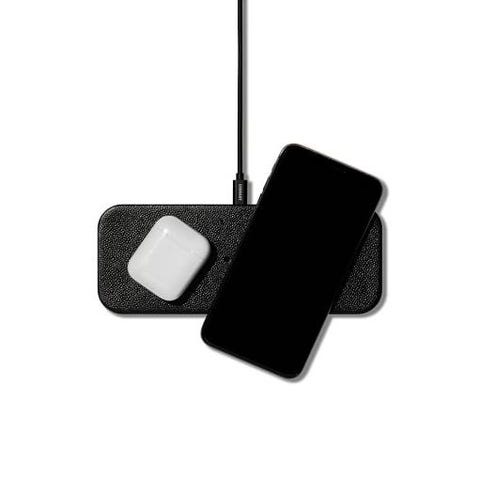 The world's gone wireless, so the likelihood of your household having more than one Qi-enabled device is getting higher by the second. Courant, handily, made a wireless charging pad that'll power up two devices at once; simple as that. But beyond the concept, it's important to note that the Catch:2 has superior hardware innards so that you won't find a dead spot on its surface, and it's all wrapped up in beautiful pebbled leather. —S.R.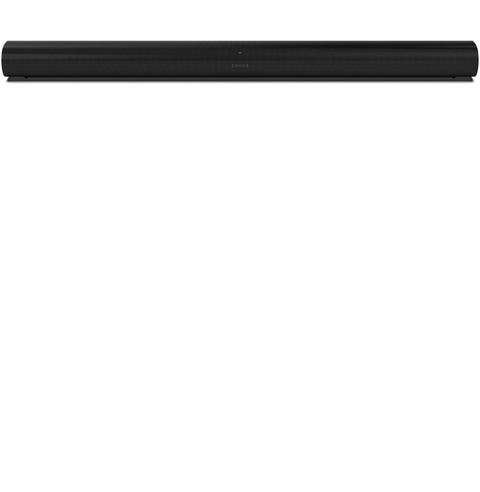 This is a soundbar. Standard enough, you'd think. But it's the most badass soundbar out there right now. The design, in traditional Sonos fashion, is so well done that the Arc actually adds a purposeful design aesthetic to your TV setup. That's not even getting started on the sound itself. The quality of this thing is amazing, as if you turned your living room into an IMAX theater with Dolby audio, and sometimes even better. It also works as a smart speaker for Spotify and the new Sonos radio stations (the Brittany Howard channel is to die for), and it'll calibrate based on your room for optimal acoustics. The Arc will completely transform your TV experience. —C.S.
["source=esquire"]