The $70m high school stadium – a student sports palace or 'shrine to opulence'?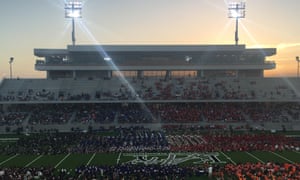 It cost over $70m and has 12,000 seats, multi-tiered stands, a $1.8m video screen and an exterior that lights up in the colours of the home team. None of which seems extraordinary in the gaudy world of Texas high school football.
What might be most striking about the state's latest student sports palace is not the arena itself, but the wide-angle view encompassing what is next to it: another high school football stadium, neatly landscaped with a giant screen of its own and a capacity of almost 10,000.
The Texas high school building frenzy is often dubbed an arms race – in which case, Katy Independent school district (ISD), near Houston, is tooled up like few others.
Legacy Stadium, the latest most expensive high school venue in the nation, had its opening ceremony on Thursday night. The red-clad Tigers of Katy high school and other local teams will play there in the coming season. Rhodes Stadium, which opened in 1981, will still be used by the district's sides – sometimes on the same day as Legacy, with kick-offs an hour apart.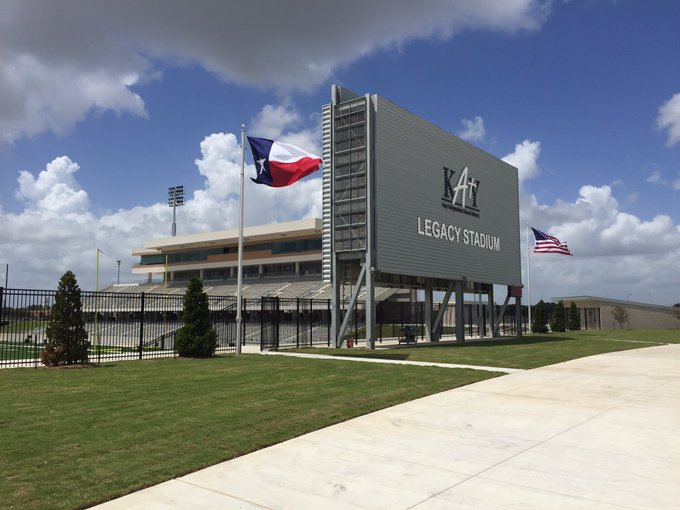 These are heady times for Robert McSpadden, aka "Texas Bob", a stadium aficionado who lives in Katy. That the fast-growing region needed another field is not in question, though whether it had to be so lavish is another matter.
"We had seven teams playing in one stadium, so we had Friday night lights and Thursday night lights, Saturday night lights and Saturday afternoon," McSpadden said.
"More controversial than the cost, in my opinion, is building it right next to the other stadium. I think it's ingenious. [At first] I did not like it at all – I thought, 'That's the dumbest thing I've ever heard of,' but there's so many shared resources."
The city of Allen, near Dallas, ushered in this decade's mega-stadium era with a $60m, 18,000-capacity venue that made national headlines when it opened in 2012, and then when it was embarrassingly forced to close temporarily in 2014 because of cracks in the concrete.
Another Dallas suburb, McKinney, is expected to complete a $70m, 12,000-capacity arena around the turn of the year. A third, Prosper, plans to open a $48m stadium complex in 2019. Alvin, 25 miles south of downtown Houston, will welcome a 10,000-capacity, $41m stadium next year. The city's population is about 26,000.
It all makes the brand new place in the Austin suburb of Pflugerville – named The Pfield – seem a relative bargain at $25.8m for 10,000 seats.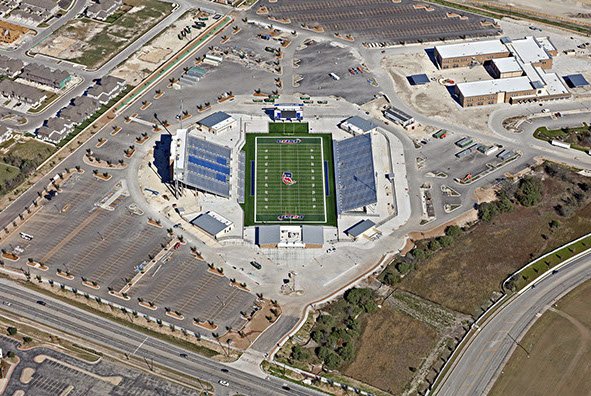 There are 1,202 high school football stadiums used for regular-season varsity games in Texas, with a combined seating capacity of over 4.2m, and 17% of which have video scoreboards, according to TexasBob.com, which says that a growing trend is to replace grass with artificial turf.
This works out to roughly one seat per seven Texans, or more seats than there are residents in 24 states and the District of Columbia.
Expenditure is not limited to stadiums. The Dallas Morning News last year found that Texas communities spent about $500m on 144 indoor practice facilities with artificial turf football fields over the past two decades – including two dozen that cost more than $5m in the Dallas-Fort Worth area alone.
The apex of luxury can be found in the Dallas suburb of Frisco, home to the Star. Here, in a 91-acre complex that reportedly cost $1.5bn and is humbly entitled the "Dallas Cowboys World Headquarters", Frisco ISD's teams use the NFL behemoth's 12,000-capacity indoor facility with a 2,270 sq ft video board.
"It's been a statement about Texas forever that Texas is bigger. The state capitol dome is bigger than the one in Washington and there's a reason for that – Texas wanted to build a bigger dome than the federal government. You could say this started 150 years ago," said Michael Cramer, a sports and media programme director at the University of Texas and former president of the Texas Rangers MLB team and Dallas Stars NHL franchise. "It's morphed into: 'This is the next step on how to be the biggest and the best.'"
Expensive stadiums are built in affluent and ambitious suburbs of major cities whose leaders view the facilities as symbols of civil pride and marketing tools as well as meeting the practical needs of an expanding student body. These satellite cities are competing with each other to attract families, jobs and commercial investment.
"They came from nothing, they were prairie and now all of a sudden you have 60, 80, 100,000 people. And one of the ways to put your town on the map is through their high school football, and that's what's happening in Allen and McKinney. Thirty years ago, you could have driven through there and not seen a soul, maybe some cows," Cramer said.