Annual clothing sale set for Friday, Saturday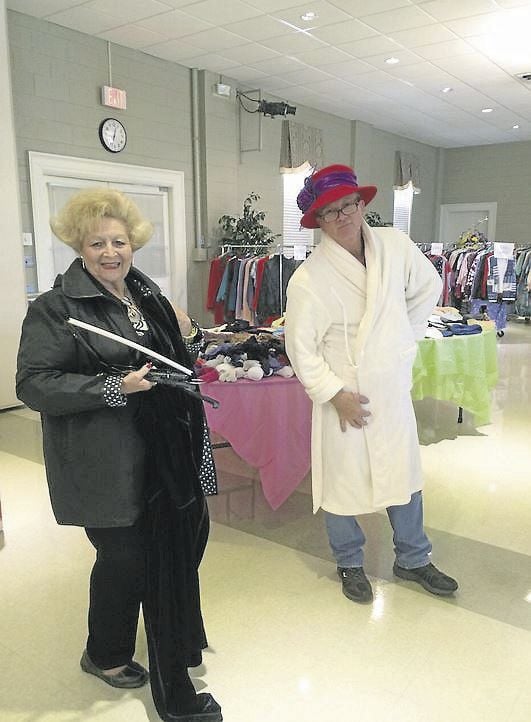 The ladies of First Baptist Church of Morganton are once again using fashion for a good cause.
The Eighth annual ladies' clothing sale to support U.S. missions will take place Friday from 2-7 p.m. and Saturday from 7 a.m. to noon.
The women of the church clean their closets out every year to sell their clothing and accessories to raise funds. All clothing and accessories are priced at $4 and under on Friday. On Saturday, everything is half price, with nothing over $2.
The event began eight years ago, when the country was struggling and people were losing their jobs, according to Jackie Ward, the annual sale's founder.
"By offering the clothing at a low price, with nothing over $4, we are helping those who are struggling and also giving more to missions in the U.S.," Ward said.
While helping those in the community who have struggled with losing their job or other family crises, the ministers at First Baptist Church decided that all proceeds from the sale should go to support missions funds.
Even though it is a ladies clothing and accessories sale, the entire congregation gets involved with this event.
"Most all of the ladies in our church help in some way by donating, putting out clothing, working during the sale, and helping with checkout," said Ward. "The men in our church also help by directing traffic, carrying clothing donated, putting up the racks, carrying the purchased items to the cars, and with the clean-up and delivery on Saturday to the nonprofit agencies receiving what is left over."
Ward said the type of clothing and accessories expected are an assortment of all seasons for teenage girls and ladies from size zero to plus size.
"We have hats, gloves, shoes, socks, blouses, skirts, dresses, coats, shorts, capris, pants, pantsuits, knit shirts, belts, jeans, pocketbooks, jewelry, jackets, scarves, sleepwear, sweaters and vests," Ward said.
While many of the clothes and accessories are donated from previous owners, many of the items are brand new and still have the tags on them.
Any remaining clothing and accessories will be donated to Burke United Christian Ministries, The Outreach Center, Foothills Thrift Store and Hospice Thrifts and Gifts in Valdese.
"We have ladies who come back every year and are so thrilled to receive clothing at such great prices. They leave with an arm load and a big smile," Ward said.
The First Baptist Church of Morganton ladies clothing sale for U.S. missions will take place on Friday, May 12, from 2-7 p.m. and Saturday, May 13, from 7 a.m. until noon in the First Baptist Church of Morganton's fellowship hall.
For more information, contact First Baptist of Morganton at 828-437-2544. The church is located at 502 W. Union St., Morganton.