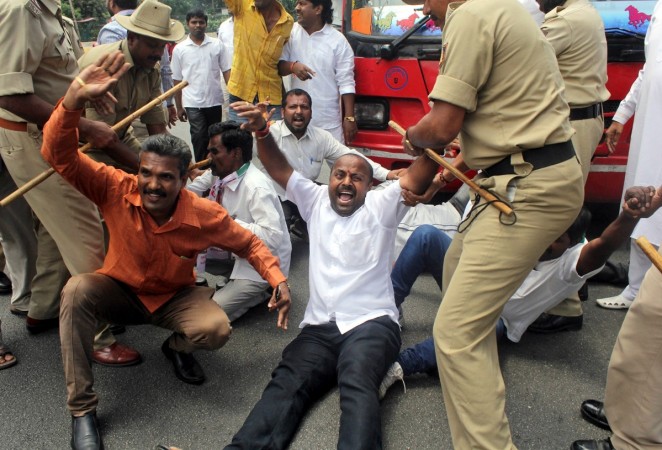 A case has been registered against the youths who thrashed the Tamil Nadu engineering student Santosh for posting derogatory remarks against Kannada actors taking part in Cauvery water dispute, Karnataka Chief Minister Siddaramaiah said in a tweet.
He had also said that he would write to Tamil Nadu Chief Minister Jayalalitha following the attacks on the restaurant in Chennai and the vandalising of buses and other vehicles in Ramanathapuram and Rameswaram.
take action," CM Siddaramaiah told reporters.
All metro and bus services have been suspended following the violent protests while schools have been asked to shut down, local media reported.
Four people have been detained after a Karnataka-based restaurant New Woodlands Hotel located in Chennai's Mylapore area was attacked with petrol bombs around 3:45 a.m. on Monday, a day after a video showing a Tamil Nadu youth being assaulted by a group of boys in Karnataka went viral on social media.
Read: Cauvery water row: Supreme Court modifies order, asks Karnataka to release less water
According to the hotel staff, six petrol bombs were hurled at the restaurant, which is owned by Krishna Rao.
The police said that the attack happened when 10 men entered the hotel and shouted slogans against Karnataka. They damaged tables and other property and also broke window panels, the New Indian Express reported.
Around 15 security personnel were at the hotel at the time of the attack but no one dared to stop the attackers. Police investigation is still underway.
A one-page letter was found at the attack site, which said that if Tamils were targeted in Karnataka, petrol bombs would continue to be thrown at Karnataka-based outlets in Tamil Nadu.
The video that went viral showed a 22-year-old Tamil engineering student Santosh being thrashed by a group of boys on Saturday for posting on Facebook derogatory comments against Kannada film actors taking part in the Cauvery water dispute protests. Santosh apologised to the group and fled the spot.
The video was also telecast by local channels in Karnataka and Tamil Nadu.
According to the New Indian Express, the attackers wanted to take the boy to the police station, but the Girinagar police refused to file a complaint.
"We would have registered a case if he was ready to file a complaint. We came to know of the incident only when a news channel reported about it," a senior police officer said, denying that the boy was brought to the police station and that the attackers let him go following the apology.
"Violence is not the solution. People of both states have to face issues in a compassionate manner," AIADMK spokesperson C R Saraswathi told the Times of India. DMK MP and party spokesperson T K S Elangovan urged the Karnataka government to take legal action against the attackers.
Naam Tamilar Katchi Party in Tamil Nadu vandalised a bus from Karnataka and thrashed the driver for information on if he was ferrying Kannadiga passengers in his bus on Monday.
Eight people have also been arrested for vandalising vehicles in the Ramanathapuram district of Tamil Nadu, Times Now reported.
[Source:- IBT]