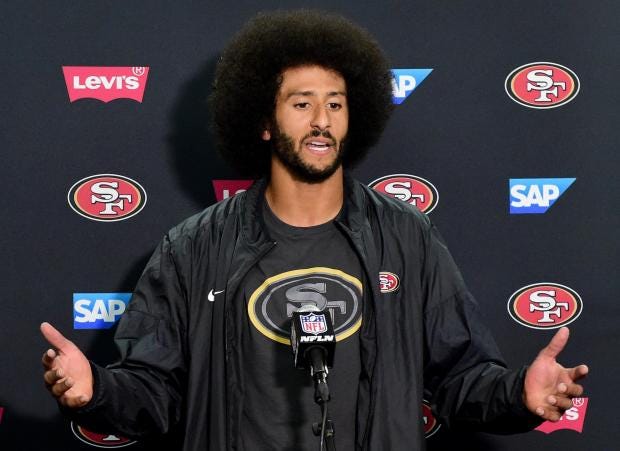 A police force has suggested officers will boycott policing San Francisco 49ers games following Colin Kaepernick's protests against racial injustice and police brutality in the US.
Kaepernick made headlines across the world last week when he sat down during the national anthem. He later said: "I am not going to stand up to show pride in a flag for a country that oppresses black people and people of colour."
The 28-year-old is a vocal supporter of Black Lives Matter and spoken out about police brutality before.
Now, members of the Santa Clara police union have written a letter criticising the 49ers organisation saying Kaepernick's recent actions have "threatened the harmonious relationship" between the players and the police and suggested officers may stop working at the team's Levi's Stadium if the protests continue, according toNBC.
The letter also says Kaepernick made disparaging allegations about police and referred to images of the quarterback wearing socks with pictures of pigs in police hats. Kaepernick responded to the furore surrounding his socks by saying they "shouldn't distract from the real issues" and they were a protest against "rogue cops" not all officers.The letter finished by criticising the 49ers for "failing to address your employee's inappropriate workplace behaviour", and said: "If the 49ers organisation fails to take action to stop this type of inappropriate workplace behaviour, it could result in police officers choosing not to work at your facilities".
The 49ers have so far supported Kaepernick and said it is up to the players whether they stand for the national anthem.
Representatives for Kaepernick and the 49ers did not immediately respond to a request for comment.
"Your employee explained to the media that his actions were an attempt to gain public attention to the oppression of African-Americans and minorities in the United States by police officers […] Your employee further insulted all law enforcement officers in America by stating, 'There is police brutality. People of colour have been targeted by police'," the letter stated.
[Source:-INdependent]