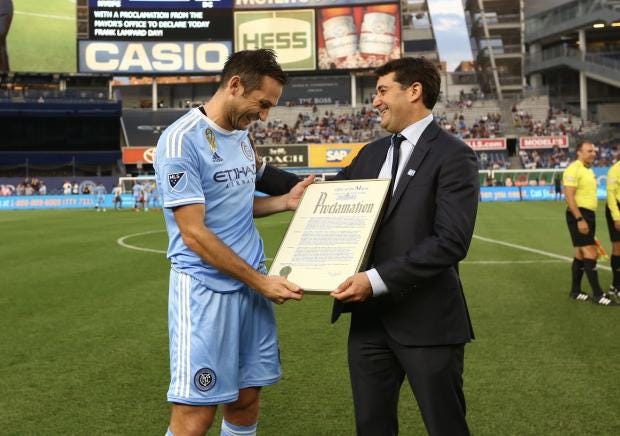 Frank Lampard was presented with a commemorative shirt and engraved ring celebrating 300 career goals before New York Citydefeated DC United this week – except he had not achieved the feat until after the MLS fixture.
It has since transpired that, as the New York Mayor's office hailed the 38-year-old for the achievement, he was actually yet to score his 300th goal but, luckily for all involved, he proceeded to grab a brace at the Yankee Stadium to secure the milestone and save face.
In fact, owing to a League Cup replay in 1999, the former England international had only scored 299 goals up until kick-off.
17 years ago, West Ham's quarter-final with Aston Villa had to be rescheduled after the east London side fielded an illegible player, Emmanuel Omoyinmi; subsequently nullifying his effort at Upton Park.
Lampard posted on Instagram in the run up to Thursday's 'Frank Lampard Day' that he was "very proud" to hit the 300 goals milestone having been wrongly informed by the United States outfit's staff that he had reached the landmark figure. Sky Sports have since carried out what they call "detailed research" into the statistics and have proven that New York were in fact acting prematurely.
Nonetheless, the former Chelsea and Manchester City midfielder did overtake the 300 goals benchmark after scoring two late goals to down DC United. Lampard won three Premier League titles at Stamford Bridge before moving across the pond.
In a statement, Mayor Bill De Blasio said Lampard was "one of the greatest midfielders of his generation", later adding: "Frank has great stamina, a powerful kick, a shrewd eye and an innovative approach to the world's most popular sport.
"With gratitude and admiration, I extend my congratulations, Frank, and best wishes for continued success. Your mayor will be rooting for you throughout this season and well beyond."
[Source:-Independent]