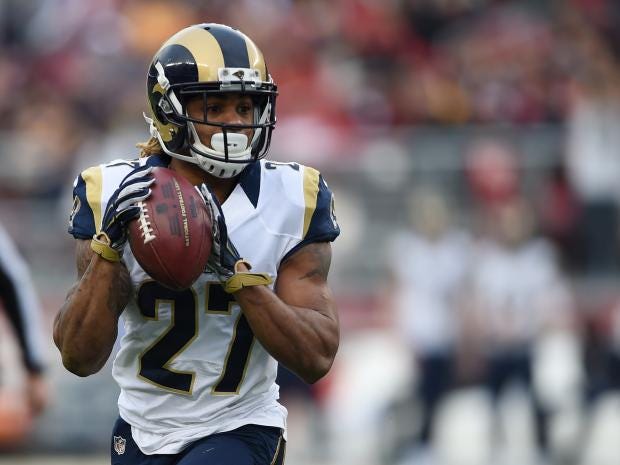 It is the story of Tre Mason that has really caused me to question an NFL obsession that stretches back more than 30 years.
Mason is currently in a hospital after multiple encounters with the police during the latest offseason. A video of the most recent found its way into the media via TMZ.
The player had allegedly been spotted driving his ATV at more than 80 mph. He fled when deputies turned on lights and sirens, driving back to his mother's house.
There he hid while deputies tried to coax him out. One told Tina Mason, his mother, that he should be playing football – the Rams had reportedly not heard from their player since the end of the previous season.
"No, actually he shouldn't," Ms Mason replied before going on to explain that her 22-year-old son had the "mindset of a 10-year-old" after repeated incidences of head trauma.
The player's decline has been shocking, and scary. For me it has brought home the debate over head trauma in a way that no scientific study ever could because of how closely I've followed his career.
Mason first came to my attention while in college at Auburn, where he was the university's star running back. He was one of best in the SEC, considered by most to be the college game's top league. He was one of the best in the whole of college football.
I admit that what singled him out to me was as much because the commentator highlighted his father's membership of the rap group De La Soul, the darlings of the UK music press when I first started following the NFL, as it was down to his athletic performance. They've just put out a new, crowd funded, album, by the way, and they're getting rave reviews again.
However, it was also because, Mason, at only 5 foot 8 in height, is one of the NFL's little guys. Lacking a few inches myself, I always cheer for them. It takes something special to make the NFL at 5 foot 8. It takes something special just to play at a good college programme at that height, let alone star like Tre did.
Anyway, I kept an eye his career, and made a point of watching Auburn's games when they found their way over to this side of the Atlantic via ESPN on a Saturday night.
While Mason was a brilliant college player, capped by a bravura performance in the national championship game, there was some debate over whether he would be able to transfer his skills to the professional game, in part because of his lack of size and bulk. NFL.com projected him as a likely second round selection in the NFL's annual draft, but in the end he fell to the Rams in the third.
His rookie year was respectable, if unspectacular, but there was a marked drop off in 2015, apparently due to his having to play second fiddle to wonder-back Todd Gurley.
But perhaps there were other reasons.
It's always the personal stories that get you. I'd taken note of the note of the decision by Chris Borland, a star linebacker in the making for the San Fransisco 49ers, to retire after just one year of play. He potentially left millions on the table and paid back a pro-rated portion of his signing bonus because of his concerns over research into Chronic Traumatic Encephalopathy, a degenerative brain condition. Said research has found evidence of it in the brains of a disturbingly large number of deceased former NFL players.
I've seen the reports about the studies, read the damaging allegations abut cover ups, even had a friend who left the country to live in the United States tell me he and his American wife would make sure they sent their son to a non football playing school. It's a decision a lot of parents are making.
But for some reason it was Tre Mason's story that really affected me. There's no accounting for it. Sometimes stories just do that.
I know there are counter narratives. There is the one that says that football treats valuable life lessons about teamwork and working together to the kids that play. There is the one that shows how it provides a route out of poverty for many players, that gets lots of them on to college campuses even if they don't make the pros.
Another player I've followed is Rakeem Cato, who is another short guy (as far as quarterbacks go) with a hip hop link. He was, in his words, 'kept on the straight and narrow' by 2 Live Crew frontman turned high school football coach Luther Campbell. Cato was brought up in a place described by the latter as "like Afghanistan", where he was doing bullets as a nine-year-old.
American football made him a college graduate. He had a standout career at Marshall and he now plays professionally in Canada.
There are many similar stories.
I also know that plenty of former players, even those with terrible injuries, tell interviewers that they don't regret playing, would do it all gain, would get on the first plane if a team called them up.
Still, Tre Mason. He's just 22. He looked like an exceptional talent. The NFL's draft guru Mike Mayock was surprised he fell as far as he did before being picked. Now? Well his life isn't over. But what sort of life is he going to have?
I guess I'll still be parked on the sofa watching the college game on Saturday and then the NFL when it starts next week. My subscriptions are paid for. The Oakland Raiders are looking good for the first time this century – yes, it has been that long.
But with a clear conscience? Not any longer. Will I watch next year? I can't say for certain.
It might help if the NFL was a bit more active in assisting former players; if it didn't have to take court actions like the one brought by former players suffering from the effects of concussions to get its teams' rapacious owners to dip their hands into their over stuffed pockets.
I'd feel better if the league reached our to Tina Mason and did something meaningful to help Tre.
[Source:-Independent]