'It's about our dignity': vintage clothing ban in Rwanda sparks US trade dispute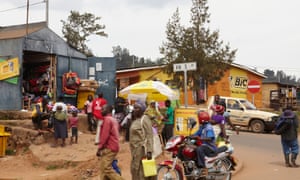 In a dim corner of Biryogo market in Kigali, Rutayisire Ibrahim watches as two traders slap playing cards on to a wooden stool outside his tiny shop, which is crowded with neatly folded stacks of trousers and bunches of colourful ties. The garments are hand-me-downs from men living thousands of miles away.
In the absence of customers, the game has attracted an audience of stallholders.
"You see all of these guys," Ibrahim says, nodding to the crowd. "They have nothing else to do. The customers have stopped coming."
Several of the stalls in the market have been permanently padlocked, he says, and one section of Biryogo lies abandoned. It's been nearly 24 hours since Ibrahim's last sale – a pair of trousers for the equivalent of $2 (£1.50).
Last year, Rwanda, Kenya, Tanzania, Uganda and Burundi announced their intention to phase out imports of secondhand clothing and shoes from western countries by 2019.
But the decision in Rwanda has divided people and left the tiny landlocked country in a trade dispute with the US.
["Source-timesofindia"]