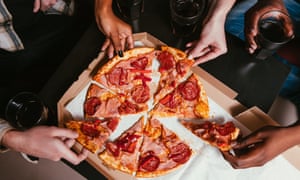 England's head of public health has urged ministers to force food firms to prominently display the salt content of their products in a bid to reduce deaths from heart attacks and strokes.
All foodstuffs should carry traffic-light-style labelling showing whether they have high, medium or low levels of salt to help shoppers make healthier choices, Duncan Selbie, chief executive of Public Health England, told the Observer in an exclusive interview.
Large amounts of salt can cause high blood pressure, the single biggest cause of heart attacks and strokes, which between them kill more Britons than anything else.
"There's much, much more that can still be done to reduce salt in food. We'd be very supportive of labelling so people can easily see [salt content]. We support clear front-of-pack labelling using traffic lights, as it makes salt content clear," Selbie said.
Salt is already included alongside fat and sugar in the red, amber and green labels used by some supermarkets, but Selbie believes its threat to health is so severe it needs to be highlighted separately.
The PHE boss also attacked manufacturers for doing too little to strip salt from their products. "I'm concerned about food companies' slow progress in meeting targets for salt reduction. They've not made the progress that was hoped for. People are still consuming too much salt. It's around 8g a day per person when ideally it should be 6g. Too much salt means high blood pressure and more strokes and heart attacks."
Salt levels in some foods have recently been reduced. For example, Selbie said, bread now has 50% less salt. But he added: "We can take more salt out of food. We want to see a major effort by food manufacturers."
A report next month by Public Health England will confirm the painfully slow progress many food firms are making in meeting salt targets set in 2014.
Every 1g reduction in people's average salt intake has been estimated to prevent 7,000 deaths a year from strokes and heart attacks – and save the NHS £1.5bn.
Graham MacGregor, professor of cardiovascular medicine at Queen Mary University of London and chairman of pressure group Action on Salt, backed Selbie's call for producers to be forced to display salt content as part of a new mandatory traffic light system. But he accused PHE of doing far too little to ensure firms meet the 2014 targets and mistakenly relying on voluntary agreements.
"It's a national scandal, but not surprising as PHE has done virtually nothing to pressurise the food manufacturers, many of which simply ignore the targets", MacGregor said. "The British Retail Consortium and many supermarkets have called for mandatory targets. Gradual reduction in salt means consumers do not notice."
Selbie was speaking as NHS bosses in England are finalising the service's long-term plan for using its £20.5bn funding boost to improve care. In the interview he also demanded that the government drop its policy of slashing public health budgets – or risk failure for health and social care secretary Matt Hancock's drive to improve the prevention of ill health.
"There could be further cuts to public health budgets at the same time as trying to ramp up prevention. That would be inconsistent at the least," said Selbie. He fears ministers could raid prevention services by even more than the £700m they have taken since 2014 and given to frontline NHS care. That has led to cuts to anti-smoking, weight loss, alcohol, drug and sexual health services.
Selbie also urged hospital nurses, doctors and therapists to routinely ask patients whether they smoke and help them get support to quit. He said they should also ask patients how much they drink and suggest ways to cut down. NHS bosses could even link hospitals' income to these issues.
The PHE head also recommended that alcohol care teams be deployed in the 25% of hospitals that have the highest number of admissions due to alcohol abuse. While life expectancy has risen, he said, the length of time people are spending free of disease and disability is not improving – and is getting shorter for poorer people.
["source=cnbc"]