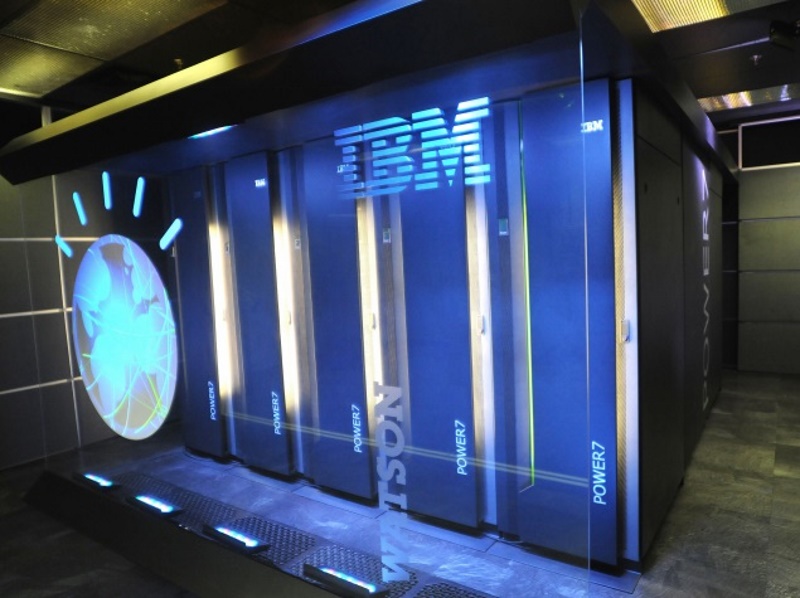 IBM's supercomputer Watson, known for its "Jeopardy" prowess, is teaming up with the Department of Veterans Affairs to try to revolutionize cancer care for veterans.
The VA-IBM partnership is one of dozens of initiatives being announced Wednesday as part of Vice President Joe Biden's all-day cancer summit at Howard University. Other efforts aim to sharply increase the number of patients in clinical trials, harness the government's computing power to pave the way for better "precision medicine" therapies and rejigger the way officials handle approvals of cancer-related products.
More than 350 researchers, oncologists, data experts, patients and others are expected to take part in the Howard conference, with an additional 6,000 more signed up for 270 regional summits around the country, according to Biden's office. Participants will spend much of their time in working groups trying to develop ideas to accelerate progress against the disease – the goal of the "cancer moonshot" effort announced by President Obama earlier this year.
In a post to be published Wednesday on Medium, Biden urged all Americans to get involved, saying said, "You don't have to be a CEO or wealthy philanthropist to play a role."
Many of the initiatives being announced Wednesday involve novel collaborations between federal agencies; for example, the Department of Energy is teaming up with the VA to use supercomputers to better understand the genesis of cancer. Others are pledges from cancer charities to raise more money for research or from businesses and philanthropies to create lucrative prizes for cancer treatment breakthroughs.
Still others involve prevention. On Thursday, Biden will visit a community health center in Cleveland to talk about cancer prevention, where he's expected to highlight a joint effort by Case Comprehensive Cancer Center and George Washington University to use digital media and other technology to reduce smoking rates and increase HPV immunization.
Under the IBM-VA partnership, Watson for Genomics technology will be provided free for two years to the VA's precision-oncology program in a project that will likely affect the treatment of some 10,000 veterans. Watson will analyze patients' genomic information and help identify cancer-causing mutations as well as potential treatments.
Currently, said David Shulkin, the VA's undersecretary for health, the groups of experts in the VA analyze patients' sequenced data and then develop treatment plans. Using Watson, he said, clinicians will be able to treat many more patients, much more quickly. Physicians will feed tumor information to the computer and, "within a matter of hours, we will be able to get an individual interpretation that allows doctors to make the very best treatment decisions."
Shulkin said using Watson would allow the VA, which treats about 40,000 new cases of cancer a year, to "scale access to precision medicine" for veterans. He said the program would begin in the third quarter of this year.
Steve Harvey, vice president of Watson Health, said that the artificial intelligence system has been tested in several leading cancer centers and that early results match those produced by groups of experts – so-called molecular tumor boards. He said that Watson would "democratize" health care by bringing the kind of sophisticated care available in large urban areas to patients in smaller cities and rural areas.
"A lot of what Watson does is synthesize available information and produce a fact-based report that the human brain can't do in such a short period of time," he said. "It will give someone who lives in rural America the sort of treatment available in Houston and New York."
Some of the other initiatives being announced as part of the summit Wednesday include:
– A new program by the National Institutes of Health and several drug companies and philanthropies to develop and fund a new program for "pre-competitive" cancer research, in which the data would be shared.
– A doubling of annual research investment by 2021 by the Breast Cancer Research Foundation. The plan is to increase investment from $50 million to $100 million (roughly Rs. 338 crores to Rs. 676 crores), aiming for a cumulative investment of $1 billion (roughly Rs. 6,761 crores) by 2021.
– New pilot projects by DOE and NCI to bring together nearly 100 cancer researchers and computer engineers to analyse pre-clinical models of cancer and cancer surveillance data.
– A revamping of information about cancer clinical trials by the NCI, working with the White House Presidential Innovation Fellows. The goal is to make it easier for patients and doctors to find the right trials.
Meanwhile, the Food and Drug Administration named Richard Pazdur, who currently oversees reviews of cancer drugs for the agency, as acting director of a new Oncology Center of Excellence, which will handle approvals of cancer-related drugs, devices and biologics. Currently, those products are reviewed by different divisions at the FDA, which sometimes slows down the process.
In an interview, Pazdur said the change was an effort to bring together different cancer disciplines and to better reflect patients' own experiences. "Patients don't go to a doctor and say, 'I want a biologic or device,'" he said. "They say, 'I want a treatment for my cancer.'" He added that the office would be an actual center, not the "virtual" operation the administration proposed earlier this year.
[Source  NDTV]