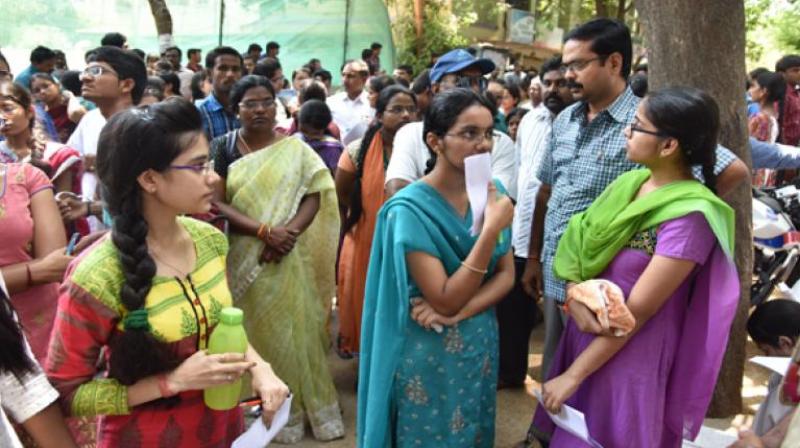 Visakhapatnam: Kapu youths are flying high in Andhra Pradesh with the government introducing a foreign education scheme called 'Videshi Vidya Deevena' for eligible youths from the community.
Often considered a progressive community, Kapus had in the recent times hit the streets demanding reservations in jobs and educational institutions on the lines of certain marginal classes.
The stir was likened to the Pateldar agitation in Gujarat. Patels too are seen progressive and affluent. Call it the government's attempt to woo agitated Kapu youths or to diffuse the agitation, the government recently introduced the foreign education scheme exclusively for the Kapus.
Under the scheme, 160 youngsters were selected so far and they will be provided with Rs 10 lakh each for foreign education. They will also be eligible for a Rs 5-lakh education loan from nationalised banks as recommended by the newly-formed Kapu Corporation.
Under the Andhra Pradesh State Kapu Welfare and Development Corporation Limited scheme Videshi Vidya Deevana, 400 students who want to pursue courses from recognised universities in the US, the UK, Australia, Canada, Singapore, Germ-any, New Zealand, Sweden, the Netherlands, France, Denmark, Russia, the Philippines, Kazakhstan and China, will be considered for this scheme annually. The offer for the Philippines, Kazakhstan and China is for medical students. The scheme is open for Kapu, Balija, Telaga and Ontari students from economically weak families.
The annual income of the eligible candidate's family should be `6 lakh or below. However, the new foreign education scheme, which is the first of its kind in the state for a community or caste, has not found favour with other communities.
"Foreign education is not an easy affair. If it's the US, one needs to spend more than Rs 25 lakh to pursue PG. And when a family is ready to bear the remaining expenses, which come to more than Rs 20 lakh after the government sponsors Rs 10 lakh, how can they be called a marginal class? Such scheme should also be extended to other eligible backward classes, SCs, especially Tribals. I see the scheme as a bait to diffuse the Kapu reservation stir and a part of the vote bank politics by the ruling party," said All- India BC Development Front Federation state president V.S. Divakar Pakki.
[Source:-Decan Chronicle]