After mass failures in Board exams: Vishwas group now for Class IX students; they can drop subjects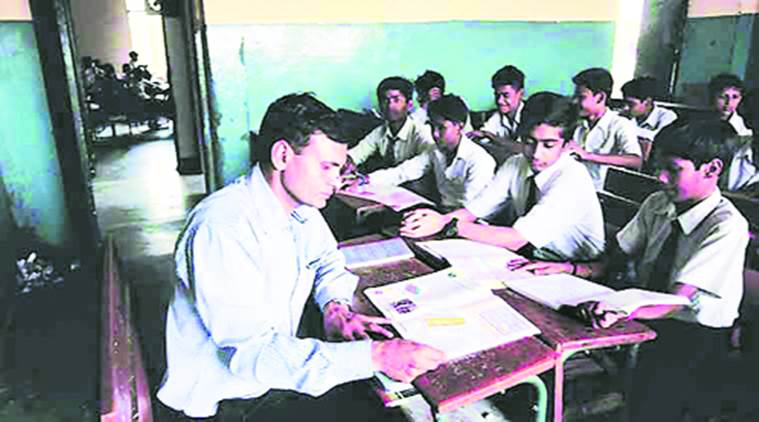 With A large number of private candidates — who were under Vishwas group in Delhi government schools — having failed the Class X boards this year, the group has now been created for Class IX.
Under the "Chunauti" scheme — a project to improve learning levels in the children — students of Delhi government schools, between Classes VI and IX, are divided into groups depending on their reading and writing ability. The ones who can read are Pratibha, the non-readers are Nistha. Vishwas group, on the other hand, had students who had failed twice in Class IX, and also out of school students.
According to the government, this change has been made after the Central Board of Secondary Education (CBSE) allowed Class IX in the patrachar (private) mode.
"This year, CBSE has extended the Class IX in correspondence mode. The students will be coming to schools to attend regular classes. Just under the correspondence mode, the board gives the option of either dropping science or mathematics," said Atishi Marlena, adviser to Education Minister Manish Sisodia.
As reported by The Indian Express earlier, out of the total 64,000, about 60,000 students had failed. Among those who had failed, 5,918 students had passed in three main subjects, while 5,034 students had failed to clear science.
 5,034 students failed science; pvt candidates, part of Vishwas group, struggle most with science subjects Also Read
Under the patrachar mode, studying social sciences is compulsory. However, a student can choose between two languages and two subjects from science, home science and mathematics.
However, principals say that in most schools, not many students are under the Vishwas group at present. "The students are promoted till Class VIII, so it is difficult to put any student under the group. Last year, the group mostly comprised of students who had failed in Class IX twice," said AK Jha, principal of Government Co-ed Sarvodaya Vidyalaya, Rohini Sector 8.
In Delhi government schools, every year, large number of students fail in Class IX. In 2016-17 out of the 2,44,636 who had appeared in the examination in 1,100 schools, only 12,7,904 students had passed. This year, however, along with this change, the Nistha group is further divided into Nistha and neo-Nistha. Nistha are the non-readers, and neo-Nistha are the absolute beginners who can barely recognise alphabets and numbers.
[Source"timesofindia"]