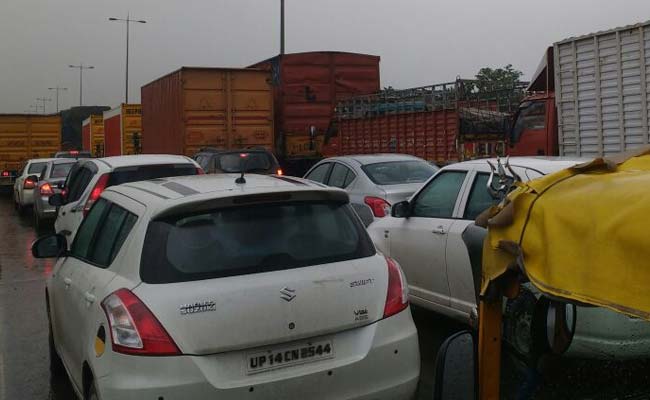 HIGHLIGHTS
Gurgaon police asks people from Delhi to stay away to avoid jams
Delhi-Gurgaon highway, other nearby roads blocked due to water-logging
Schools in city have been advised to close down
GURGAON: Heavy rain left corporate hub Gurgaon near Delhi struggling with massive traffic jams for hours on Thursday and Friday. A ban on large gatherings, usually reserved for troubled areas, was ordered at a flooded crossing that connects to many important roads.
Cars were stranded or crawling on miles of highway. The Gurgaon police advised people in Delhi to stay away and schools will be shut for two days.
As visuals emerged of cars in bumper to bumper traffic on the highway, Union Transport Minister Nitin Gadkari ordered the national highways chief to send a team of officials to clear up the roads and report back.
commuter told NDTV that he reached home early this morning, 12 hours after he left office yesterday.
Haryana Chief Minister ML Khattar had to cancel plans for a chopper survey of the mess because of bad weather.
People were forced to sit through hours of driving in first gear and many abandoned their cars when they ran out of fuel. They walked three or four km home or the nearest commute.
The abandoned cars on the roadside worsened the situation in some areas, said police officers.
Gurgaon's police chief Navdeep Wirk was seen riding a bicycle to the blocked areas.
"Quicker to reach New York from Delhi than Delhi-Gurgaon, BJP and Khattar government destroying Gurgaon as India's global hub," tweeted Congress leader Randeep Surjewala.
More rain this morning meant that reprieve could still be a few more hours away in the city known for its luxurious high-rises.
The Gurgaon police tweeted that flooding at a major crossing called the "Hero Honda Chowk" had blocked the highway and many roads in the area.
Many were stuck on the road till after midnight on Thursday because of the jams on the highway between Delhi and Gurgaon and other roads nearby.
Water is being pumped out of badly flooded roads. Haryana's top bureaucrat has called an emergency meeting to tackle the crisis.
On Twitter, comments derided the millennium city as "Guru-jam" and "the world's biggest parking lot".
Images on social media showed long snaking jams and people sitting on the roads, outside their cars. Buses, cars and other vehicles were seen submerged in water.
Road traffic from Delhi to Rajasthan and Maharashtra has been severely hit.
[Source  NDTV]