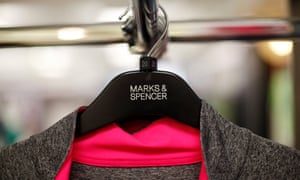 Marks & Spencer has reported a 64% drop in annual profits to £176.4m as weak clothing sales were compounded by more than £400m of restructuring costs relating to the new chief executive's turnaround plan.
Chief executive Steve Rowe insisted the retailer was on the road to recovery despite a worsening sales performance in both its clothing and food aisles in the last three months of the financial year. "We do remain on track," he said. "We've made some costly but necessary decisions, so profits are down but they are in line with expectations."
Headline pre-tax profits were down 10% at £613.8m on sales of £10.6bn. But once £437m of charges, including £156m relating to pay and pensions changes and £184m to cover store closures in the UK and overseas, were taken into account, its statutory pre-tax profit dived by 63.5% to £176.4m. The headline figure was better than analysts were expecting, sending the shares up 1%.
M&S's clothing and homewares sales tumbled by 5.9% in the first three months of 2017, which was far worse than analysts' expectations of a 3.3% decline. The retailer also reported a weaker-than-expected performance from its food halls, where underlying sales fell by 2.1%. Sales in the fourth quarter were hit by calendar changes that meant key December sales days and Easter fell outside the quarter.
Jon Copestake, an analyst at the Economist Intelligence Unit, said a year into Rowe's stewardship it was beginning to feel like "groundhog day" at M&S. "The retailer faces the same challenges that it has for much of the last decade, notably a structural decline in sales of clothing and homewares as the brand struggles to keep pace with competitors in fast fashion."
Despite the disappointing quarterly figures Rowe pointed to green shoots within its clothing arm, which he will be handing over to Jill McDonald – who has been poached from car parts and bike retailer Halfords – in the autumn. "We are starting to stabilise market share and importantly have seen full price market share growth, as we removed excessive discounting," said Rowe.
McDonald was a surprise appointment as she has never worked in fashion retail but Rowe defended the choice, highlighting her experience at both Halfords and fast food chain McDonald's. "We don't need another buyer," he said. "The business is not just about picking knitwear, it's running the buying departments, sourcing operations, logistics and marketing … it's a much broader job."
Rowe, who began his retail career aged 15 with a Saturday job at M&S's Croydon store and took over as chief executive in April 2016, is seeking to revive the 132-year-old retailer's declining profits. His biggest job is turning around its clothing arm, which under predecessor Marc Bolland relied on heavy discounting to attract shoppers, but he must also capitalise on the success of its foodhalls, which are in a sweet spot as Britons increasingly visit convenience stores rather than do a big weekly grocery shop.