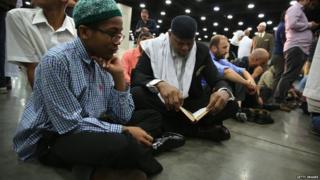 Worshippers and fans of Muhammad Ali are attending a Muslim prayer service to honour the legendary boxer in his hometown of Louisville, Kentucky.
The two-day funeral was planned by Ali in the years before his death, according to a family spokesman.
Ali wanted the Muslim prayer service, known as a Jenazah, to be "a teaching moment", according to Imam Zaid Shakir, who is leading the service.
Muhammad Ali, "The Greatest", died on Friday aged 74.
Over 14,000 people have tickets to the event at the site of Ali's last fight in Louisville in 1961.
American Muslims attending the service and watching on TV say they are hopeful that the public prayer will help Americans to become more familiar with Islam and its practices.
In 1964, Ali famously converted to Islam, changing his name from Cassius Clay, which he called his "slave name".
He first joined the Nation of Islam, a controversial black separatist movement, before later converting to mainstream Islam.
He travelled the world as a boxer and speaker, and inspired Muslims around the world.
Abdul Rafay Basheer, 25, came all the way from Chicago for the service because he sees Ali as an ambassador for Muslims. He said the prayer service would help to demystify his religion.
That was a theme taken up by Dawud Walid from the Council on American-Islamic Relations.
"In a political climate in which Islamophobia is front and centre, his funeral will counterpunch the ridiculous notion that being a good Muslim and a good American are at odds," he said.
Image copyright Getty Images Image caption Ali often prayed in mosques during his travels throughout the world
[Source  BBC]