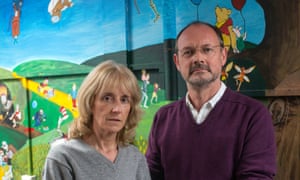 A couple working as headteacher and deputy head at a Hampshire primary school rated as outstanding have written to parents saying they are quitting because they are so disillusioned by the direction of education policy.
In their letter, Alex and Peter Foggo said they were so profoundly opposed to recent changes in England's schools that the only morally honest course open to them was to resign from their jobs at Longparish primary school.
The couple's catalogue of complaints ranged from changes to the curriculum and the impact of high-stakes testing on the mental health of very young children, to concern about the reintroduction of grammar schools and the freezing of schools budgets that is leading to widespread cuts. They plan to leave education altogether.
"Unfortunately we find that current education policy is in such profound opposition to what we fundamentally believe in, in terms of child welfare and development, as to make our continued work in teaching untenable," the letter to parents said.
"This is not a decision that we have taken lightly, but one that we feel has been forced upon us. Increasingly we have found ourselves having to implement policy with which we fundamentally disagree."
The letter, which went out this week to parents of the 100 children enrolled at the Church of England school, continued: "Recent developments in education have brought our position to a point of personal, professional and ethical crisis, leading to our current decision."
The Foggos, who have been in the teaching profession for almost 50 years combined, said changes to the primary curriculum with its "narrow" focus on reading, spelling, grammar and maths had led to "an increasingly bland and joyless educational diet", all leading up to tests at the end of years 2 and 6.
"The excitement, creativity and wonder that we came into teaching to nurture and encourage have been largely driven out by the rote learning of facts. Combined with this is the increased stress and potential for mental health issues that we see resulting from the pressure placed on young children by these tests."
On cuts to school to funding, an issue that is expected to feature prominently in the general election campaign, the couple said: "The freezing of school budgets, which have meant significant cuts in real terms, have left school leaders with often impossible choices to make.
"Which staff do you make redundant? Which subjects do you cut? Which child with an identified special educational need do you select to stop receiving support?
"These are not decisions that we believe are in educational or developmental interests of children, nor should school leaders have to be making them in what is one of the wealthiest nations in the world."
The Foggos also condemned Theresa May's commitment to lift the ban on new grammar schools and extend selection as "socially, morally and educationally wrong".
Education by academic selection, they said, pitted children against each other in "a rat race" from the beginning of their lives. "Pupils will be reduced to competition units, constantly aware of who's 'better' and who's 'worse' in a permanent struggle of tests, exams, scores, ratings and league tables."
Parents of pupils at the school, which serves the villages of Longparish and Hurstbourne Priors, expressed shock that the head and deputy head would not be returning after the summer holiday.
James Whiting said: "I just did not see this coming. The school is absolutely outstanding. Mrs Foggo has the deepest commitment to the education of children that I've come across in my life. For someone like that to feel that they can no longer run a school is just very worrying."
Another parent, Ingrid Sanderson, said: "I am very sorry the Foggos have decided to leave not only Longparish primary school but education altogether. The education system in this country should not be without teachers of this calibre, yet the current setup seems to be driving them away."
Dinah Nabarro added: "I'm very sorry they feel that the only option is to leave – but I also understand why it's their only option."
Alex Foggo, who has been head at Longparish for 11 years, told the Guardian: "It's a very, very sad decision to have to make. I never thought I would leave education before I retired, but parents have been very supportive. They totally understand."
She said her and her husband's decision was not shaped by a single factor but an accumulation of concerns. "It's been one thing after the other, with the changes to the curriculum and assessment and all the trouble that's caused, and all the stress it's placed children under … It's lots of things coming together."
Peter Foggo added: "We've had enough of this government's education policies and what it's doing to children and teachers."
The couple are among a growing number of teachers, in particular senior school leaders, who are leaving the profession at a time when it is struggling to recruitsufficient new staff. Research published on Friday reported that headteacher retention rates had fallen between 2012 and 2015.
A government consultation on the future of primary assessment is currently under way.
Asked for a comment, the Department for Education, limited by pre-election purdah, pointed to an earlier commitment not to introduce any more tests in primary school until 2018-19 and the scrapping of proposals to introduce year 7 resits for those who do not achieve the expected level of education at the end of primary school.
On funding, the government said it has protected the core schools budget in real terms since 2010, with school funding at its highest level on record at almost £41bn in 2017-18. On grammar schools, the DfE has previously said bright children from disadvantaged backgrounds thrived at grammars, which is why there were plans for new selective school places to be provided.
A team working for the National Foundation for Educational Research (NFER) found that retention rates at primary schools fell from 94% to 92% and at secondaries from 91% to 87%. Retention rates were lower in schools with low levels of attainment.
NFER's chief executive, Carole Willis, said: "The leadership pipeline is vital to the success of our education system. Given the challenges facing the system it's more important than ever to understand how headteacher retention rates are changing, and why."
[Source:-theguardian]