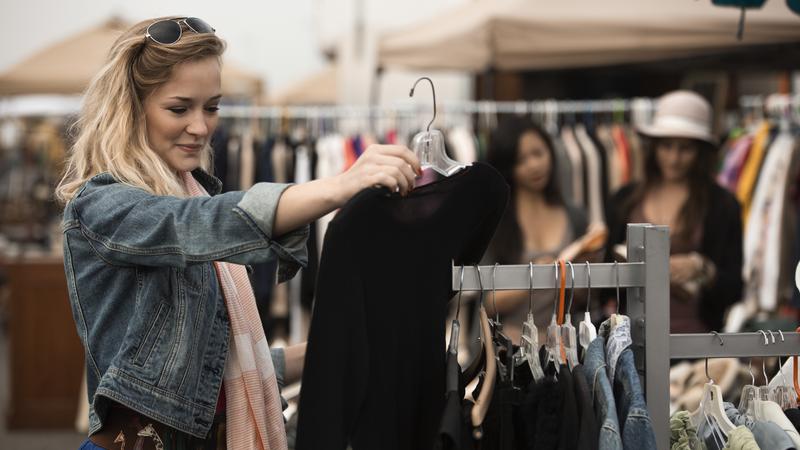 The total secondhand clothing market will double in the next five years to reach $51 billion and will capture a larger sector of the apparel market than fast fashion by 2028.
That's according to a report by resale marketplace ThredUp, whose CEO says, "As the line between new and used apparel blurs for consumers, a powerful transformation in retail will unfold."
"The resale customer is no longer somebody else's customer, they are everybody's customer. Mass market or luxury, if people can find a high-quality product for much less, they'll choose used," said James Reinhart, ThredUp co-founder and CEO.
The 2019 ThredUp Resale Report said the growth shows an increasing awareness among consumers of the environmental impact of retail, and noted that nearly 90 percent of retail executives want to get into resale by 2020 to boost revenue, to increase customer loyalty and to add new customers.
Nearly three-fourths of shoppers, 72 percent, said they prefer to buy from brands that are environmentally friendly, and 60 percent said they are more loyal to companies that have recycling programs.
But it's possible that home organizing guru Marie Kondo can also take a little bit of credit for the secondhand wave — ThredUP saw an 80 percent increase in requests for Clean Out Kits — the bags people use to send in clothing to donate or for resale — after Kondo's show aired on Netflix, Fortune reported.
The research found that 56 million women bought secondhand products last year, up from 44 million the previous year, and that 64 percent of women over 18 have bought or are willing to buy previously-owned items.
Millennials lead in the second-hand purchases at 33 percent, followed by Baby Boomers, 31 percent, and 16 percent of Gen Z, Retail Dive reported.
The report also found that the average number of items in a consumer's closet has dropped from 164 in 2017 to a projected 136 in 2019.
The Council for Textile Recycling estimates the United States will generate 35.4 billion pounds of textile waste this year. The Ellen MacArthur Foundation says more than half of fast fashion made is tossed in less than a year.
Fifty percent of clothing, shoes and other textiles are reusable; 45 percent are recyclable and can be turned into turned into cleaning cloths or ground up to be made into stuffing, insulation or carpet underlayment.
According to the Ellen MacArthur Foundation, more than half of fast fashion made is discarded in less than a year.
["source=bizjournals"]