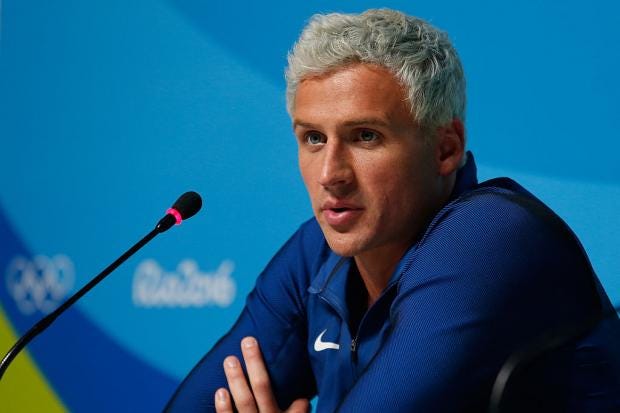 Ryan Lochte, the embattled American swimmer and 11-time Olympic medalist, has been charged with falsely reporting a robbery in Rio de Janerio.
Brazilian police issued a statement on Thursday announcing the charges, saying that Lochte would be summoned back to the country to testify in the case. No dates have been scheduled for the trial.
The indictment will also be sent to the International Olympic Committee's ethics board, The Associated Press reports.
Jeffrey Ostrow, Lochte's attorney, said he has not heard from Rio police. "I'm endeavoring to obtain more information," Ostrow toldUSA Today, "we intend to fully cooperate with the government as we have all along."
Lochte previously told the press that he and three of his teammates—Jack Conger, Gunnar Bentz, and Jimmy Feigen—were robbed at gunpoint by fake police officers, and after his account was disputed, he admitted that he over-exaggerated the story and was intoxicated during the incident.
Brazilian authorities issued an indictment for both Lochte and Feigen, 28. Lochte returned to the US two days before the announcement while Feigen agreed to pay an $11,000 charitable donation to leave the country.
The penalty for filing a false crime report in the country carries a maximum sentence of 18 months in jail, The AP reports.
Following the scandal, the 32-year-old swimmer lost four of his primary endorsement deals including Speedo, Ralph Lauren, and Syneron Candela.
Lochte later apologized for his actions on social media.
"It's traumatic to be out late with your friends in a foreign country—with a language barrier—and have a stranger point a gun at you and demand money to let you leave," Lochte said in a statement.
"I should have been much more responsible in how I handled myself and for that am sorry to my teammates, my fans, my fellow competitors, my sponsors, and the hosts of this great event."
[Source:-Independent]