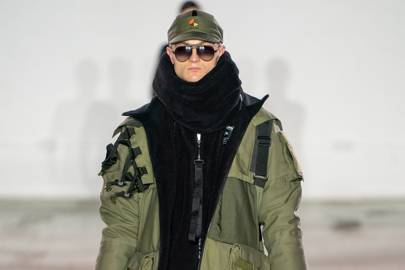 In case you didn't get the memo, our planet is basically breaking, and while the words "sustainable fashion" may have a bad reputation for being a snore-fest term that brings visuals of oatmeal-coloured clothing and canvas bags to the forefront of your mind, it's actually a really important answer to a very real problem.
Dubbed the world's second most polluting industry after oil, the throwaway nature of fashion has created a business that generates greenhouse emissions of 1.2 billion tonnes a year – that's larger than that of international flights and shipping combined. Plus, each year half a million tonnes of plastic microfibres are released from washed clothes (16 times more than plastic microbeads from cosmetics, which have now been banned) and contribute to ocean pollution.
The good news? There is an ever-increasing number of designers looking to change that and many brands are now trying to rectify past damage and create a better future, exploring new and pioneering techniques. Here we bring you just a handful of all the sustainable fashion brands that mean you can look stylish and have a clear conscious.
Veja

Thanks to its distinctive and stylish "V", you've probably already come across these trainers, but did you know Veja is also one of the most sustainable brands in fashion right now? Since 2005, Veja has been making trainers differently, infusing each stage of production with a positive impact. That's right, every component of Veja footwear has a story. The cotton comes from an organic farm in Brazil where workers don't have to worry about harmful pesticides poisoning their villages, while the rubber is natural and sustainable, tapped by people in the Amazon using traditional techniques. One out of four trainers Veja make are 100 per cent vegan and out of the 81 models in the brand's 2018 collection, 20 did not contain any animal products at all. They've even created a mesh fabric made entirely out of recycled polyester.

veja-store.com

Christopher Raeburn

Marking ten years in business, GQ's 2015 Breakthrough Designer Of The Year, Christopher Raeburn, took a look back at the pieces that defined his brand and reworked them with confidence at London Fashion Week Men's this week. Over the years Raeburn has become something of a hero for environmentally ethical living. In 2009 he received an award from the International Ethical Fashion Forum and on Black Friday last year he disabled his online shop and launched the #BuyNothing campaign. And now he wants to push the sustainability agenda to a whole new level. Alongside his brother Graeme, he used recycling as a means to spark his creativity for his latest collection. Highlights include a see-through puffer jacket created with recycled nylon and a filling made from shredded fabric off-cuts, cashmere sweaters made using scrap fabrics and wool jackets created from reversible blankets.

raeburndesign.co.uk

Stella McCartney

Since launching her label in 2001, Stella McCartney has proved that it is possible to create ethical, sustainable and trend-led collections without damaging our planet. Ending 2018 on a positive note, McCartney participated in a Fashion Industry Charter For Climate Action as part of the UN's initiative to better understand and reduce climate change. From creating trainers that don't use glue to stick them together to using fully biodegradable mannequins in her flagship store on London's Old Bold Street, Stella is the queen of sustainability.

stellamccartney.com

Patagonia

One of the world's most famous and respected outdoor brands, Patagonia is now working hard to put right what it may have gotten wrong in the past. It doesn't shy away from the fact that it creates products using fossil fuels and emit carbon into the air, but its mission statement reads "Build the best product, cause no unnecessary harm, use business to inspire and implement solutions to the environmental crisis" and so has revised its supply chain to reduce the environmental impact of production. In 2011 the brand tackled the issue of consumerism head on with its "Don't Buy This Jacket" ad in the New York Times, and, thanks to its Worn Wear programme, Patagonia is discouraging customers from buying more. Extending the life of its already very durable gear, the programme restores Patagonia pieces to good as new, meaning you can get more out of the stuff you already own. In fact, keeping clothing in use just nine extra months can reduce the related carbon, water and waste footprints by 20-30 per cent.

patagonia.com

Rapanui

In 2008 Rapanui started with just £200, located in a garden shed with a mission to redesign the clothing industry to be more sustainable. Now, more than ten years later, its mission remains the same. Its famously soft cotton tees, used by designers Katharine Hamnett, Bella Freud, Henry Holland and more, are created using only organic cotton. Rapanui's main supplier has its own wind farm and the fields that grow the cotton in the north of India are supplied with almost all the water they need thanks to the monsoon season. Plus, Rapanui's UK factory is powered entirely by renewable energy. With the belief that the future of fashion is a circular economy, when customers are done with what they've bought they can send their old products back and cash in the material for store credit. Plus, you can even scan the QR code inside every product and find out all about its origins. Planet-friendly indeed.

rapanuiclothing.com

Adidas

Adidas took some big steps towards a sustainable future in 2018. Teaming up with non-profit organisation Parley, Adidas sold more than one million pairs of shoes made from recycled ocean plastic last year, with each shoe preventing about eleven plastic bottles from the possibility of entering our oceans. And now the sports brand has pledged to be more sustainable. Promising to only use recycled plastic by 2024 it will eliminate all use of "virgin plastic" in its products, including polyester. The brand will also cut out the use in its offices, warehouses, retail outlets and distribution centres, saving an estimated 40 tonnes of plastic per year in total.

["source=gq-magazine.co.uk"]