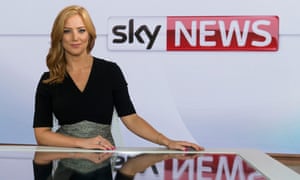 The new host of Sky News' breakfast show, Sarah-Jane Mee, has revealed she has experienced sexism as a woman working in sport.
The former Sky Sports presenter takes over from Eamonn Holmes as anchor of flagship morning programme Sunrise on Monday and revealed throughout her career she has had to endure sexist comments.
"Working in sport can be extremely intimidating," she told Hello! magazine, adding: "For a while I had sleepless nights about it.
"Unfortunately there was and can still be a lot of sexism and patronising behaviour, especially from the old boys in sport.
"They would make sexist comments and say, 'It's just banter'. But if I'm not laughing, it's not funny – eventually they stopped."
She added: "As soon as the men got to know me and realised I knew my stuff, I earned some respect.
"But I'd still turn up in high heels with a blow-dry. I didn't care. I wasn't going to dress in trainers – I was protecting a professional image."
In 2011 Sky Sports became the centre of a sexism row after Richard Keys and fellow football pundit Andy Gray were caught making sexist off-air comments about assistant referee Sian Massey.
Mee's career began at Sky as a runner for Sky Sports before moving to ITV in 2002 to become a sports reporter in the Midlands.
After a brief radio career on Heart FM's breakfast show, Mee returned to Sky in 2008.
Holmes left Sunrise on Thursday after 11 years as host.
Mee said her predecessor had "been a big champion" of her career, calling him an "amazing mentor and friend."
"He couldn't be more supportive of me taking over.
"There is a real adrenaline rush to live TV. I'm just so privileged to be in this job."
[Source:-Sky news]