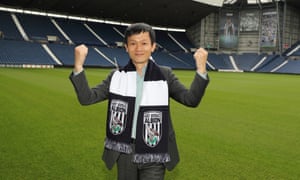 West Bromwich Albion have announced that the takeover by the Chinese group Yunyi Guokai Sports Development Limited has been ratified.
The Financial Conduct Authority and the Premier League are satisfied the takeover adheres to their rules and regulations after making the routine checks.
The Premier League has also had its owners' and directors' test satisfied, in the wake of August's announcement of the impending sale.
The former chairman, Jeremy Peace, has sold the club to Lai Guochuan, who controls Yunyi Guokai Sports Development Limited, and the former Blackburn chief executive John Williams was announced as their new chairman last month.
Lai said: "I'm delighted to complete the acquisition and to become the next steward of the club. I would like to thank Jeremy Peace for his leadership over the last 15 years and for laying the strong foundations for the next stage of the club's development. I am excited to have the opportunity to support the club's chairman, John Williams, and the team in building the club over the years ahead."
Peace became chairman in 2002 and had been looking for around £200m for West Brom after coming close to selling the club last summer. He said: "It has been a tremendous privilege to lead the Albion. I am proud that 11 of my 15 seasons as chairman have been spent in the Premier League whilst three others brought automatic promotion from the Championship.
"Guochuan Lai has been a supportive partner during the handover process and we have both done everything possible to move the club forward. Guochuan, John Williams, my board colleagues, our staff and supporters have my very best wishes for the future."
Albion are 12th in the Premier League with four points from four games, with Tony Pulis under increasing pressure as manager after a frustrating transfer window during which he criticised the club's board.
[Source:-The Guardian]