College football along for the ride as the spectacle of sports keeps exploding
BRISTOL, Tennessee — Bristol Motor Speedway CEO Marcus Smith stood a few feet from the back of an end zone Saturday night admiring what he and his family had wrought.
Essentially, they had staged the largest college football event in history without losing the charm, feel and experience of the game itself.
But collegiality only goes so far. Smith smiled because he'd already heard via social media what Bristol fans wanted next from their favorite track.
WrestleMania.
"That's awesome. I love it," Smith said in the waning moments of Tennessee's 45-24 win over Virginia Tech. "I think it would be great. Tell [Vince McMahon] to call me. We can work something out. It would be the biggest WrestleMania ever."
On paper and in the stands, the Battle at Bristol was the biggest college football game ever. It elbowed its way into the Guinness Book of World Records with a college football-record crowd of 156,990.
In the minds of promoters everywhere, though, it may have broken the seal. This is only the beginning. Dream big because we certainly aren't coming back from this moment.
Tennessee coach Butch Jones, Marcus Smith and John Cena might as well join hands in some cross-cultural alliance for fun and profit.
College sports are just along for the ride.
"If you can attract someone to enjoy and experience something they haven't before, that's kind of the definition of marketing," Michigan State athletic director Mark Hollis said.
Hollis is considered the most innovative marketing mind in the college space. Out of his fertile imagination sprung the BasketBowl — Kentucky and Michigan State playing hoops at the Detroit Lions' Ford Field in 2003.
The Carrier Classic in 2011 (Michigan State-North Carolina) was the first college basketball game played on aircraft carrier.
But can the Battle at Bristol be duplicated without it immediately growing old? Saturday's game had been talked about for 20 years. It was a much-anticipated day trip for fan bases, each about 100 miles from the schools' campuses.
"I think so," Hollis said, "but I also think the venue has to be right. You can't force these type of events both in numbers and locations. Bristol is set up ideally. There are others as well but there are others where the footprint of a track wouldn't be conducive.
"The first one is always the special one and the others have to be something uniquely different."
College football has settled into a now-expected rotation of one-off games each season. There are 20 neutral site games scheduled in 2016. That is believed to be a record. There were nine during the opening week.
If you want crossover, consider USC and Alabama playing Sept. 3 at Jerry Jones' AT&T Stadium. Months earlier that same venue, WWE's WrestleMania set an all-time attendance record of 101,763.
Those type of events "are our future," said Adam Rust, Bristol's senior director of purchasing and technology. "We certainly hope to have more events other than racing … What else can we do to get people here to this town? What other events?"
Rust told CBS Sports there have at least been discussions within the staff regarding massive musical festivals staged inside the massive venue. Soccer games and a possible NHL Winter Classic have also been discussed.
The track has even gone so far as testing the PVC pipe that runs outside the grandstand to see if it could withstand cold-weather temperatures.
They did it the old-fashioned way — running anti-freeze through the lines.
"Anything's possible," Rust said. "It would be a ton of work that we would have to put in … We are studying what it would take for us to host a winter event during freezing temperatures."
Hey, that's entertainment to the point that amateurism itself is being challenged in multiple lawsuits. As long as everyone makes money, almost anything can be rationalized.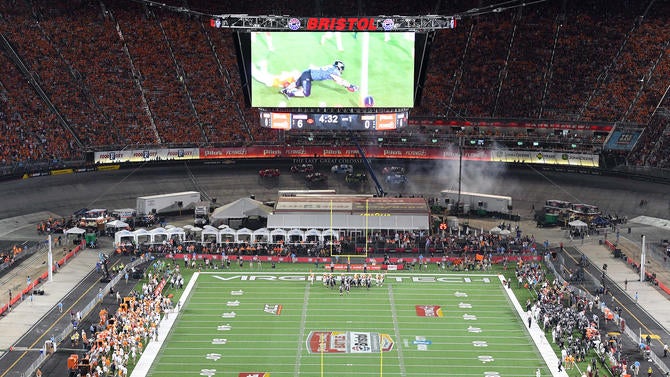 Final Fours have been played in football stadiums for more than a decade. What's to keep Bristol from staging a bowl game? If it weren't for the lack of hotel rooms nearby, the speedway already has the needed capacity (minimum 65,000) to bid on the College Football Playoff.
"What is the feedback on this game? That'll be interesting to hear," Hokies coach Justin Fuente said. "I would expect it would be positive. If it is, I would expect there would be more of them.
"This is kind of a litmus test for the fan experience."
Is it OK, though, to be this garish about what is supposed to be the college experience? By all accounts, it was biggest race weekend in memory in these parts. Except that college football was the draw.
VIPs were being helicoptered in and out at $5,000 per flight.
Beer was flowing like … beer in a venue that for one night rescinded its race day policy of allowing fans to bring in their own coolers.
"It is OK," Fuente said. "I just want to make sure — and I don't think we are yet — we don't take too much of this off of college campuses. I think there is something special about going to somebody else's college campus or them coming to yours.
"One game a year doesn't jeopardize that."
Maybe this game is a one-off. Not likely. A NASCAR downturn in TV ratings and attendance caused these cultures to mix.
Sitting high above the field in one of the worst seats in the house, Johnson City, Tennessee, native Wayne Grant complained about campground prices rising over time from $25 a night to $200.
"It doubled every year," Grant said.
His daughter was more succinct in summarizing why interest in NASCAR has fallen in general.
"[The death of] Dale Earnhardt," Danielle Grant said while drawing a figurative finger across her throat.
One veteran NASCAR crew member told CBS Sports he thought at least Martinsville Speedway in Virginia (capacity 55,000) and Dover International Speedway in Delaware (capacity 95,000) could be configured for college football.
"They can't do what we did," said Bruton Smith, Bristol's 89-year-old chairman. "They've already made some inquiries at Daytona [International Speedway], but forget about it. Daytona is too stretched out. The only place I know you can do it is right here because this is like a giant colosseum."
As staid and sometimes conservative as college sports can be, there has been a quiet revolution in how to present those sports. Hollis said for all the innovation of his games, they've barely broken even. It's more about the experience.
"I can recall the Kentucky and Michigan State students walking into Ford Field," Hollis said. "As a pseudo promoter, that was the greatest reward, standing in a tunnel watching the participants … that at that moment they walk into Bristol that is not a moment they will ever forget."
If the Battle at Bristol is going to be criticized, Hollis suggested you might want to start with the College Football Playoff.
"I love the College Football Playoff, but at the same time, those are three unique games that really don't [portray] what college football is in terms of day in and day out," he said.
"I watched the tapes of the players going in [to Bristol]. No doubt the focus on the student-athletes was there."
Hold onto that feeling as long as you can. Anything now seems possible in a tradition-bound sport that now seems only waking up to its possibilities.
"I think we'll have another one," Smith said when asked if Bristol would stage another such game, "and the next one will have to be a fantastic matchup."
The standard has been set.
[Source:- CBS News]