ModCloth, the seller of vintage-inspired clothing and accessories, is finally growing up.
Once, the hip online retailer sold almost nothing but weird, nutty fashion items for the retro girl. Now, as mainstream sellers of "normal" clothing retreat in the face of teen rejection, the company hopes to fill the breach and attract a wider set of shoppers—in part by modulating its wacky aesthetic.
To this end, ModCloth is opening physical stores and expanding into more easily digestible fashion, selling less kooky clothes alongside its whimsical offerings of floral midi dresses and kitten tote bags. "We're making some of the personality more subtle," said Matt Kaness, chief executive of ModCloth. "They're still showing their personality, but they're just doing it in a different way."
ModCloth carved out a following with a commitment to inclusivity, pushing positive body image over the traditional runway model size favored by much of the fashion industry. This is echoed in ModCloth's store concept: More than half of its inventory is made up of styles that are available in the full size range, from XXS to 4X or XXL. At its stores, all those sizes will be made handy for try-on, so women can peruse the same clothes together no matter their size difference. "There is no separate section or separate store or separate brand" for petites or plus sizes, said Kaness.
Kaness, a retail veteran who made his name as chief strategy officer of Urban Outfitters, was brought on in 2015 to lead the campaign for flyover country. The year before, ModCloth cut about 20 percent of its staff after sales growth reportedly faltered. It had fallen into an old retail trap for niche successes–yes, the brand had won over some smart, loyal shoppers, but it lacked the mass appeal to grow beyond them.
Founded in 2002 by Susan and Eric Koger, ModCloth sold vintage clothes right when the vintage clothing craze was taking flight. At first, each item was plucked by Susan to help pay the bills. Now it's grown into an international retailer, raised $78.4 million in venture capital, and by the end of 2014 raked in more than $150 million. (The company declined to share updated revenue figures.)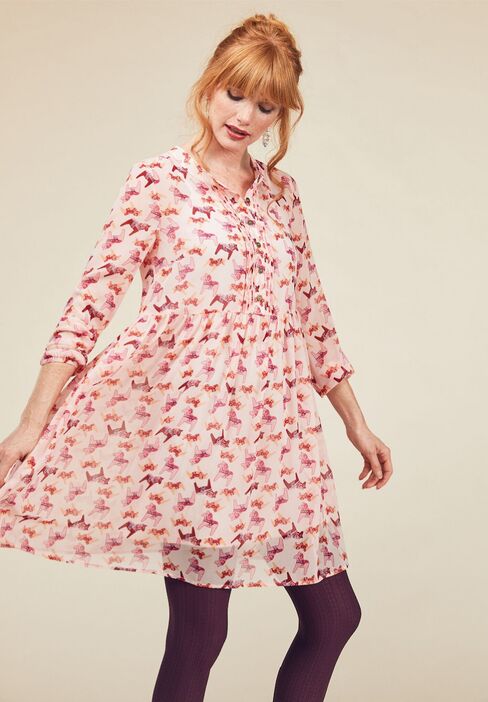 In fashion, it can be tough to break out of your patch. Take Nasty Gal, an edgy West Coast favorite that gained devoted fans with its selection of provocative, grungy styles including plenty of plunging necklines and cutouts. Unable to attract enough new customersbeyond the stable of girls who were totally on board, the company has had rough sledding of late. A round of layoffs hit this week, according to a report by Jezebel.
ModCloth is trying to avoid this fate. Next month, it will open its first permanent store at a 4,000-square-foot space in Austin, Texas, a hip blue island in a sea of red that's been one of the brand's best markets. There are more to come, but Kaness isn't sure how fast that'll happen. "The pace is going to be driven by how well store one does," he said.
Over the past year, ModCloth took to the road to gear up for opening retail stores. It hosted pop-ups in six cities, honing a "fit shop" concept that's a hybrid version of a traditional boutique. Shoppers walk in or make personal appointments ahead of time. When they purchase clothing or shoes, the items are mailed to their doorstep. The only things they can buy and take home immediately are smaller-ticket goods, like gifts and home decor.
Another piece of the ModCloth grow-up plan is its first national branding campaign, unveiling a new logo, new colors, and a more sophisticated aura. It drives individuality above all else, hoping to attract anyone who wants to stand out–not just the outlandish fashion rebel.
"The interpretation of feminine and vintage has become broader," said Kaness. "In the past, it was more literal."
[Source:-Bloomberg]