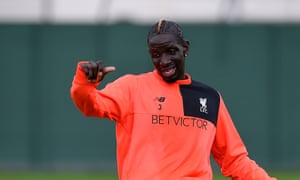 Jürgen Klopp has promised to deal with an outburst on social media from Mamadou Sakho that has cast fresh doubt on the defender's future at Liverpool. The France international, who has not featured for his club since April, risked inflaming an already strained relationship with Klopp by claiming fans had been deceived about his absence from the first-team squad this season.
Writing on Snapchat at 3.05am on Saturday, just hours before Liverpool beat Hull City 5-1 at Anfield, the £19m defender (right) said: "I accept my situation but I can't accept the lie. The fans deserve to know the truth. Now it's three weeks since I am fit to play games. I finish all my rehabilitation work. They don't want me to play also with second team lol! Why, I don't know."
Sakho's late-night social media tirade could have severe repercussions for his Anfield career. After the defeat of Hull, Klopp said: "I was confronted this morning with the news that maybe it was something I should know about. But on a match day I am in completely the wrong kind of mood for something like this.
"I know something was on the thing that I don't use [Snapchat] but it is not the right moment to speak about it. It makes sense to think about it and then give the right answer. It is not positive, I would say. I will address the situation when I think it is the right moment. I haven't decided when the right moment is yet but it is not Christmas."
The Liverpool manager had hinted at a problematic relationship with Sakho on Monday when stating that although the 26-year-old felt fit to return from an achilles injury suffered in pre-season "It is about how close I feel he is."
Klopp sent Sakho home from the pre-season tour of the United States in July, having grown tired of his behaviour and lack of punctuality. The former Paris Saint-Germain captain was forced to miss last season's Europa League final having been suspended by Uefa for taking a fat-burning substance that was later found not to be in breach of the organisation's drugs policy.
[Source:-The Guardain]