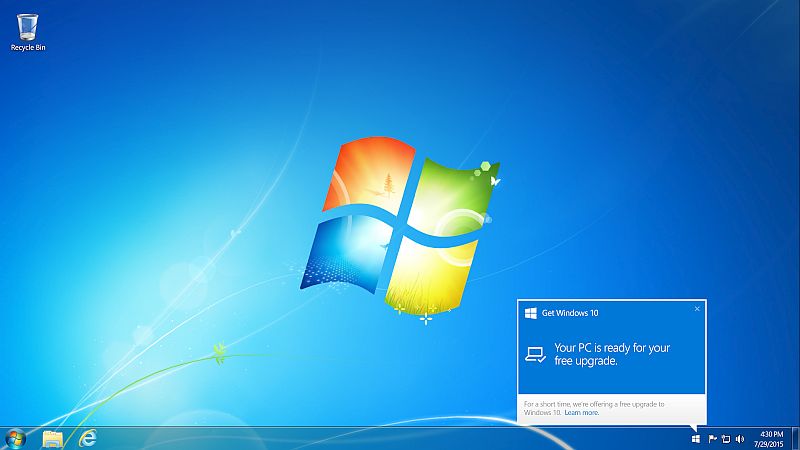 Highlights
The new prompt will roll out to Windows 7 and Windows 8 users
The prompt will have clearer options to decline the upgrade offer
Microsoft will end its free Windows 10 upgrade offer on July 29
Microsoft is finally stepping back from making it difficult for users to say no to the Windows 10 update. The Redmond-based giant has for months received criticism from users for forcefully installing the update even when users weren't interested in upgrading to Windows 10.
The move is interesting considering Microsoft is just less than a month away from ending the free Windows 10 upgrade offer, which ends July 29. Microsoft will start rolling out an update to Windows 7 and Windows 8 users that will replace the prompt that currently promotes the free Windows 10 upgrade.
Microsoft's Senior Director for Windows Lisa Gurry told Siliconbeat that the company heard complaints from users that the upgrade prompts were "confusing" and thus the company is changing them. "We're working really hard to address it. We're working hard to deliver a Windows that everyone will really love," added Gurry.
Microsoft's Terry Myerson, Executive Vice President, Windows and Devices Group, in a statement told ZDNet, "We started our journey with Windows 10 with a clear goal to move people from needing Windows to choosing Windows to loving Windows. Towards this goal, this week we'll launch a new upgrade experience for millions of PCs around the world. The new experience has clearer options to upgrade now, choose a time, or decline the free offer."
Myerson further explained that the new Windows 10 upgrade prompt will have "clearer options" to say no to the upgrade. "If the red-x is selected on this new dialog, it will dismiss the dialog box and we will notify the device again in a few days. We continue to recommend all of our customers upgrade to Windows 10 before the free upgrade offer expires on July 29. Thousands of engineers have been working on making Windows 10 the most secure version of Windows, helping to protect people from viruses, phishing, identity theft and more. We'd like our customers to upgrade and improve their experience with Windows and Microsoft," added Myerson.
[Source  NDTV]