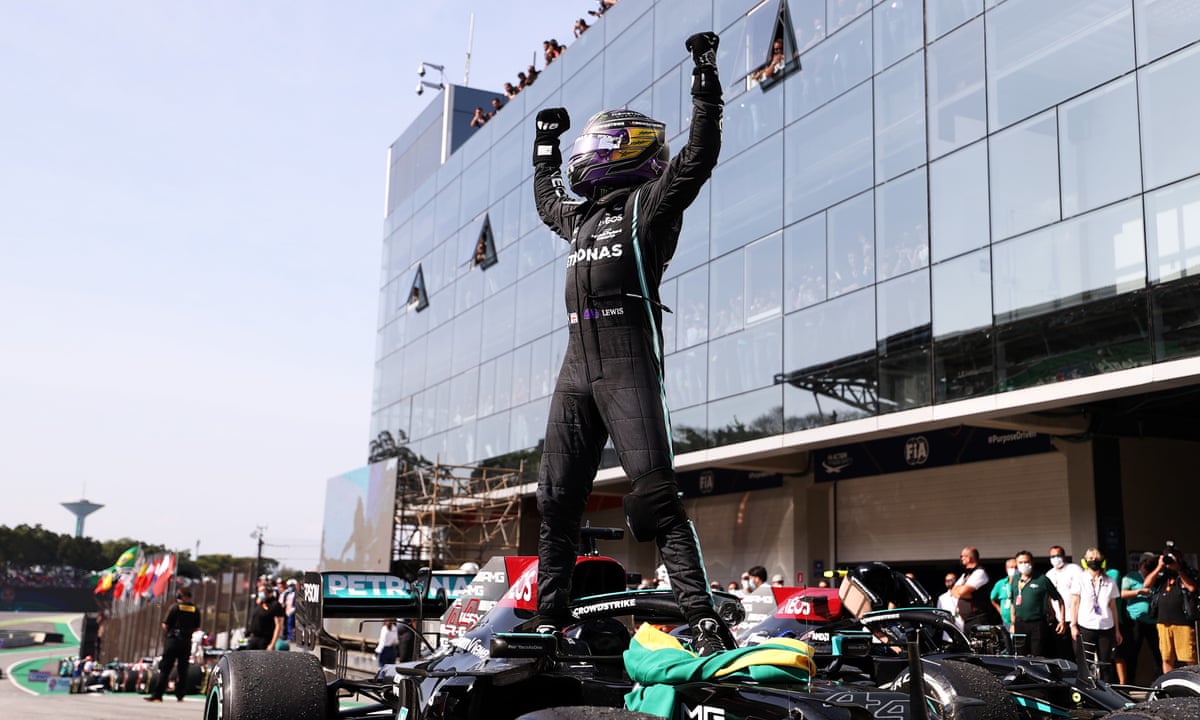 Lewis Hamilton hailed his victory at the Brazilian Grand Prix as the greatest of his career. The British driver delivered an outstanding comeback to go from 10th on the grid to win, beating his Formula One world championship rival, Max Verstappen, into second and, in so doing, rejuvenating his title challenge.
Hamilton endured a testing weekend at Interlagos, penalised twice, once for a replacement engine and then for a DRS infringement. The world champion then came back from last on the grid to fifth in Saturday's sprint qualifying race and then overtook half the field on Sunday to seal an unlikely victory.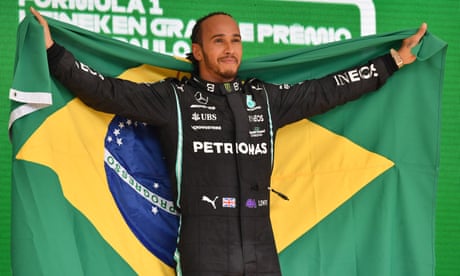 He has 101 wins, seven titles and is attempting to take his eighth in his 15th season in F1. Yet his achievement in Brazil was a standout moment, because of how hard he and his Mercedes team had had to fight. "I just gave it everything," he said. "This has definitely been one of the best weekends, if not the best, I have experienced in probably my whole career.
"I feel that this has been one of the most challenging, if not the most challenging, with the things we have faced through the weekend but, in terms of driving, it has maybe been my best."
His feelings were echoed by the former world champion Damon Hill on Twitter: "That was one of the best drives I've ever seen in F1. By anyone. Utterly awesome."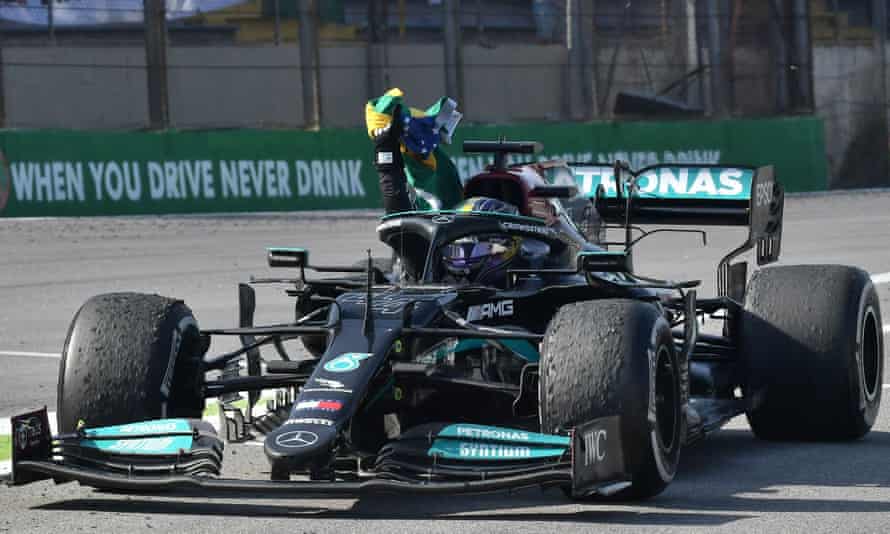 Hamilton trailed Verstappen by 21 points going into the race but is now only 14 behind with three meetings left. He emphasised how, despite the penalties over the weekend, he refused to be bowed and got past nine drivers on Sunday to win, including a tense battle against Verstappen. "Mentally you can just think it's over, it's impossible," he said. "Nothing is if you put your mind to it. That's really why we just cultivated a positive mental attitude and went in fighting, guns blazing."
The Mercedes team principal, Toto Wolff, echoed the sentiment, bullishly noting how fired up his team were for the final three races in Qatar, Saudi Arabia and Abu Dhabi. "The team has always been together but these decisions have brought us so close together," he said. "It's against us. Lewis has felt this all his life. Now we all feel it together and we are going to fight. We are not going to be victims. That is the feeling in the garage.
… as you're joining us today from India, we have a small favour to ask. With the world's eyes on the crucial UN climate summit, the Guardian will bring you the facts, negotiations, news and science. For years, climate experts have stressed that Guardian reporting – independent, rigorous, persistent and open to all – is a critical tool to confront the climate crisis, which is intensifying around the world. Leaders, influenced by powerful lobbies, are now set to make decisions that will determine our future.
We have no shareholders and no billionaire owner. Just the determination and passion to deliver high-impact reporting for the world, always free from commercial and political influence. Reporting like this is vital for democracy, for fairness and to demand better from the powerful. And we provide all this for free, for everyone, regardless of their ability to pay for it.
As such, tens of millions have placed their trust in us for the last 200 years, turning to us in moments of crisis, uncertainty, solidarity and hope. With more than 1.5 million supporters in 180 countries, our model for open access journalism is better sustained, meaning we can reach more people. This helps everyone keep track of global events like the climate summit, understand their impact on people and communities, and become inspired to take meaningful action.
We take this emergency seriously as a news organisation: two years ago, we pledged to prioritise the climate crisis, and we've published some 6,000 pieces of environmental journalism since. We set ambitious targets to green our business, and have turned away from fossil fuel investments and advertising as a result. We are on track to meet our goals, including that of transparency, where we will continue to update you on our progress.
But to keep working as we do – as an open, fiercely independent news organisation that focuses on the climate – we need your help. Every contribution, however big or small, counts. Support us today from just $1. If you can, please consider supporting us with a regular amount each month. Thank you.
["source=theguardian"]