Tips for Keeping Students Engaged in Class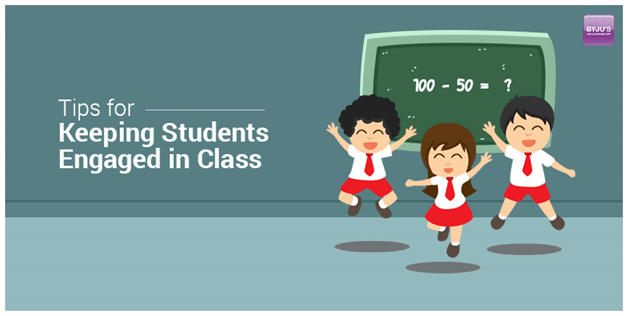 Getting all the students to stay focused and active during class hours is a challenging task as we know unlike adults, if a student is bored they find something to interest them. They might end up texting under the desk or skip class or even end up dozing off.  Most students treat school like a prison as they are bored, fed-up and time bound. As a teacher managing to capture the students' focus is the main game. Engaging the students through various methods and activities is one such technique that can be used to gain the interest and focus of a child in school. Here are few tips for keeping students engaged in class.
Making Relevant Connections:
The best way to involve students these days is by talking about stuff that interest them and relating it to the syllabus. For example, enacting plays in class or creating crafting tweets from the characters in the novels in their syllabus. Opening up the floor for asking the students to relate their class studies with their everyday lives and having a debate over it, which could be fun.
Playing Games:
Students love to play games and interact with each other during class although at first they might be lazy and disinterested but interactive games and math puzzles can keep them engaged and active. This also helps to develop a student-teacher relationship. Playing games in class increases the students' motivation to learn, pay attention and play as a team. Playing games that increases the memory of a student is the most effective as the student has to remember important details as well as think and act quickly towards the rules of the game.
Working in Groups:
Working in groups is always beneficial as it is often said "Two heads are better than one". It enables the students to work as a team and segregate tasks based on parts to complete the complex task within the stipulated time.  Students learn to plan and manage time along with collecting effective feedback based on their performance. If students are disengaged in the group, split them into smaller groups to engage with them and make them interacted with the work assigned.
Use Hands-On Learning:
When students work on their experiments or projects they get a better understanding of the entire concept. This helps the students to score well in their cbse exams as well. Keeping the students interacted with hands-on projects enables the students to be more interested in class and unexpected doubts arise, allowing the teacher to get interacted with the students to solve these doubts by teaching it to the entire class.  Overall, hands-on learning environment stimulates a student learning experience and makes the students more engaged in class.
About the author:
Reuben Thomas Alex enjoys inspiring others through his writing and blogging. After his engineering he has chosen to work with many students and to explore the opportunities of creating a better future in the field of digital education. He has been able to motivate many with his passion towards education in Byju's-the Learning App.
Email_id: [email protected]